Dear Ones:
Loving greetings to our beloved spiritual family of Paramahansa Yogananda's followers and friends! During this 75th anniversary year of our Guru's Autobiography of a Yogi, my heart fills with thanksgiving for the lifelong blessings that this amazing book has brought into my life and the lives of countless others all over the world. As with many of you, it was the Autobiography that first introduced me to the Kriya Yoga teachings of Paramahansa Yogananda. Looking back after all these years, I recall the thrill of my soul's awakening to the "undreamed-of possibilities" that seemed to stream off the pages directly into my heart and brain from the God-saturated consciousness of the author and his lineage of gurus.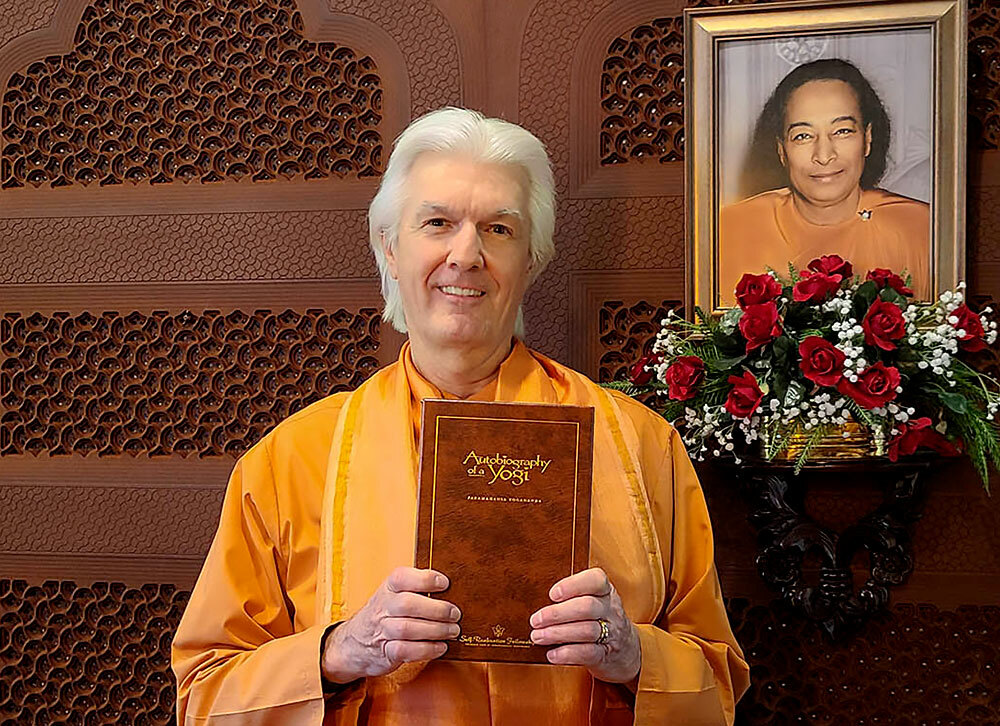 Among the countless life-transforming effects that followed from that first reading, surely one of the most heartwarming has been the joy of satsanga (divine fellowship) with thousands around the globe who have been similarly transformed — all of you! Every time I have the privilege of meeting devotees of this path, I am struck anew by the power of what our Guru brought into the lives of so many through this book, and through the unending flow of inspiration and instruction that we discover after that introduction — the thousands of pages of talks and writings that poured through him from the Divine Source, and the liberating techniques of the science of Kriya Yoga meditation imparted through his SRF/YSS Lessons. To see this, one only has to look into the eyes and faces of sincere devotees of the Kriya Yoga path — those who practice meditation; those who go beyond just a philosophical or inspirational approach to the teachings and actually use what he bestowed as a daily discipline for knowing God, a daily sadhana. Your faces, your eyes, glow with light from within. That is the power of this Kriya Yoga science. What a treasure, what a lifelong blessing and source of strength, upliftment, and connection with the Divine our Gurudeva has given us!
Here in the American ashrams of Paramahansaji, we will soon be celebrating the national day of Thanksgiving. Our Guru admired the spiritual purpose behind this observance, especially the custom of taking time to consciously acknowledge and thank God for all the good that manifests in our lives. The Infinite Spirit remains unknown and mysterious to those who don't cultivate a personal relationship with their Creator; but to those who practice the presence of God — not only on special holidays but as a constant devotional awareness day after day, year after year — that Beloved One becomes a tangible Giver of security, guidance, love, and inspiration that unfailingly sustains our souls as nothing else can.
Years ago, our late revered sanghamata, Sri Daya Mata, addressed these words to Paramahansa Yogananda's followers at Thanksgiving time. I think you will find them especially meaningful at this time: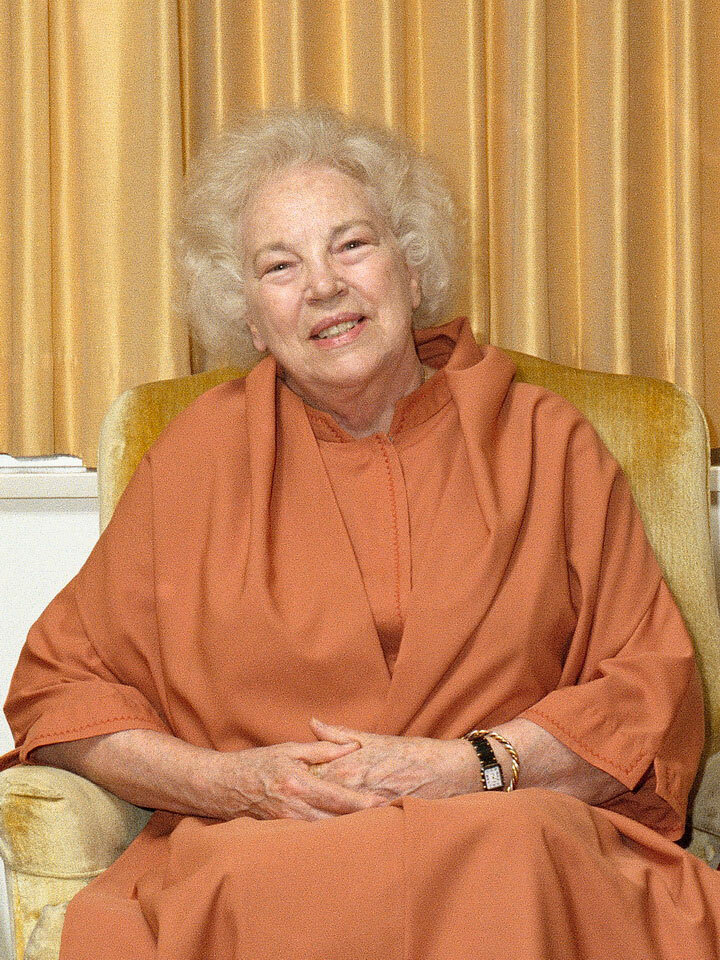 "On this day devoted to remembering the Creator and Sustainer of us all, I pray that you discover anew, beneath the often tumultuous surface of life, the changeless, stabilizing assurance of your Heavenly Father, Mother, Friend. God has cloaked His omnipresence and omnipotence behind the constantly changing scenes of this earthly drama and the dazzling variety of His creation. Yet He ever knocks at the door of our consciousness. What rouses in us the faith and courage to be strong during times of difficulty and insecurity, if not His unshakable Presence in our souls? Who stirs in us the desire to share what we have with others in need, if not His compassionate love whispering within us? Why are our hearts exhilarated by the magnificence of a sunset, or moved by the beautiful color and intricate detail of an autumn leaf? It is His beauty that our souls glimpse in all that is uplifting and inspiring in this world. When we follow every pure feeling, every noble action, every good we receive to their source, we find His hiding place.
"By the simple practice of remembrance, you can anchor your consciousness in the constant blessedness of His sustaining love and protection."

Dear ones, may the God who became so real to uncounted thousands of us through Autobiography of a Yogi — the God whose love and transforming presence freshly renews itself each time we revisit those blessed pages, and especially when we practice the Kriya Yoga science of which that book was the worldwide harbinger — bring you light, joy, and the assurance of your own divinity as an immortal child of God, now and always.
Unceasing blessings in God and Guru,
Brother Chidananda