Follow along with Brother Chidananda, president and spiritual head of Self-Realization Fellowship/Yogoda Satsanga Society of India (SRF/YSS), on his travels throughout Paramahansa Yogananda's beloved homeland, visiting the ashrams of Yogoda Satsanga Society of India (the name by which Paramahansaji's work is known there).
During his six-week visit, Brother Chidananda presided over a special five-day spiritual program of livestreamed talks and meditations. The YSS Sangam 2023 was livestreamed February 11 – 15 (February 12 – 16 in India), and the events are still available for viewing.

Please enjoy this photo essay of Brother Chidananda's trip.
Departure From SRF International Headquarters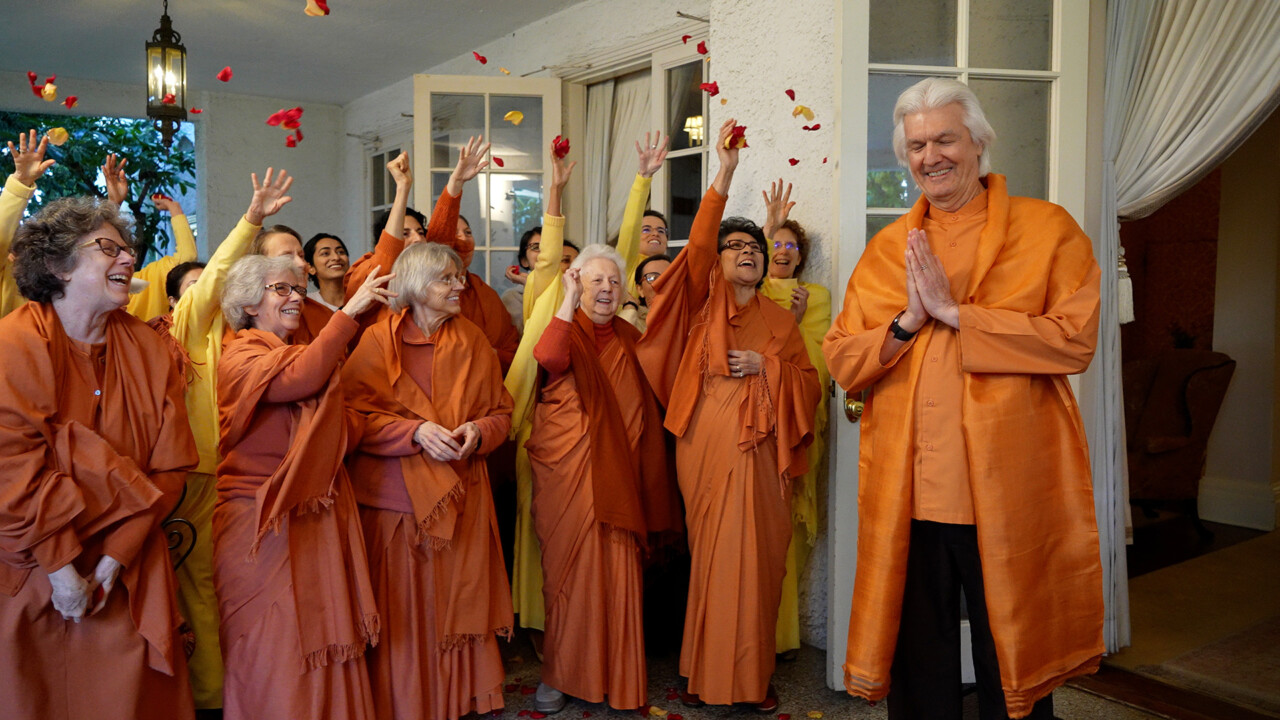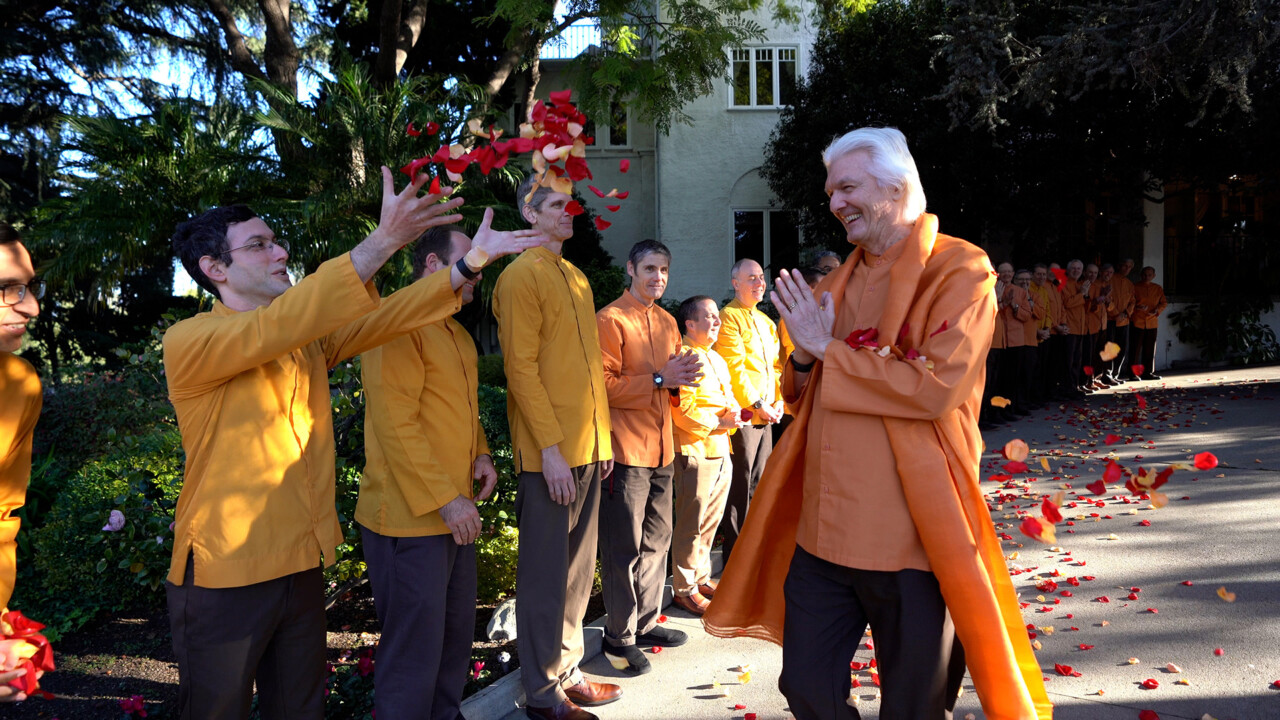 Brother Chidananda departs on his journey to visit YSS ashram centers in India on January 20 from the SRF International Headquarters in Los Angeles.
As he prepares to leave the Mother Center, SRF nuns and monks shower him with rose petals and chant "Jai Guru!" ("Victory to the Guru") during a joyful farewell.

Arrival in Noida
After arriving in New Delhi on January 22, Brother Chidananda, in the company of Brother Kamalananda (with whom he is traveling) and senior YSS monks, proceeds to the YSS Noida Ashram, where the party is warmly greeted by YSS devotees.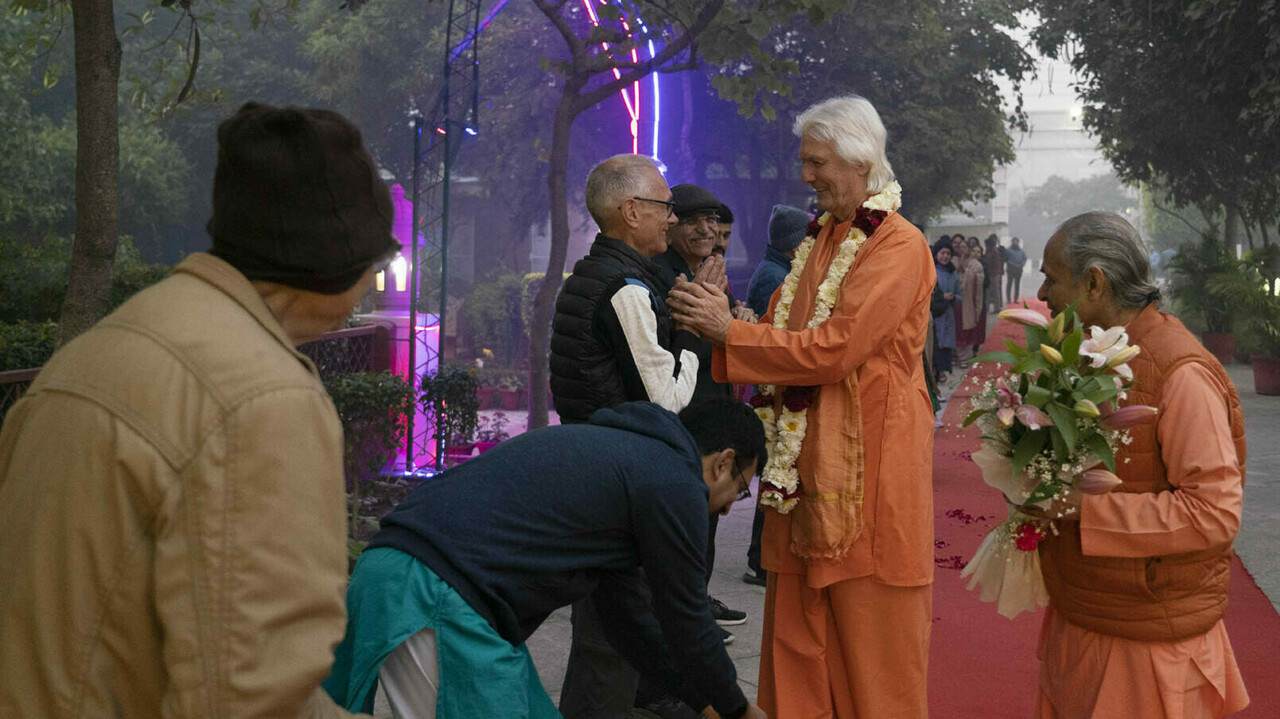 Brother Chidananda meets with devotees. Standing beside Brother Chidananda is Swami Smaranananda, vice president of YSS.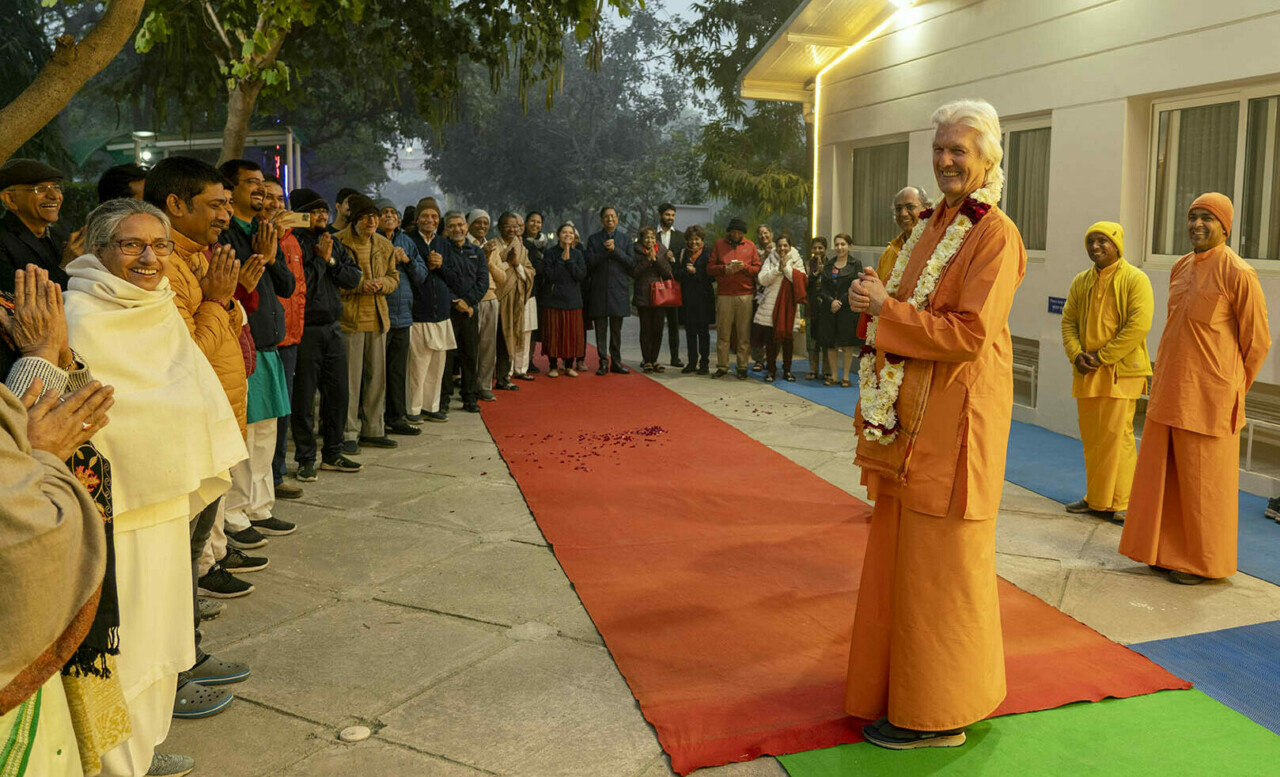 Arrival in Ranchi
Brother Chidananda arrives at the YSS Ranchi Ashram on the evening of January 24, where he is greeted by YSS devotees with a showering of rose petals. During his stay in Ranchi, Brother Chidananda with participate in various activities, including the memorial service for Swami Shantananda, a revered SRF monk who played a significant role in the growth of Paramahansa Yogananda's work in India and served on the YSS Board of Directors until 2020.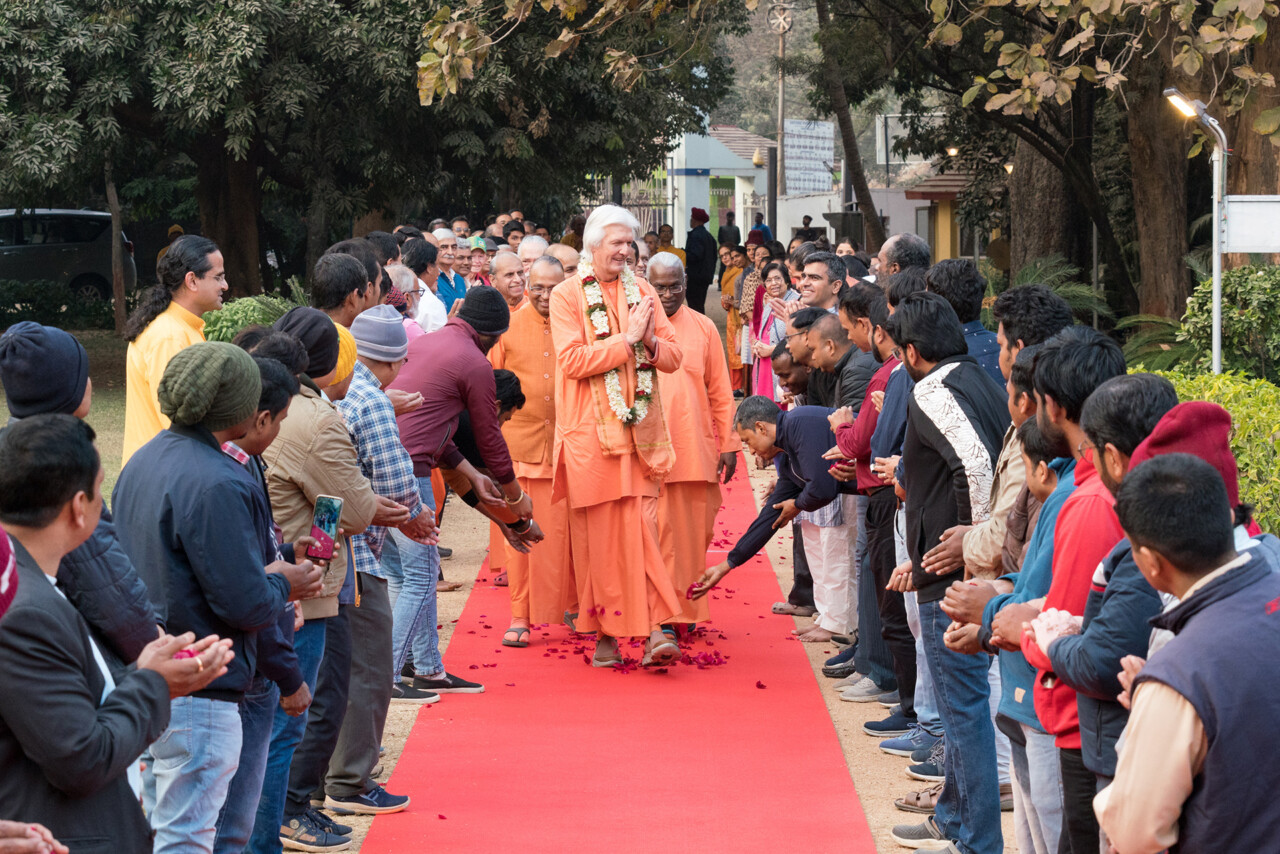 Brother Chidananda prays before the image of Paramahansaji inside the Paramahansa Yogananda Smriti Mandir ("Memorial Temple") at the Ranchi Ashram.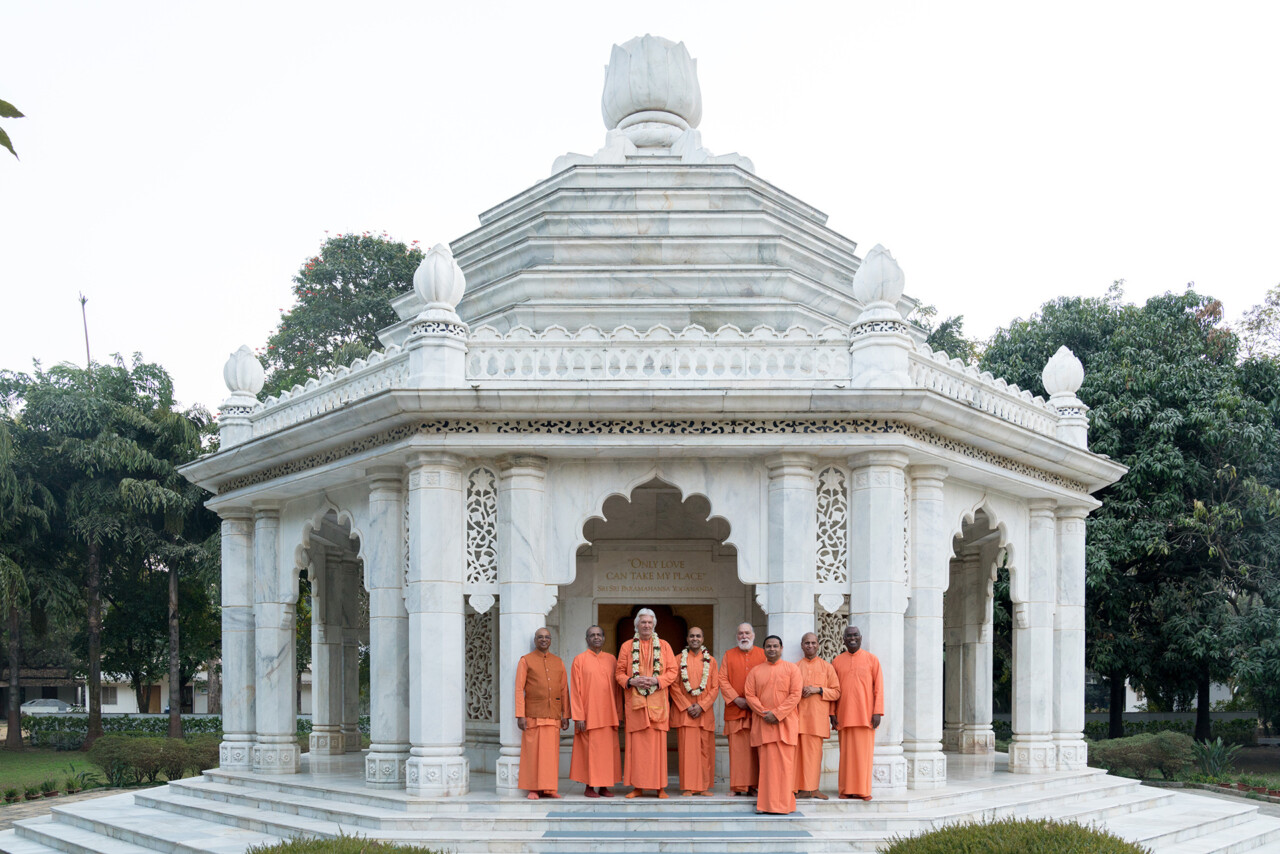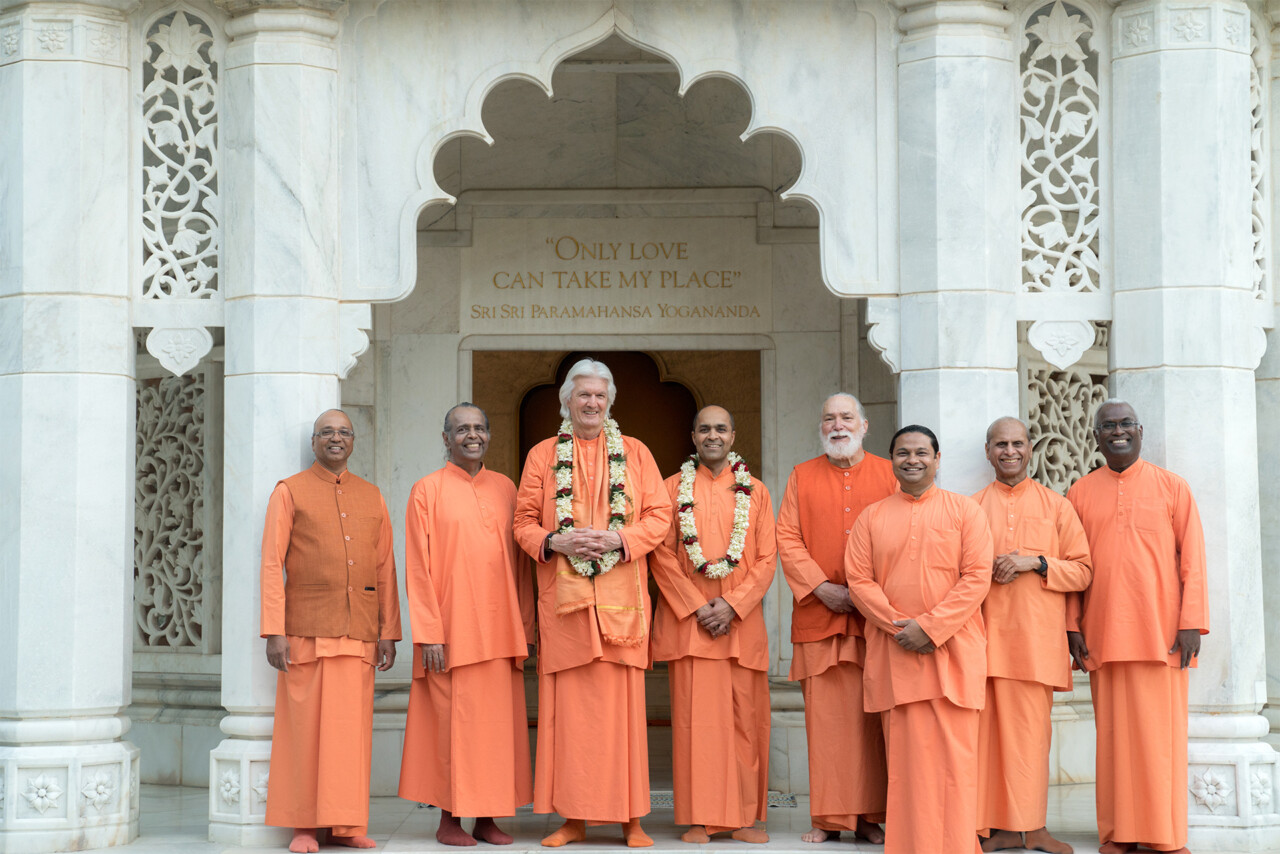 Brother Chidananda and other SRF and YSS monks stand in front of the Paramahansa Yogananda Smriti Mandir: (left to right) Swamis Ishwarananda, Shraddhananda, Chidananda, Kamalananda, Vishwananda, Chaitanyananda, Suddhananda, and Pavitrananda.
Satsanga at YSS Ranchi Ashram
Brother Chidananda gives a satsanga at the YSS Ranchi Ashram on February 5. More than 750 YSS devotees and friends are present for the talk, which included a period of guided meditation. In attendance as well are monks and nuns from other ashrams in Ranchi, and dignitaries from Ranchi.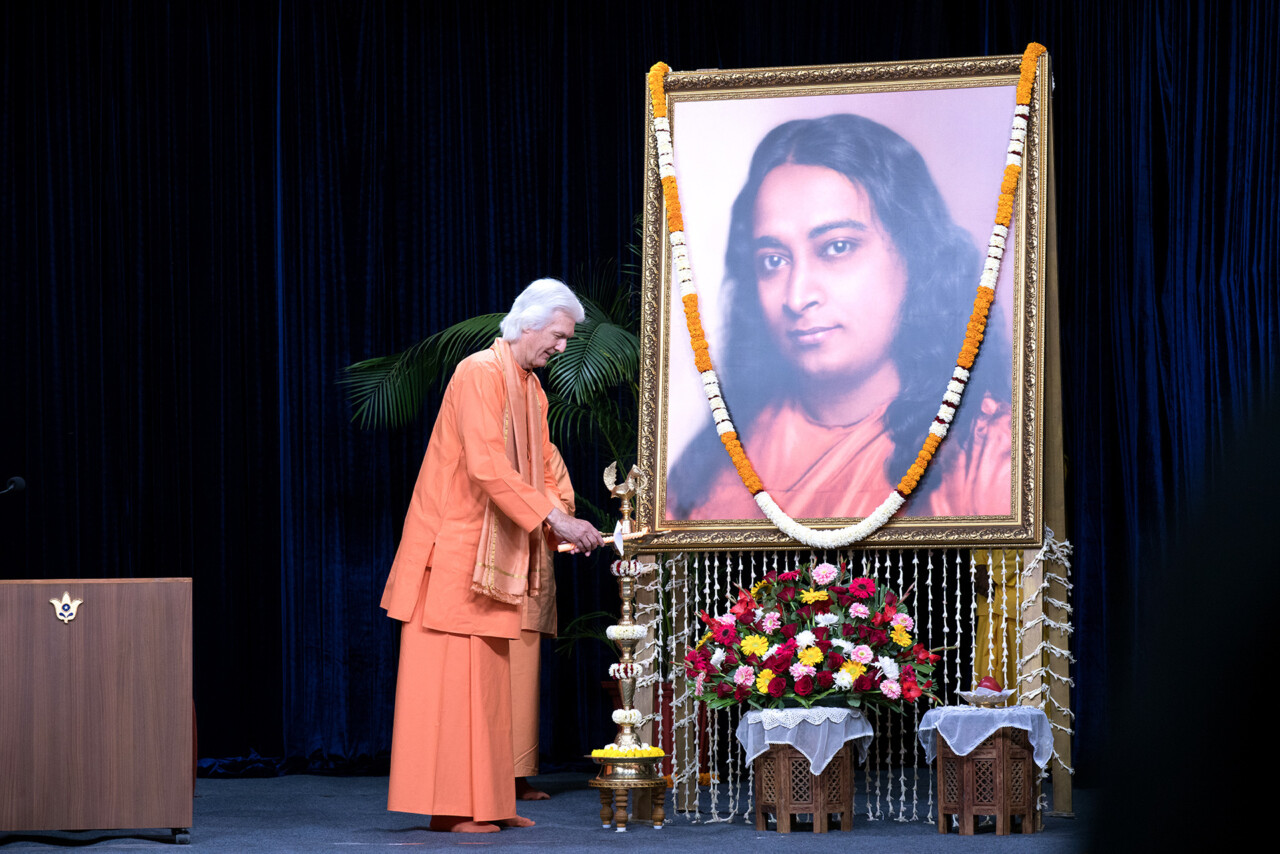 Brother Chidananda lights the ceremonial lamp before speaking.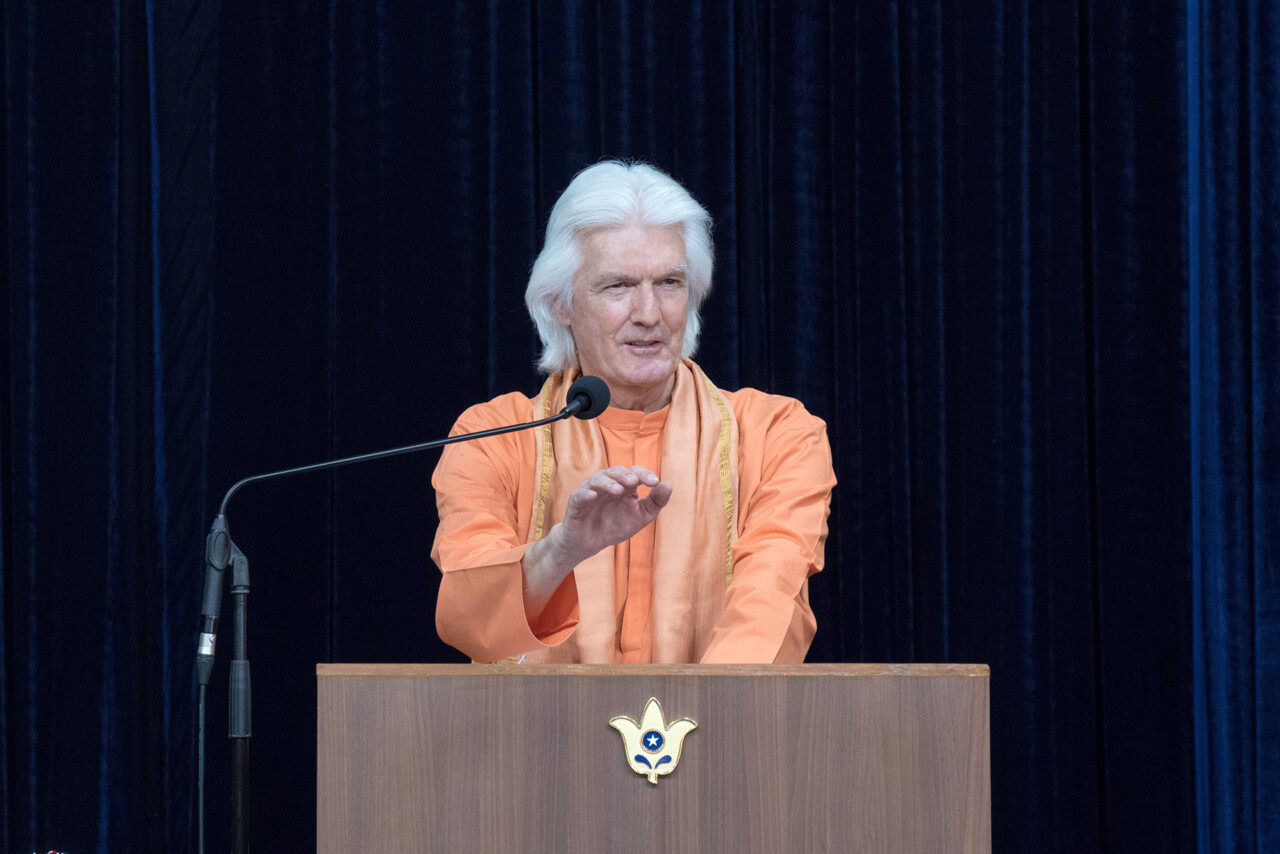 Brother Chidananda delivering satsanga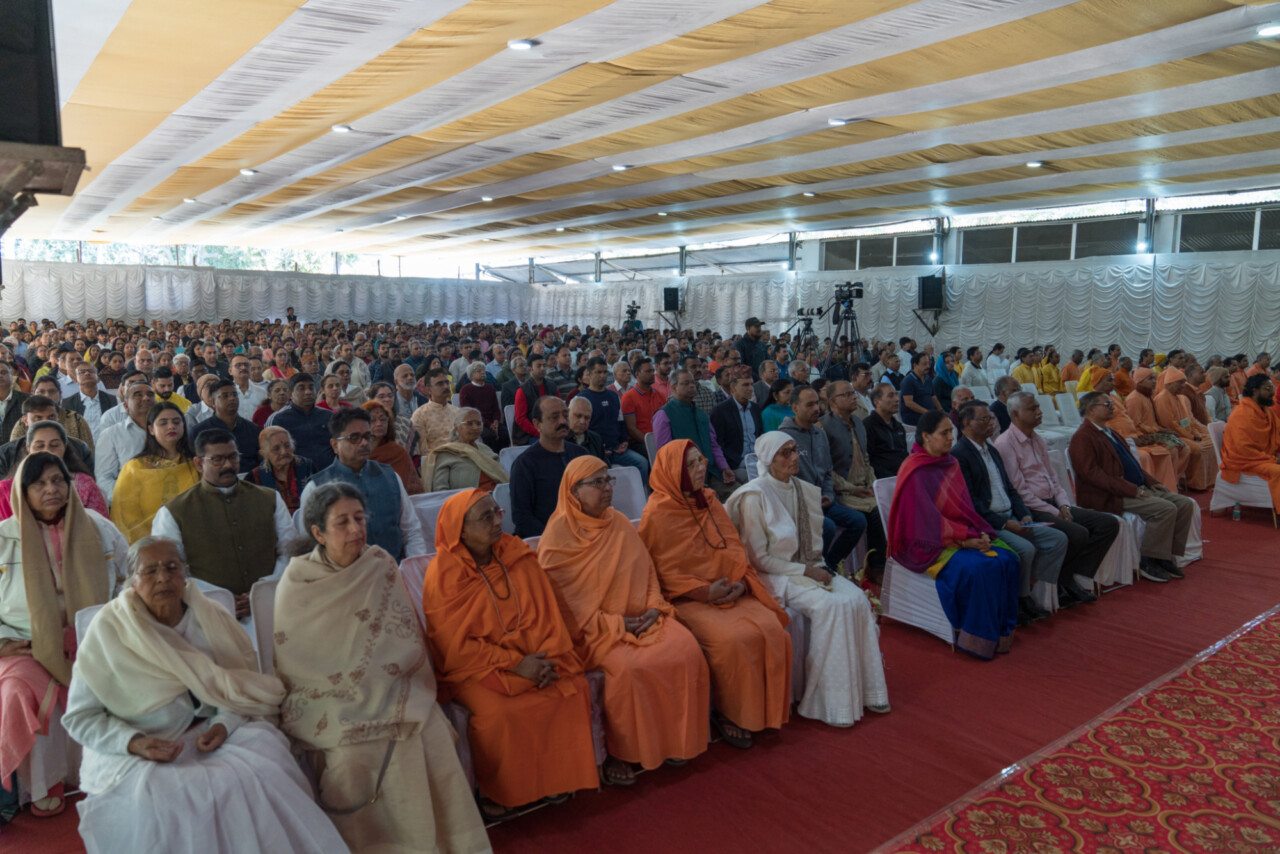 The audience gathered under the pandal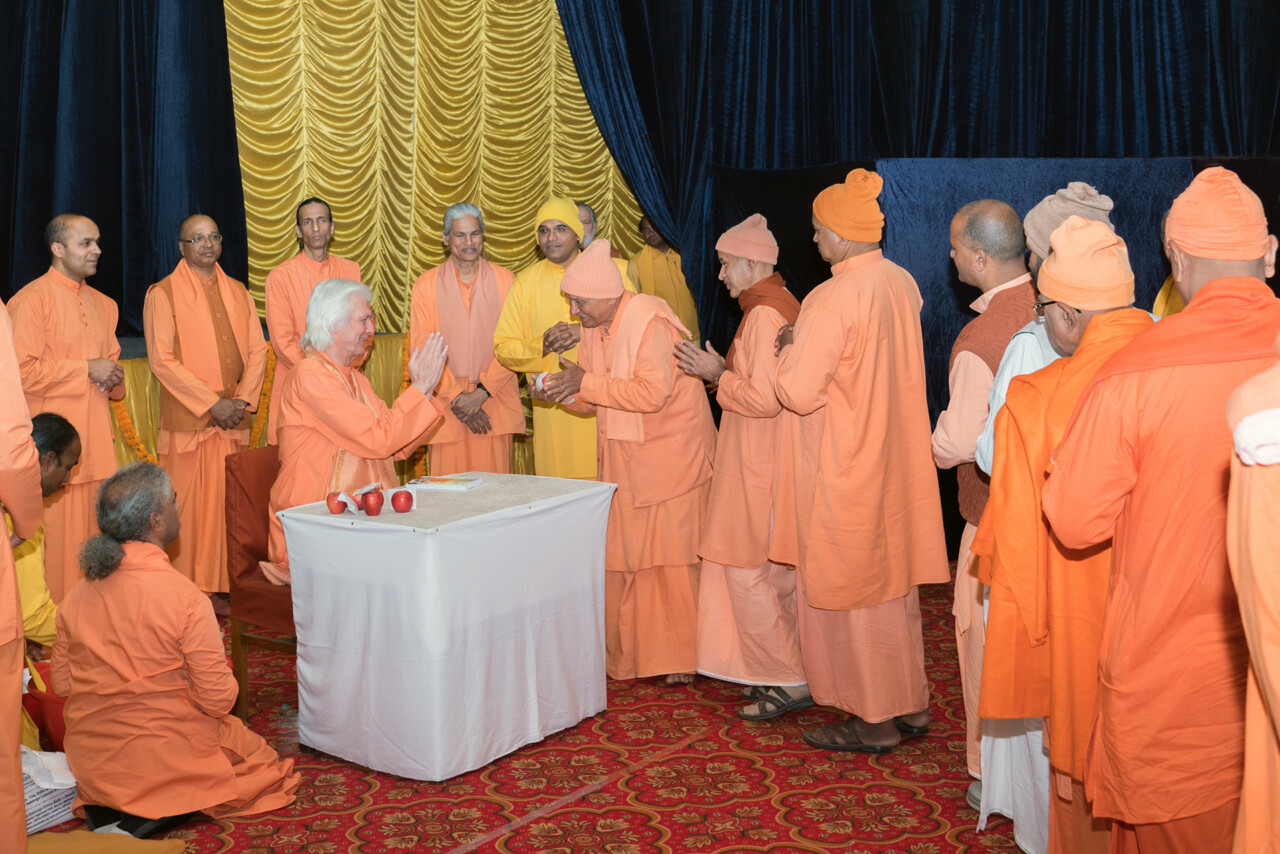 Brother Chidananda greets and gives prasad (blessed food offerings) to sannyasis from the Adwait Swarup Ashram in Ranchi, who had attended the satsanga.
Brother Chidananda and a devotee exchange warm smiles.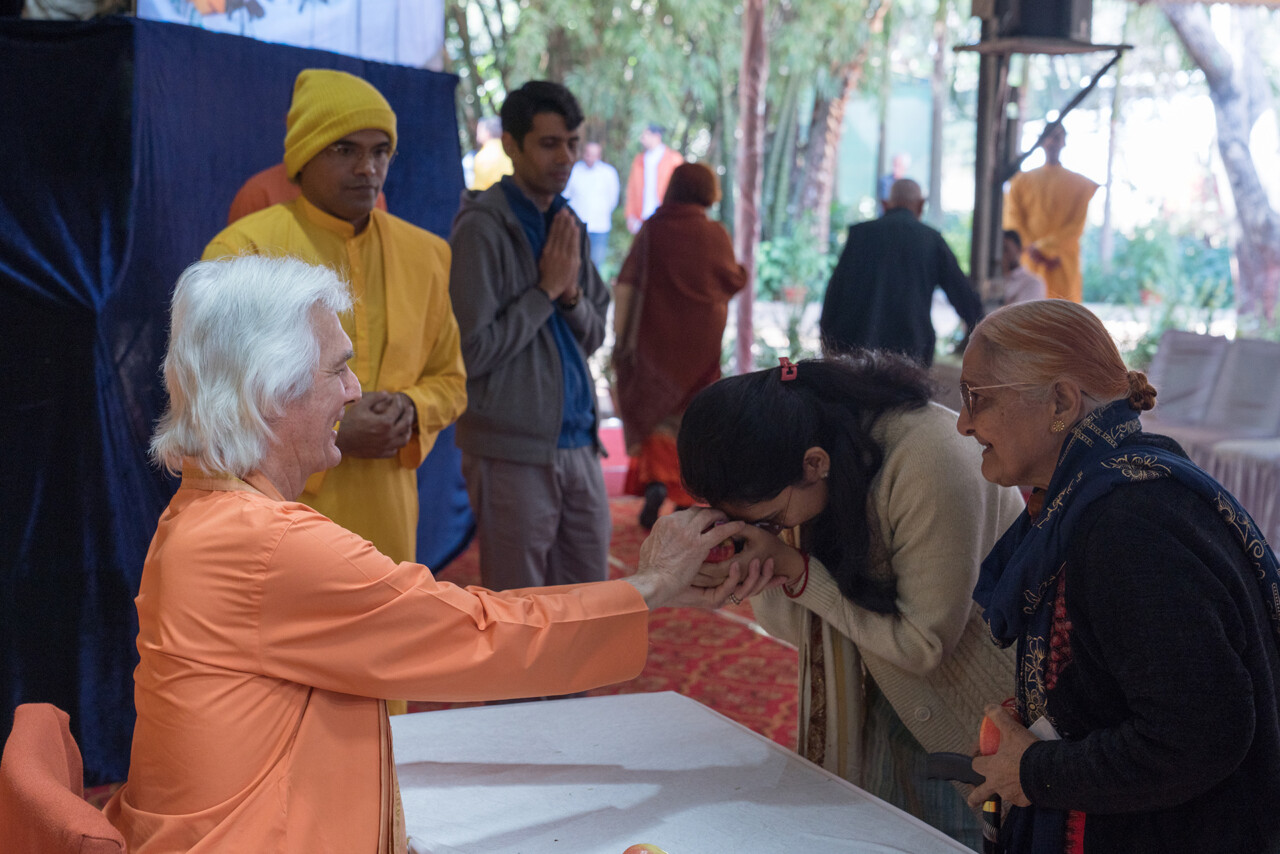 Devotion and divine friendship at the close of the event
Dedication of YSS School in Jagannathpur
Brother Chidananda dedicates several new facilities at Yogoda Satsanga Educational Campus in Jagannathpur, Ranchi, on January 29, in the presence of dignitaries, monastics, devotees, and the teachers and students. The new school premises include well-ventilated classrooms, laboratories, and an administrative building. This modern school campus will be used by students from the economically underprivileged sections of society.
The design of the new school premises is based on the ancient principles espoused by Paramahansa Yogananda, such as the concept of teaching students in open environs in close proximity to nature.
To honor and commemorate the 125th birth anniversary of Paramahansaji in 2018, a committee operating under India's Ministry of Culture assisted YSS in several programs for spreading Paramahansaji's teachings and ideals. One of these initiatives was to supplement the costs for upgrading the educational facilities of the YSS school and college at Jagannathpur, Ranchi, with the remaining costs borne by YSS through generous donations from devotees.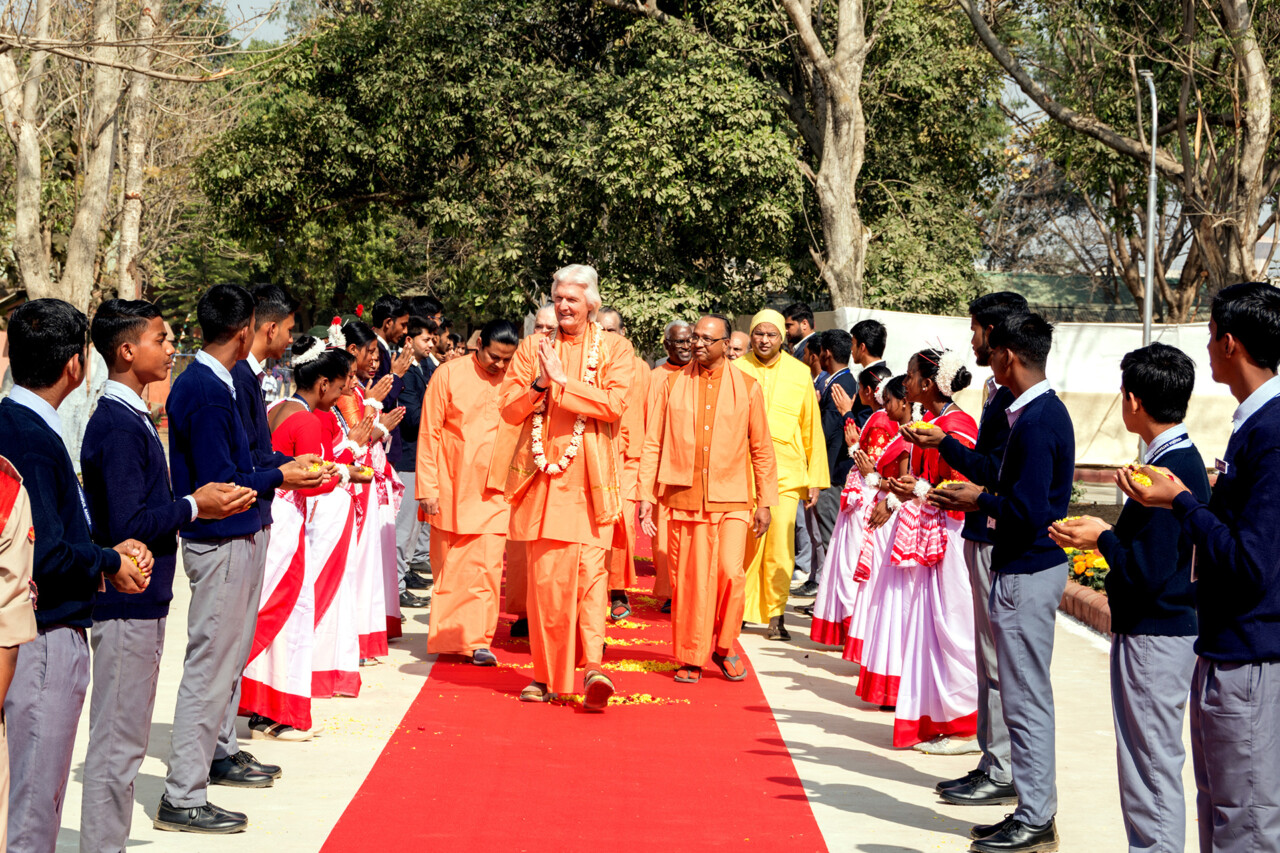 Brother Chidananda arrives and is greeted by students of the school.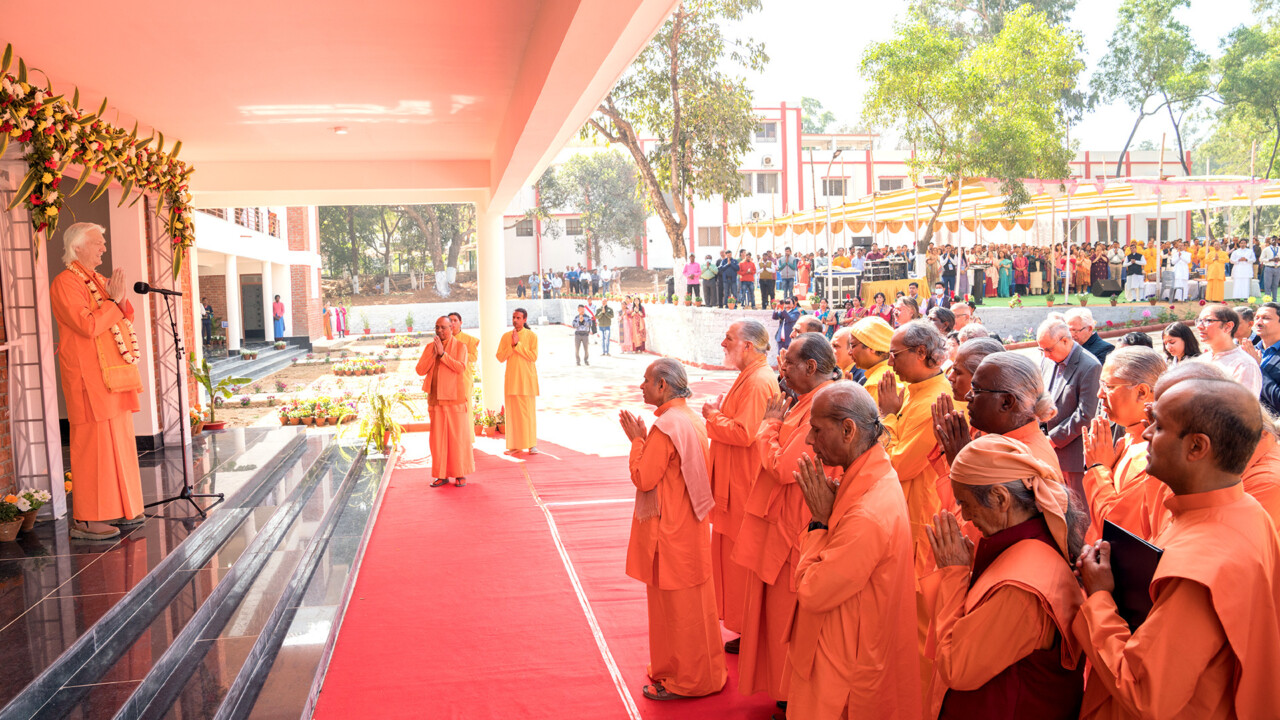 Brother Chidananda leads the gathering in prayer and inaugurates the new multi-purpose hall.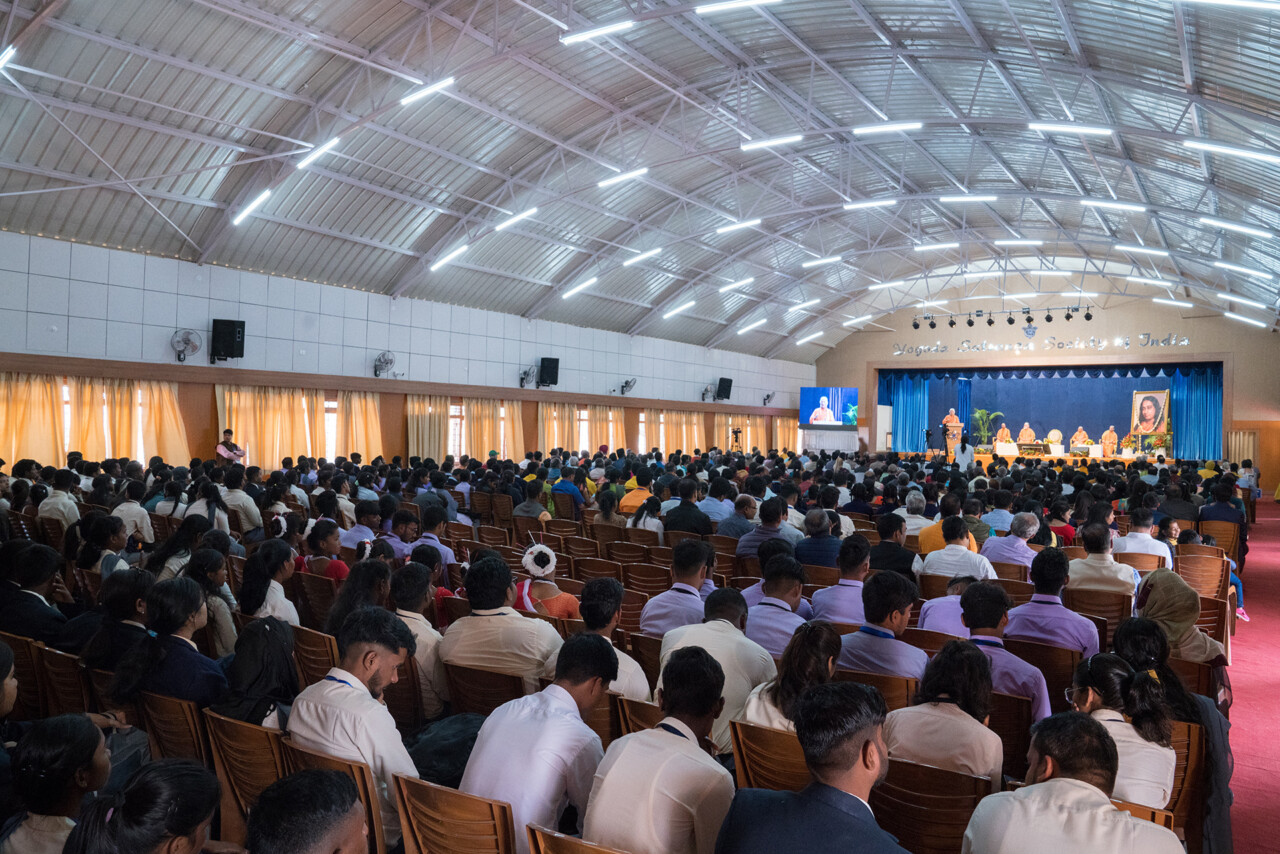 Brother Chidananda delivers an address inside the hall.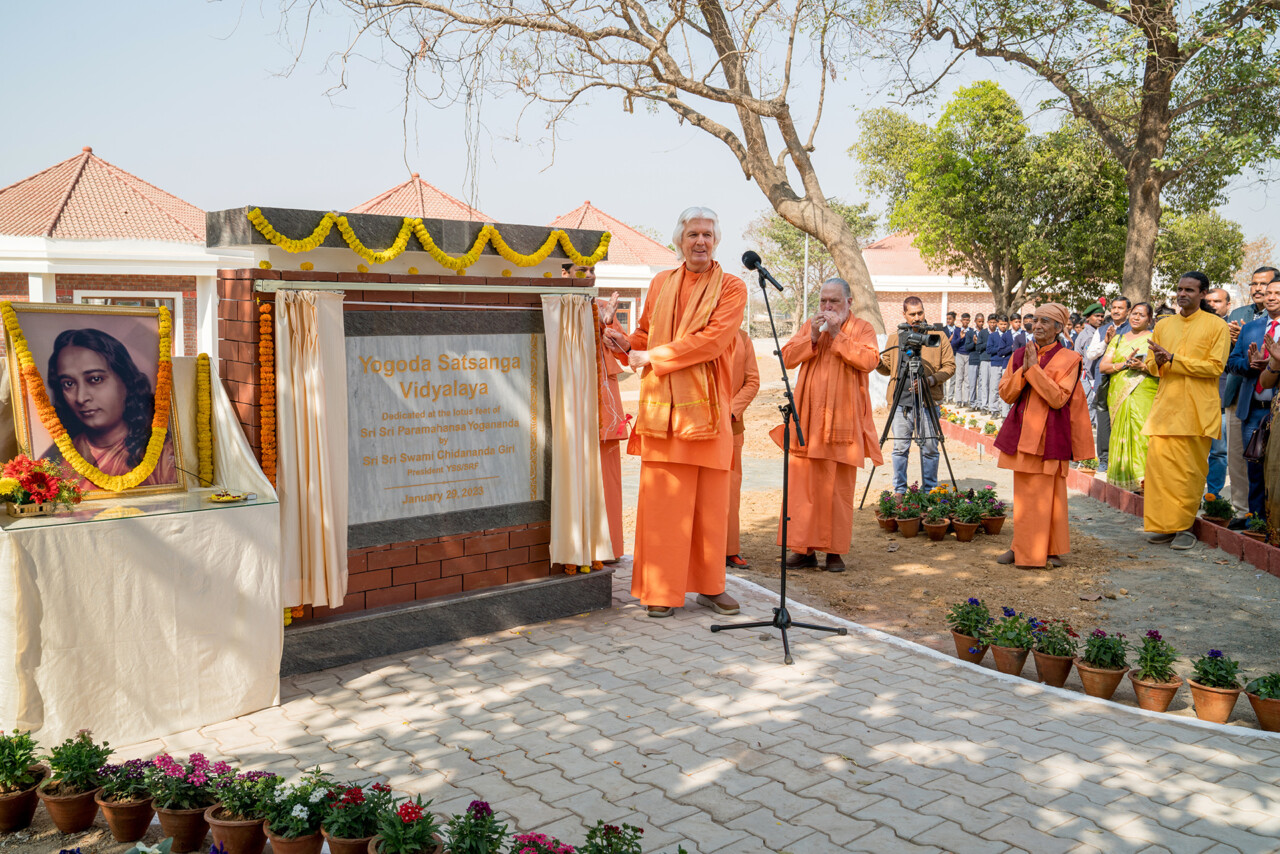 Unveiling of the plaque of the YSS Vidyalaya complex of classrooms for younger students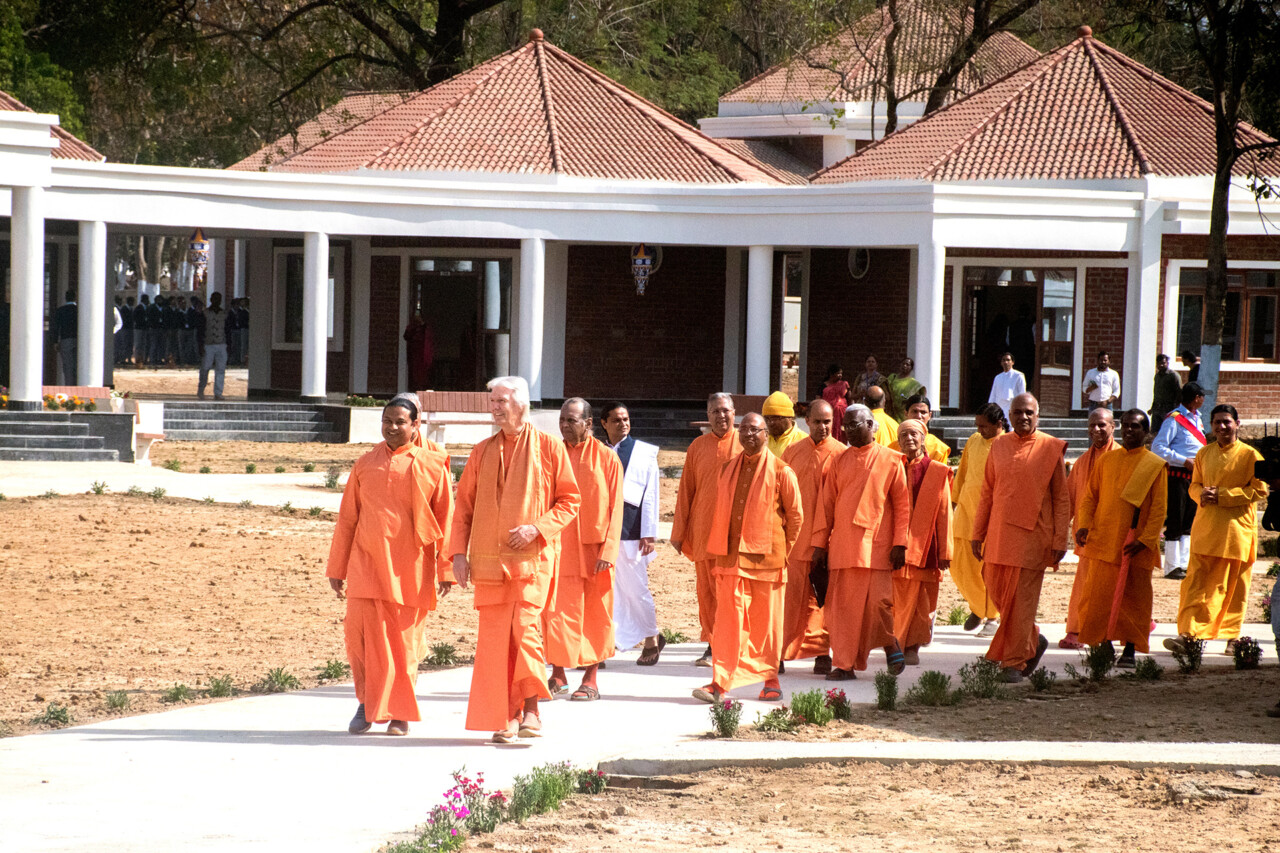 Brother Chidananda tours the campus with YSS monastics
Sangam at Hyderabad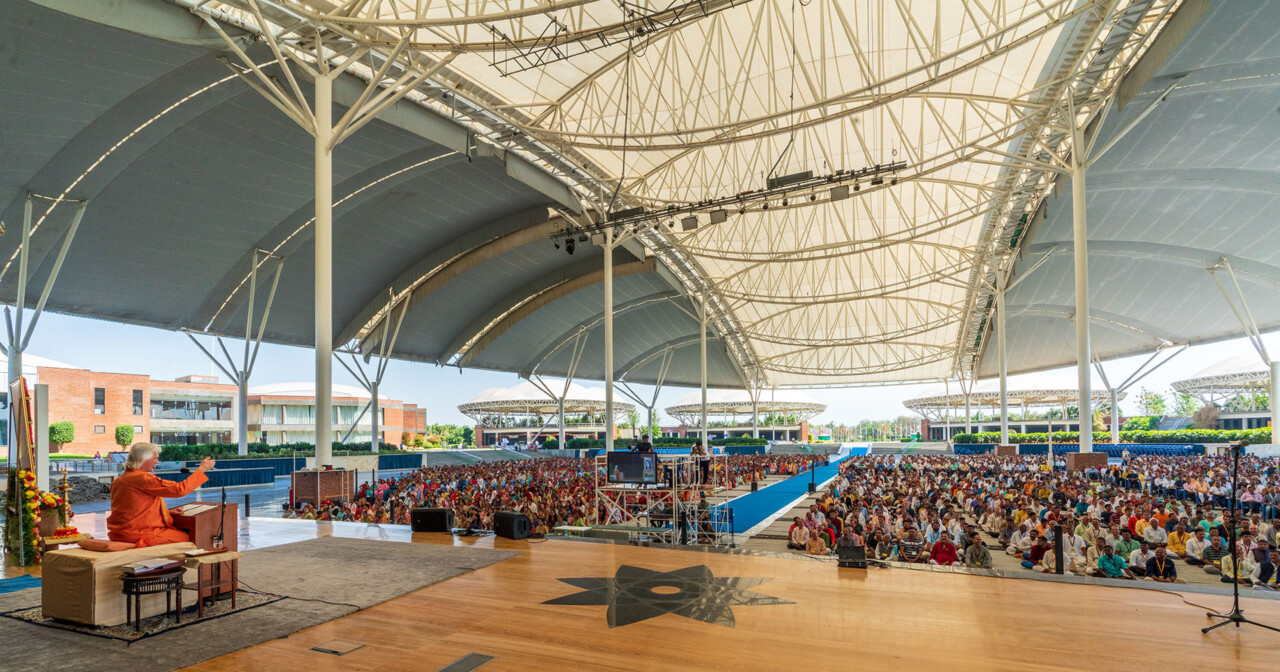 (Above) Brother Chidananda addresses almost 3,000 participants at the opening satsanga of the YSS Sangam in Hyderabad on February 12.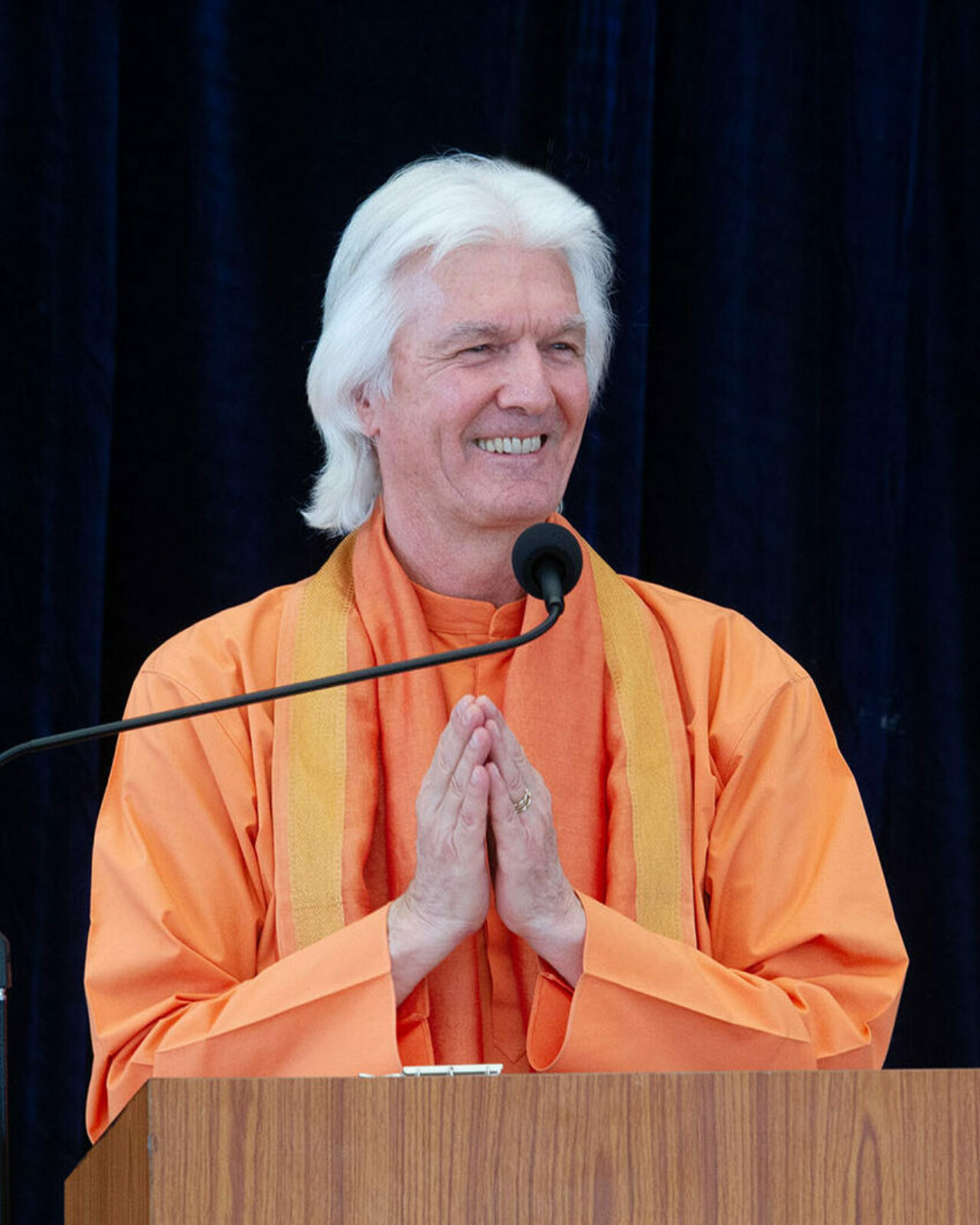 Multiple media outlets covered the five-day Sangam. The Daily Pioneer, one of the largest English language daily newspapers in India with 13 state editions, ran a feature article on his closing class, which included this quote from his talk:
"Reiterating his opening remarks to take refuge in Kriya Yoga, Swami Chidanandji said it takes you to the temple of silence, peace, wisdom and bliss where the soul merges with Spirit; and you feel it. He said, 'Each one of you is a beloved one of God. Never doubt it. Go deeper and you will know it.'"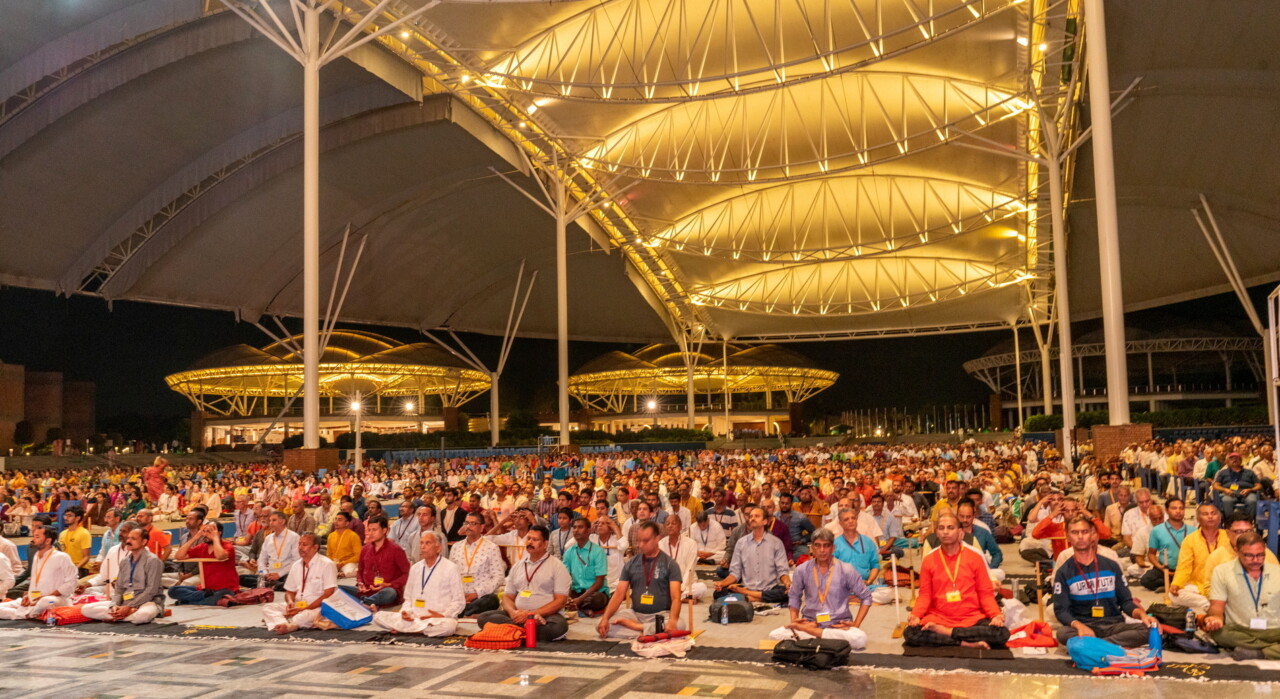 Thousands of devotees participated in this five day in-person Sangam, livestreamed to thousands more around the world, providing an immersion in Paramahansa Yogananda's yoga meditation teachings.
Brother Chidananda conducted the opening and closing programs, and a three-hour meditation:
In the Sangam's inaugural program Brother Chidananda welcomes participants to the five-day program of spiritual renewal and upliftment and shared inspiration on how to navigate through life's challenges and reach our highest potential.
In a three-hour meditation, Brother Chidanandaji guides YSS/SRF devotees and friends in an experience of the peace and joy of meditation that are at the heart of Paramahansa Yoganandaji's teachings.
In his closing talk, Brother Chidanandaji shares inspiration on how to carry the Sangam home and how to follow the sadhana given by Paramahansaji to live a truly balanced life and experience an intimate relationship with the Divine.
You can view all three events on our blog post "Taking Shelter in Kriya Yoga."
In addition to events led by Brother Chidananda were classes, reviews of Paramahansa Yogananda's meditation techniques, satsangas, meditations, and kirtan chanting — conducted by YSS and SRF sannyasis.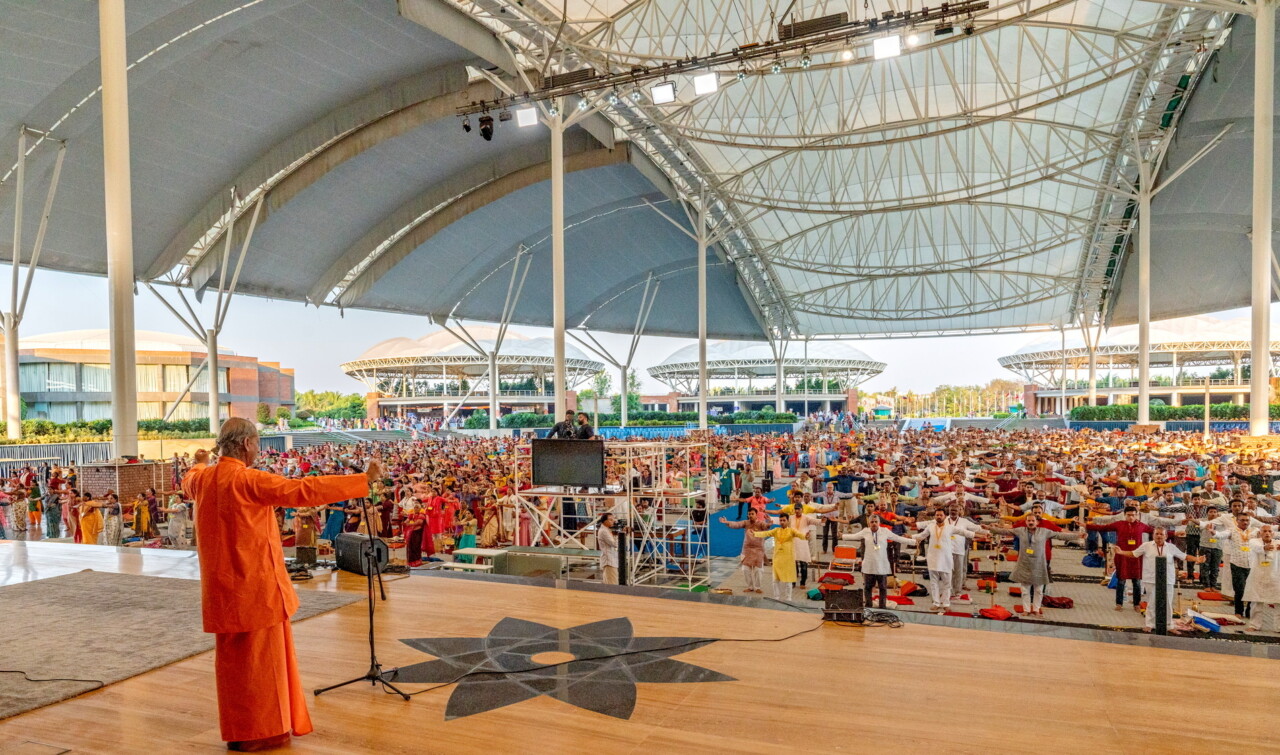 Instruction in the practice of Paramahansaji's Energization Exercises — a technique to prepare the body for meditation
An army of volunteers helps to prepare for the event and manage its operation.
There is ample opportunity for individual meditation.
A commemorative keepsake is given to each participant at the closing function by YSS/SRF sannyasis. SRF Vice President Brother Vishwananda shown here.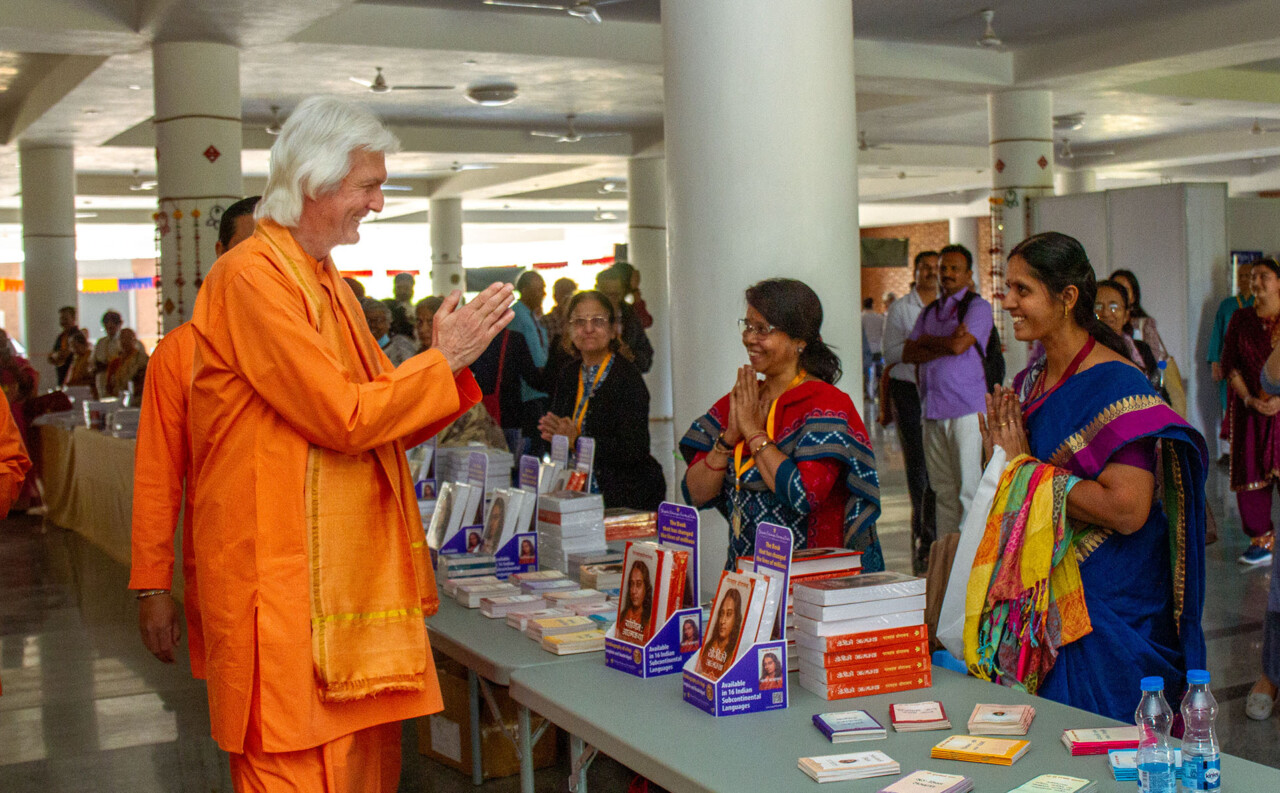 Brother Chidananda visited the many functions of the Sangam. (Above) He greets devotees serving at the book table that makes available all of the publications of YSS/SRF, many in Indian languages.
During the event he released four new YSS titles: a deluxe edition of Autobiography of a Yogi in English (also available in various other editions in fifteen Indian languages and over fifty languages worldwide); a hardcover edition of Metaphysical Meditations (English); a newly translated edition in Telugu of Journey to Self-Realization, Volume 3 of Paramahansa Yogananda's Collected Talks and Essays; and The Science of Religion, released for the first time in Kannada.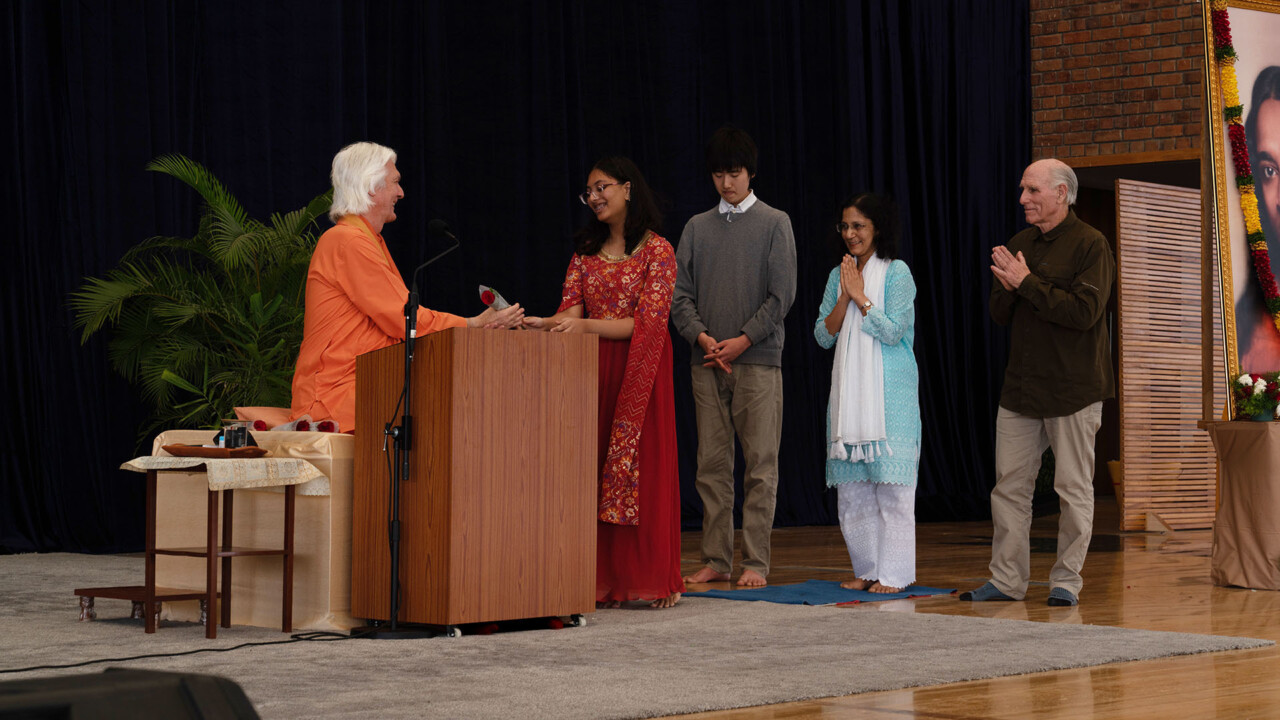 At the conclusion of the closing event, four devotees — from USA, Japan, Chandigarh and Hyderabad — offered gratitude to Brother Chidananda for this YSS Sangam on behalf of the global YSS/SRF devotee community.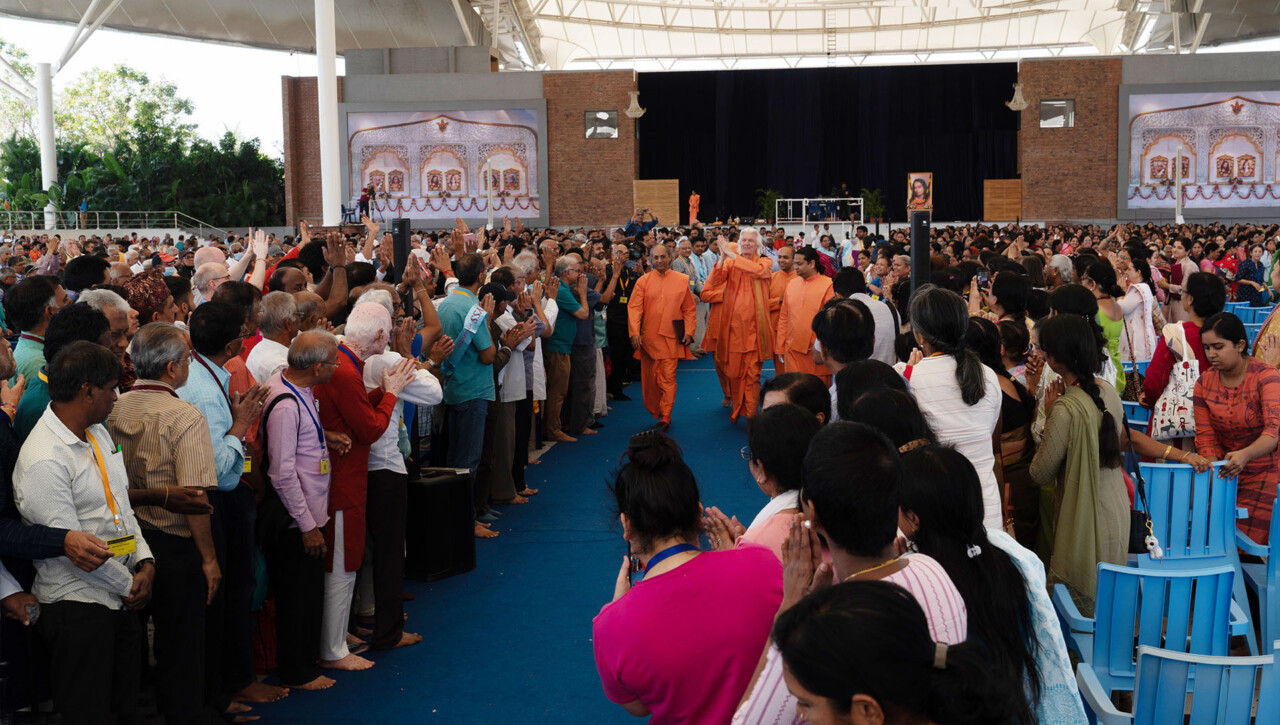 Brother Chidananda departs after the final event at Hyderabad amidst farewells from the thousands of participants.
Dakshineswar Satsanga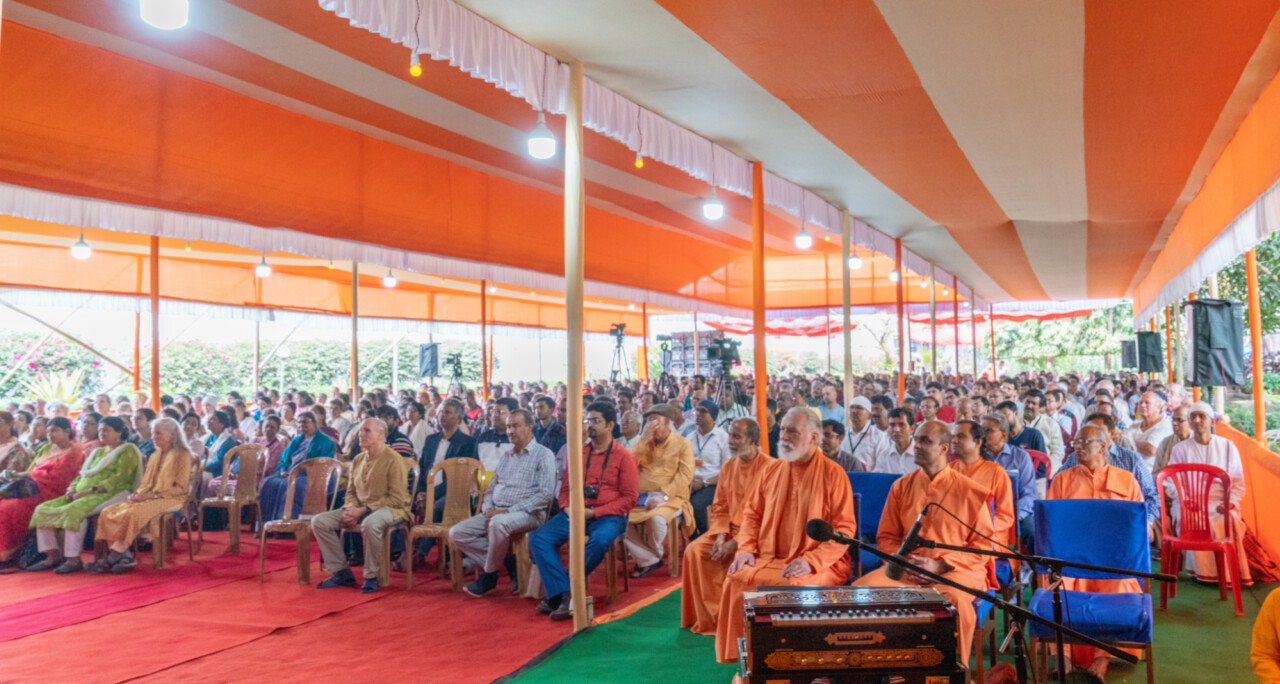 Following the Hyderabad Sangam, Brother Chidananda returned to Dakshineswar where he conducted a satsanga for hundreds of appreciative members and friends.
Serampore Pilgrimage Sites
While in Hyderabad Brother Chidananda made a joyous announcement of plans to develop two pilgrimage sites in Serampore connected with Swami Sri Yukteswar, Paramahansa Yogananda's guru.
The first of these relates to the banyan tree by the Ganges River that is a short way from Sri Yukteswar's hermitage in Serampore, under which he was visited by Mahavatar Babaji in 1894 (as recounted in Autobiography of a Yogi).
YSS has entered into an agreement with the municipality of Serampore to assume the management and maintenance of the area leading to the river from this sacred banyan tree. YSS has also acquired two large buildings adjacent to the banyan tree. In due course YSS will develop plans for this site in order to provide a fitting meditative environment for devotees to feel the vibrations left there by the divine Babaji.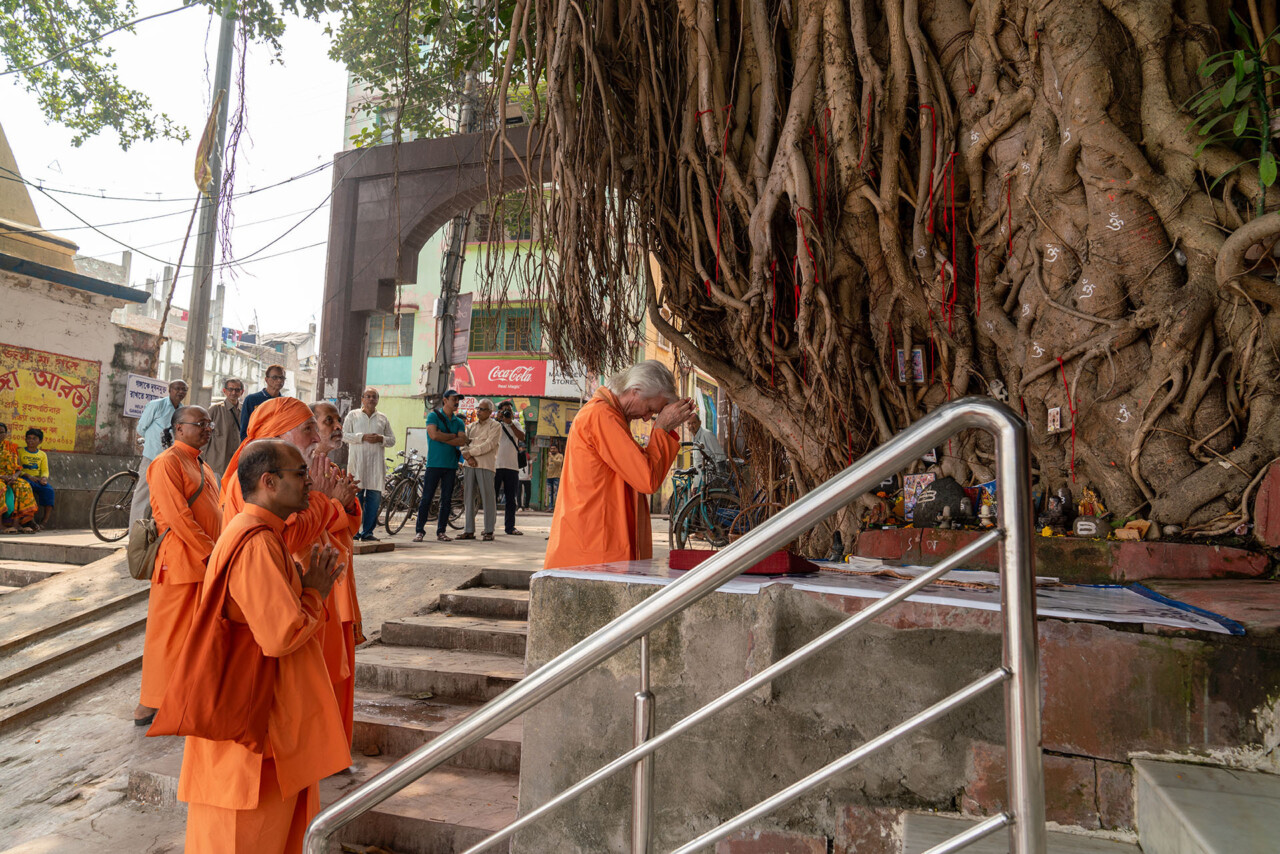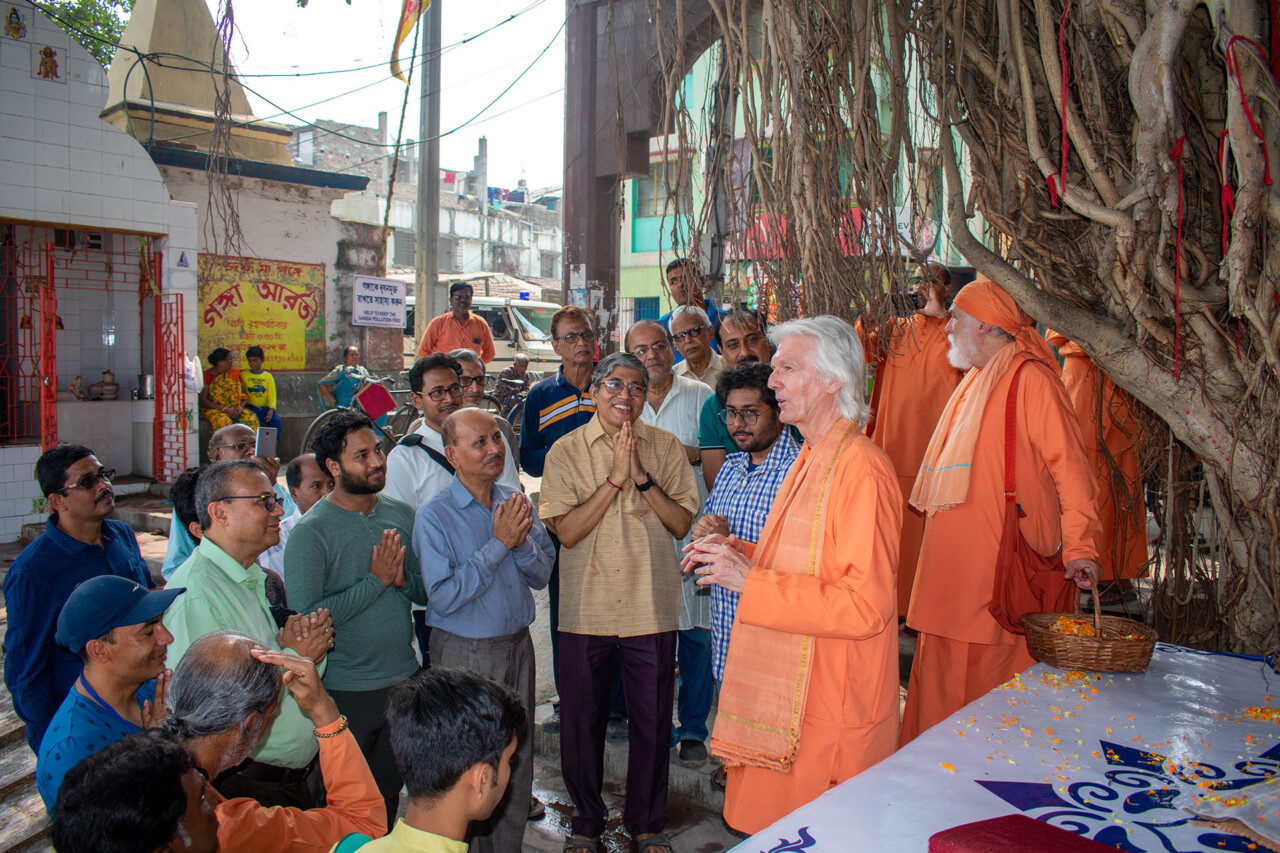 Brother Chidananda addresses devotees assembled under the sacred Banyan tree.
The second site has to do with Sri Yukteswarji's main ashram in Serampore, where Paramahansaji received his life-transforming spiritual training of which he tells in the chapter "Years In My Master's Hermitage" in Autobiography of a Yogi.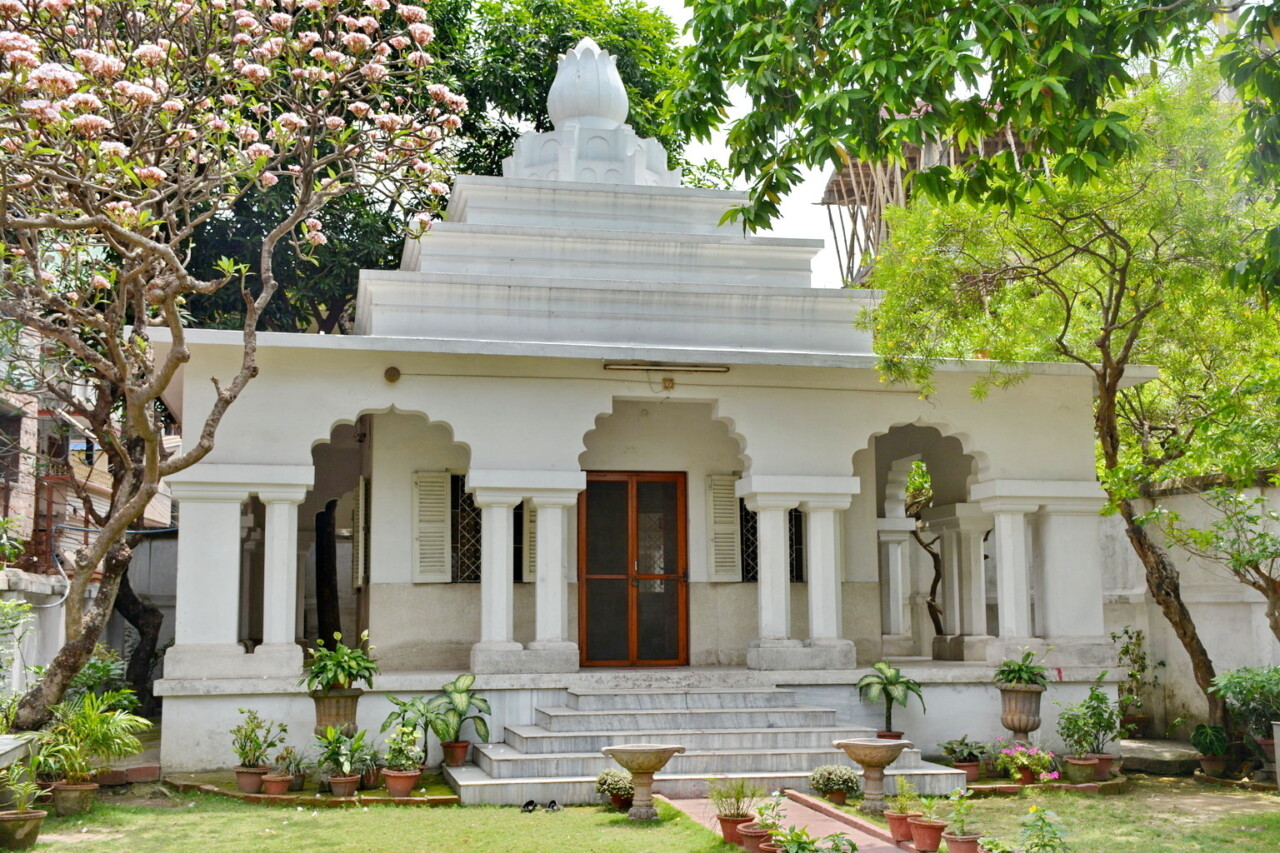 For many years Yogoda Satsanga Society of India has maintained a memorial temple (shown above) on a part of this ashram property. This Swami Sri Yukteswar Smriti Mandir was dedicated in 1977 by Sri Mrinalini Mata as part of the YSS Diamond Jubilee celebrations.
YSS has acquired ownership of the complete hermitage property. Plans are to eventually restore as much as possible of the original hermitage building, making available to spiritual seekers a pilgrimage site imbued with the vibrations of these great masters.
We look forward to sharing with you detailed plans for these two sacred pilgrimage sites in Serampore in due course.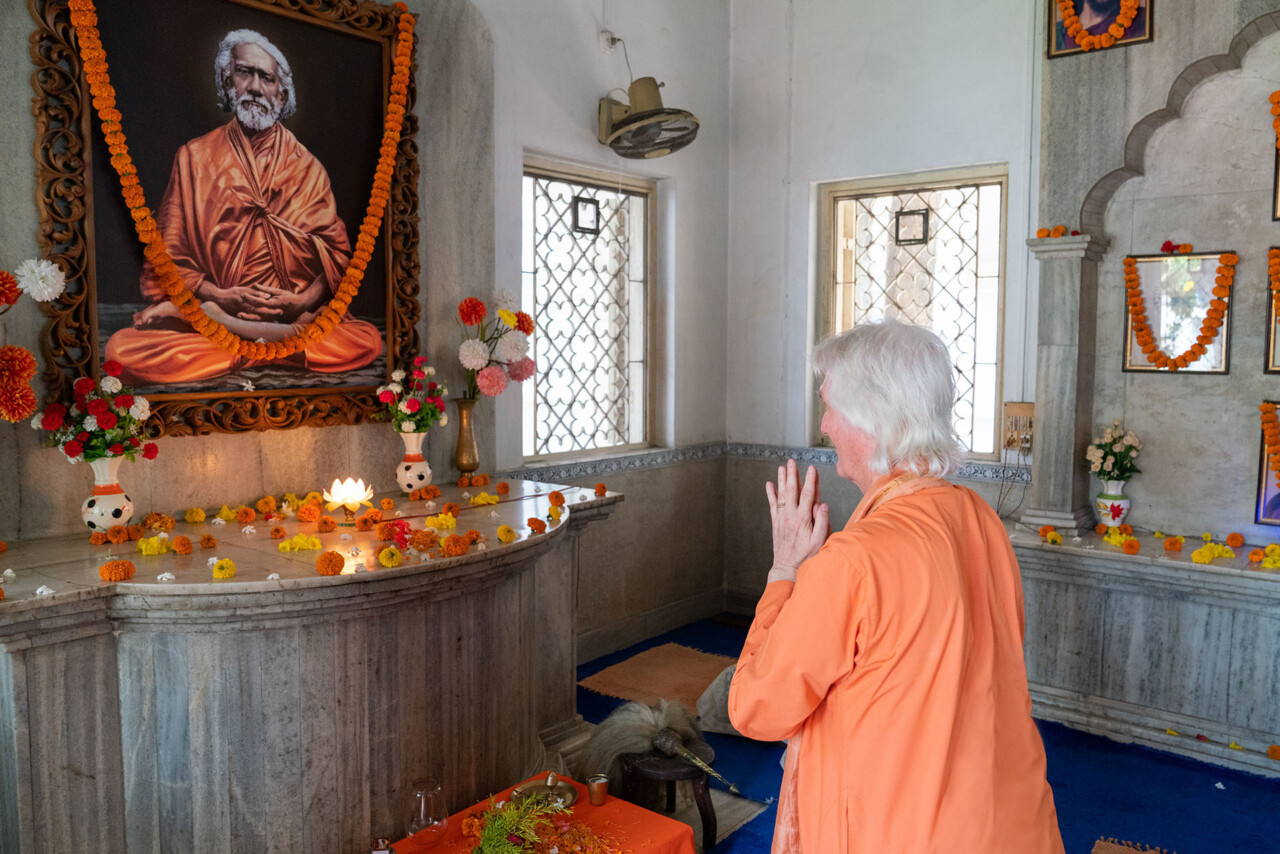 Brother Chidananda kneels at the altar in the Swami Sri Yukteswar Smriti Mandir ("Memorial Temple").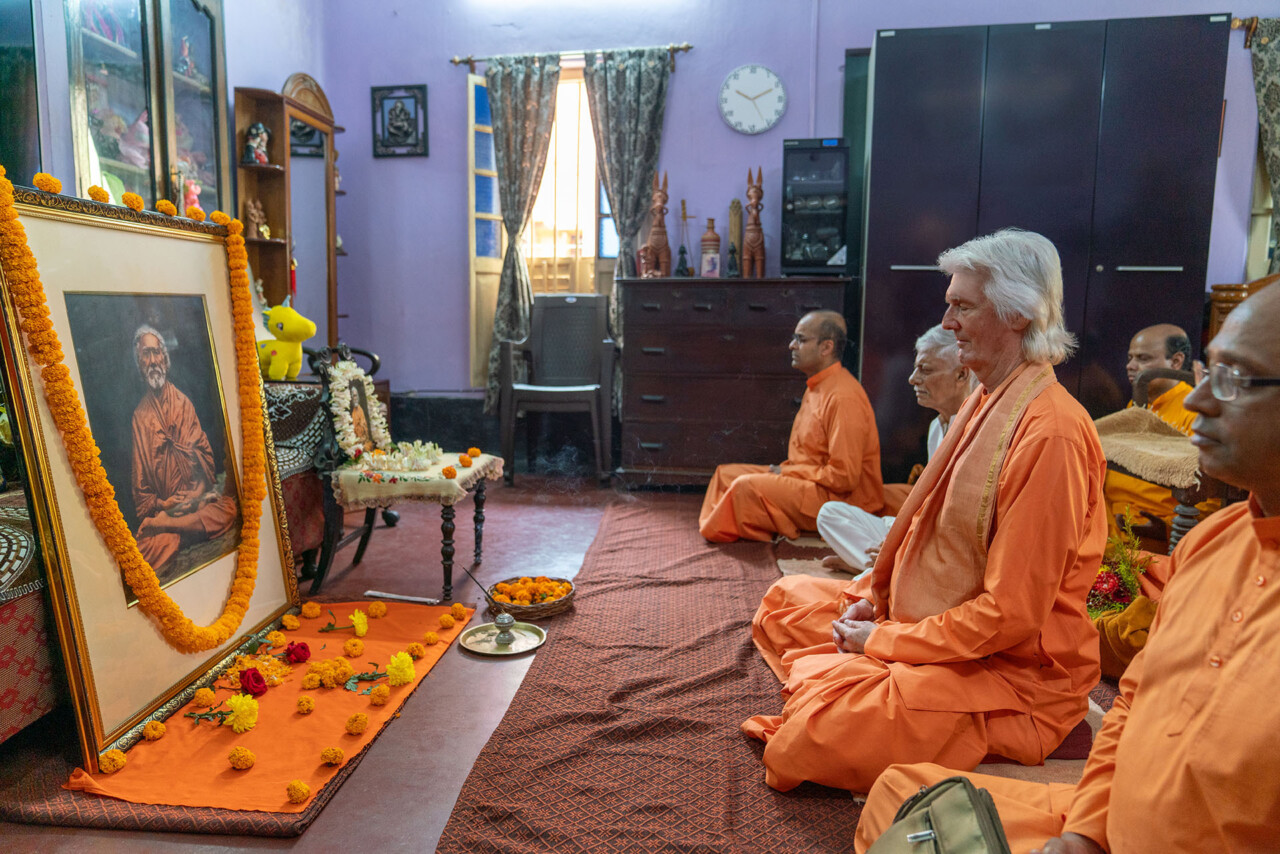 Brother Chidananda and party meditating in Swami Sri Yukteswarji's sacred ashram
Final Satsanga in Noida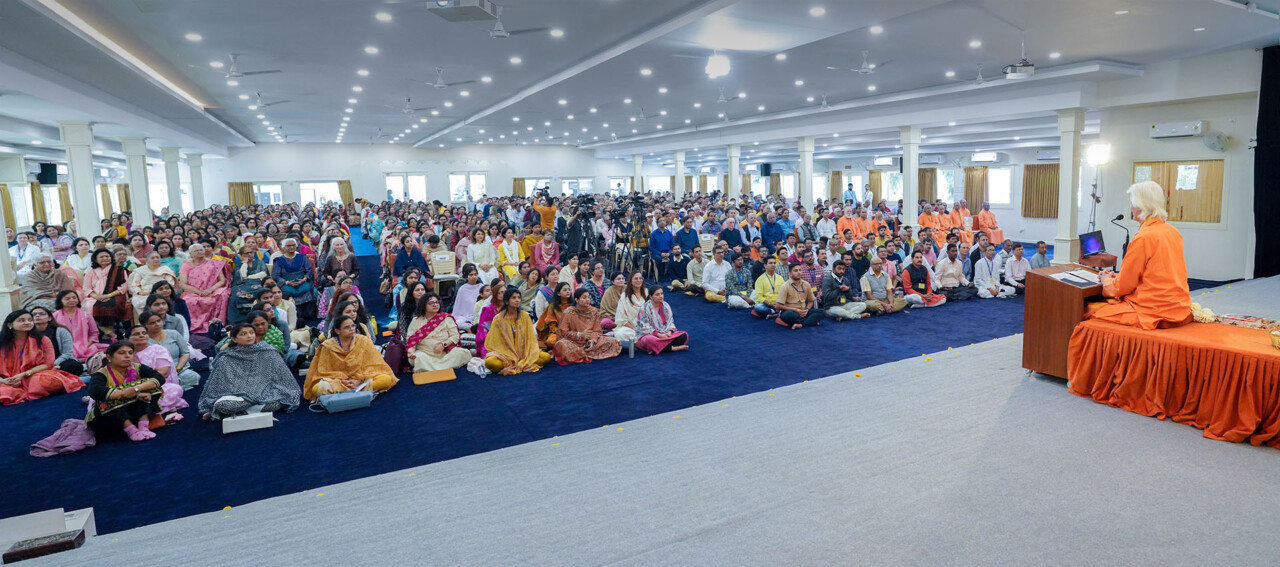 Brother Chidananda addresses a full hall at the YSS Noida Ashram during a final satsanga in India.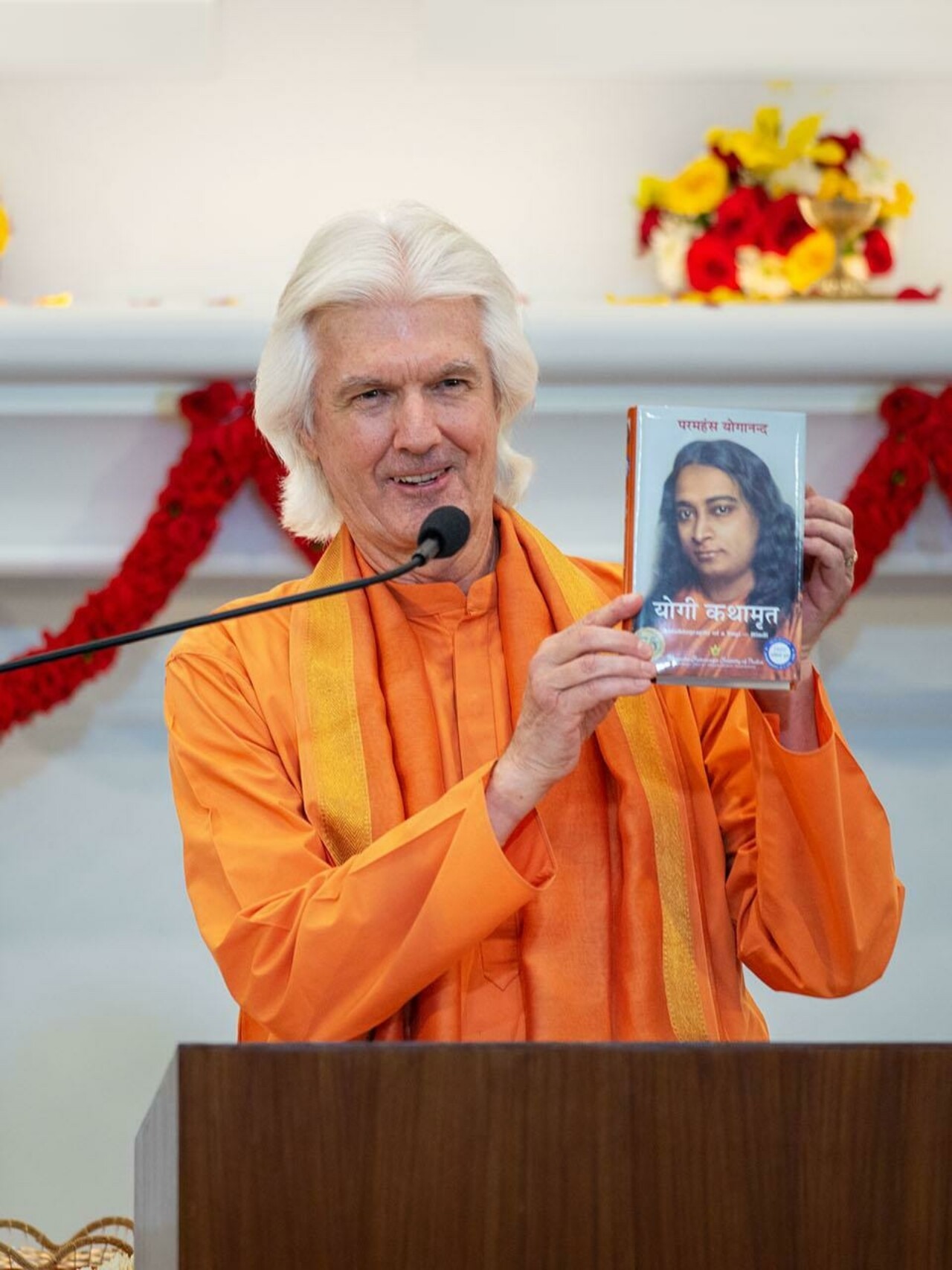 During the satsanga, Brother Chidananda releases the hardcover edition of Autobiography of a Yogi in Hindi.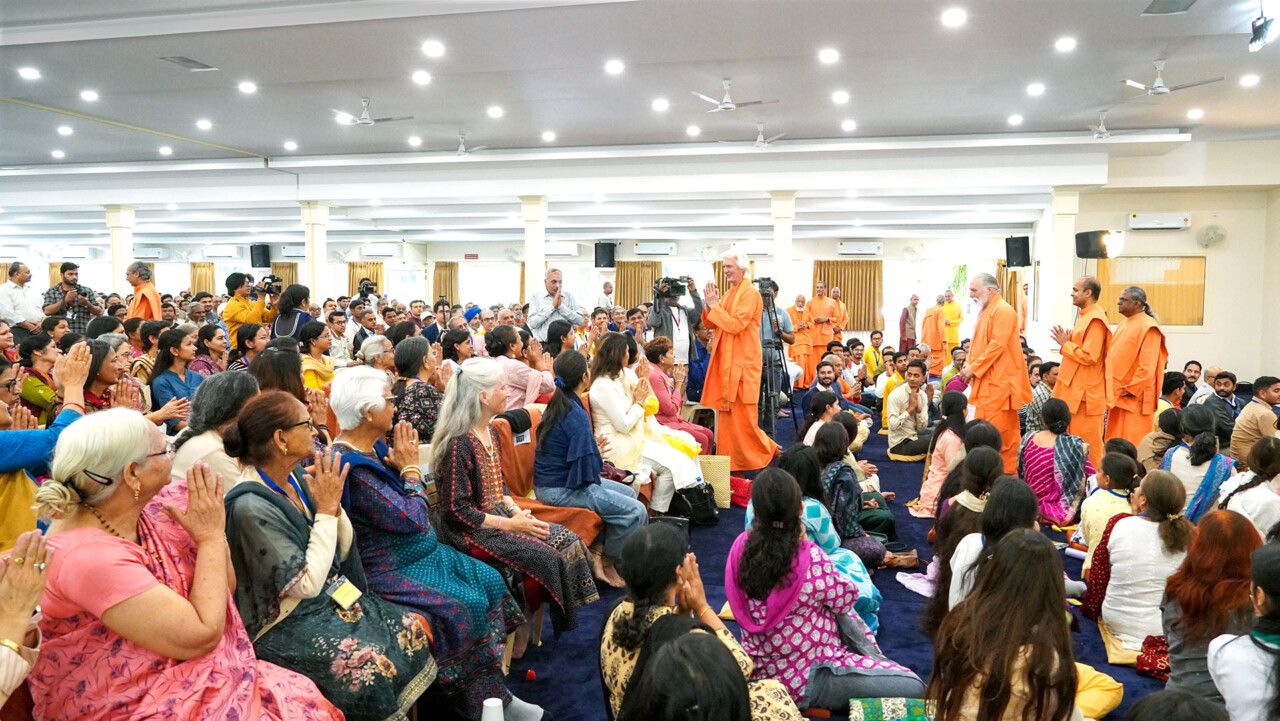 Devotees are moved as Brother Chidananda and party depart.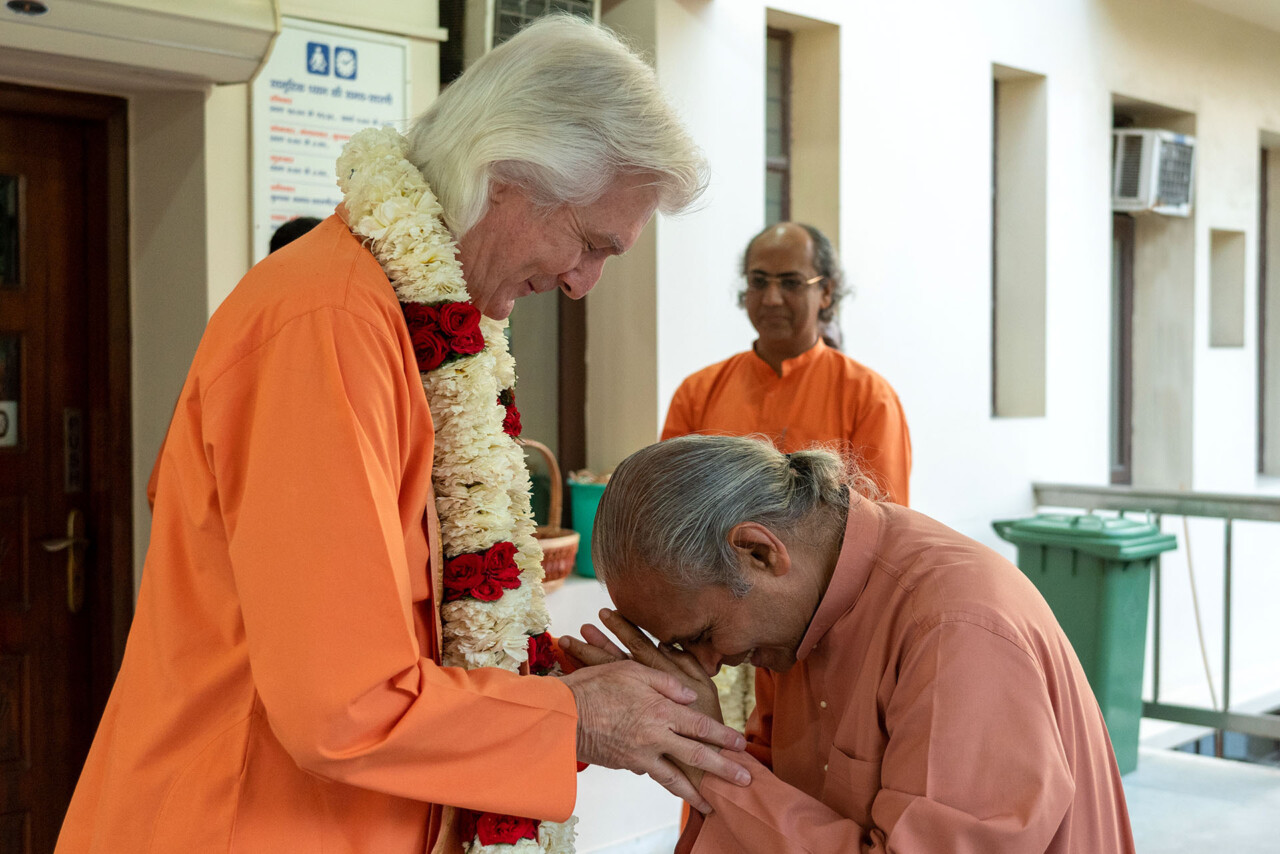 Swami Smaranananda, YSS Vice-President, gives a final farewell.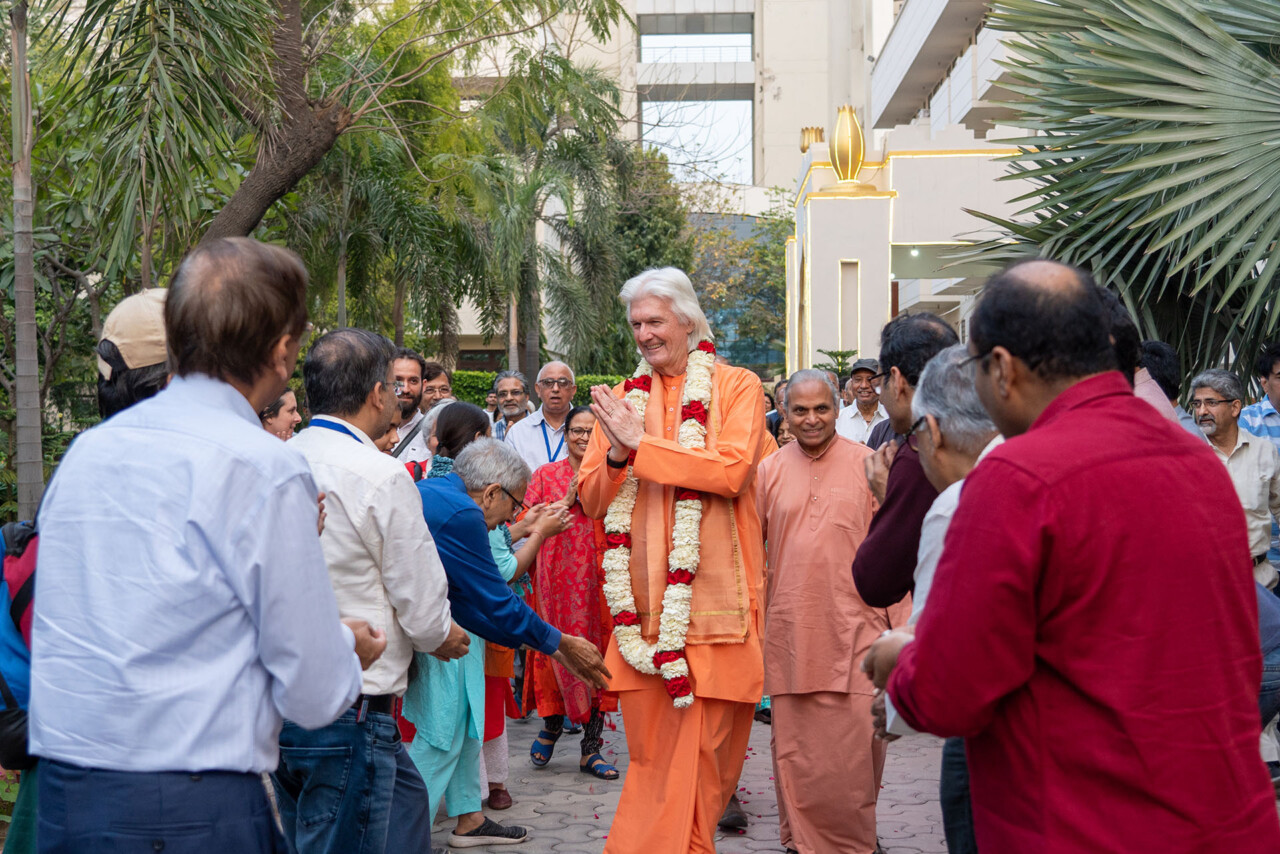 Visiting Singapore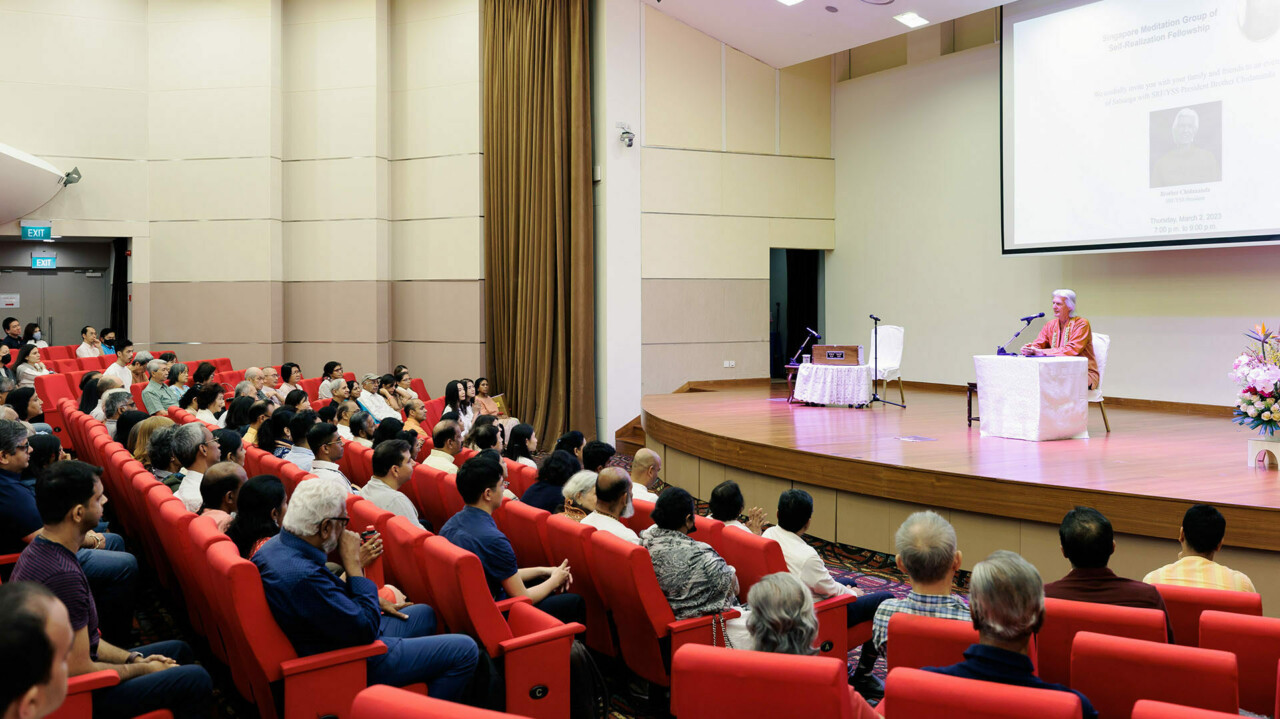 While returning to the SRF International Headquarters Brother Chidananda stopped in Singapore, where he is shown addressing SRF members and friends.
Return to SRF International Headquarters, Los Angeles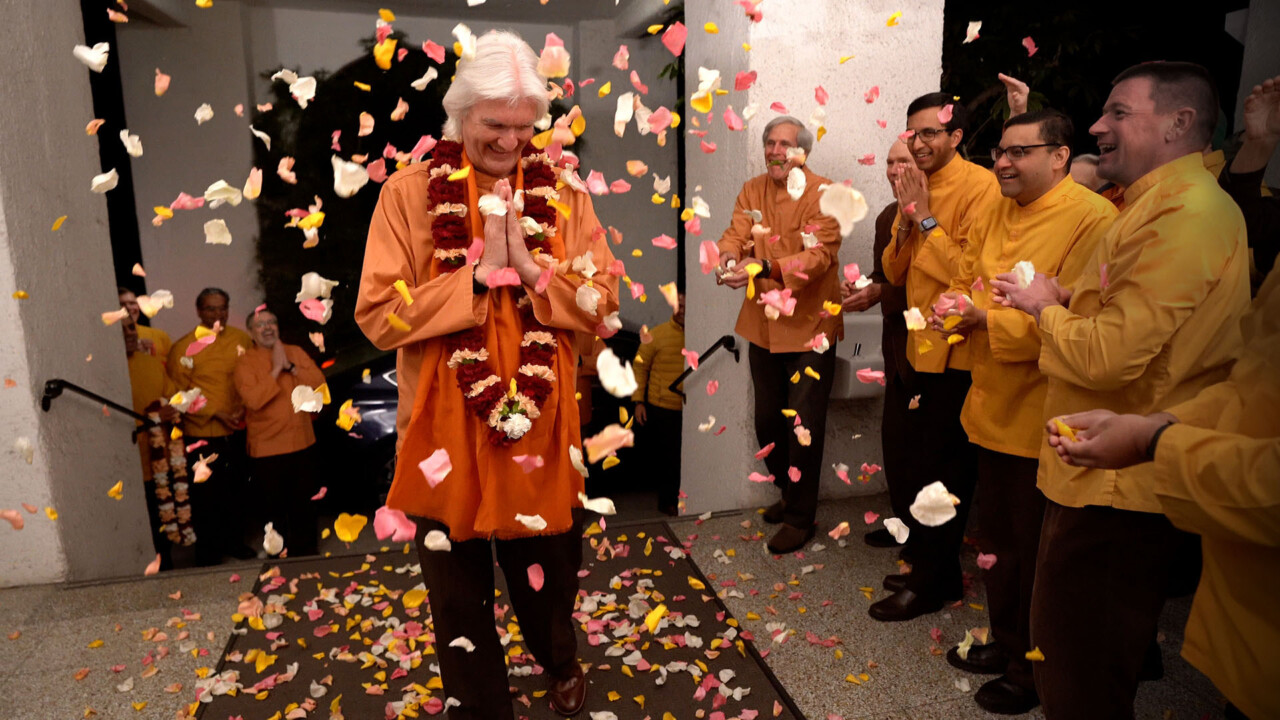 On March 2, upon his return from a six-week journey abroad, Brother Chidananda receives a warm and joyous greeting from SRF monastics at the Mother Center in Los Angeles, the international headquarters of Paramahansa Yogananda's worldwide work.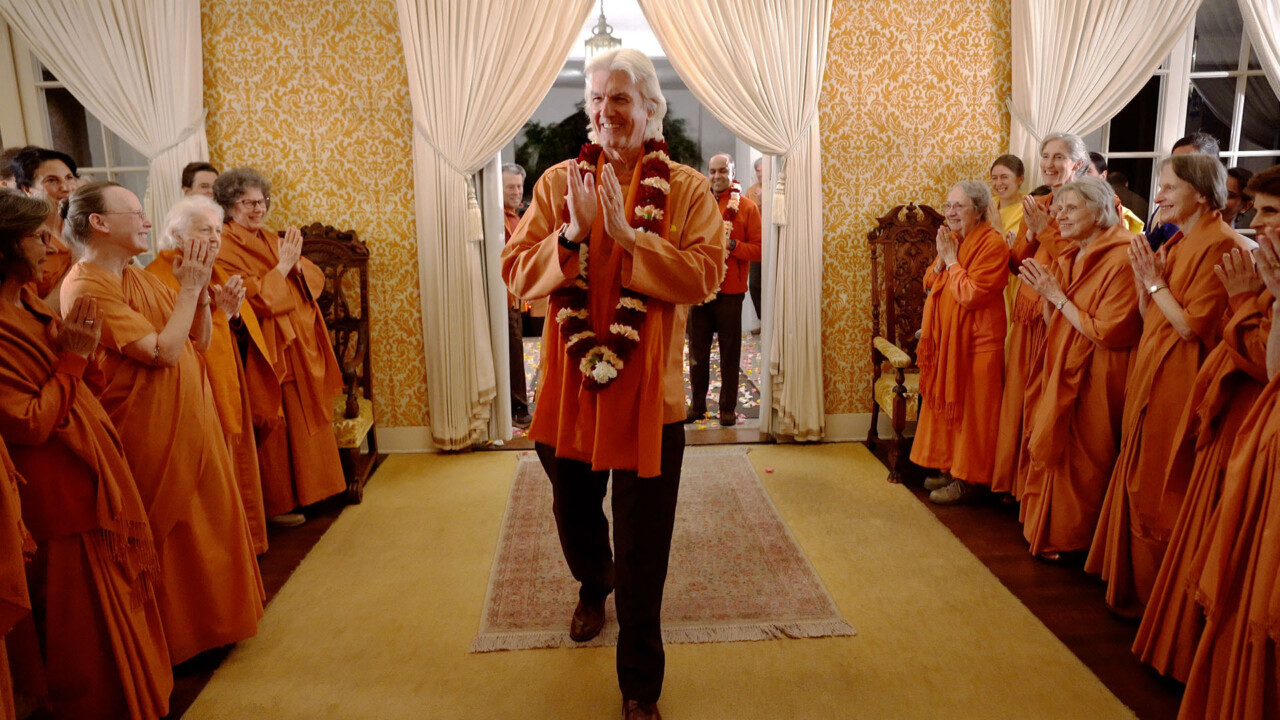 We hope you have enjoyed this photo essay of SRF/YSS President Brother Chidananda's visit to the sacred motherland of Paramahansa Yogananda and his lineage of gurus.