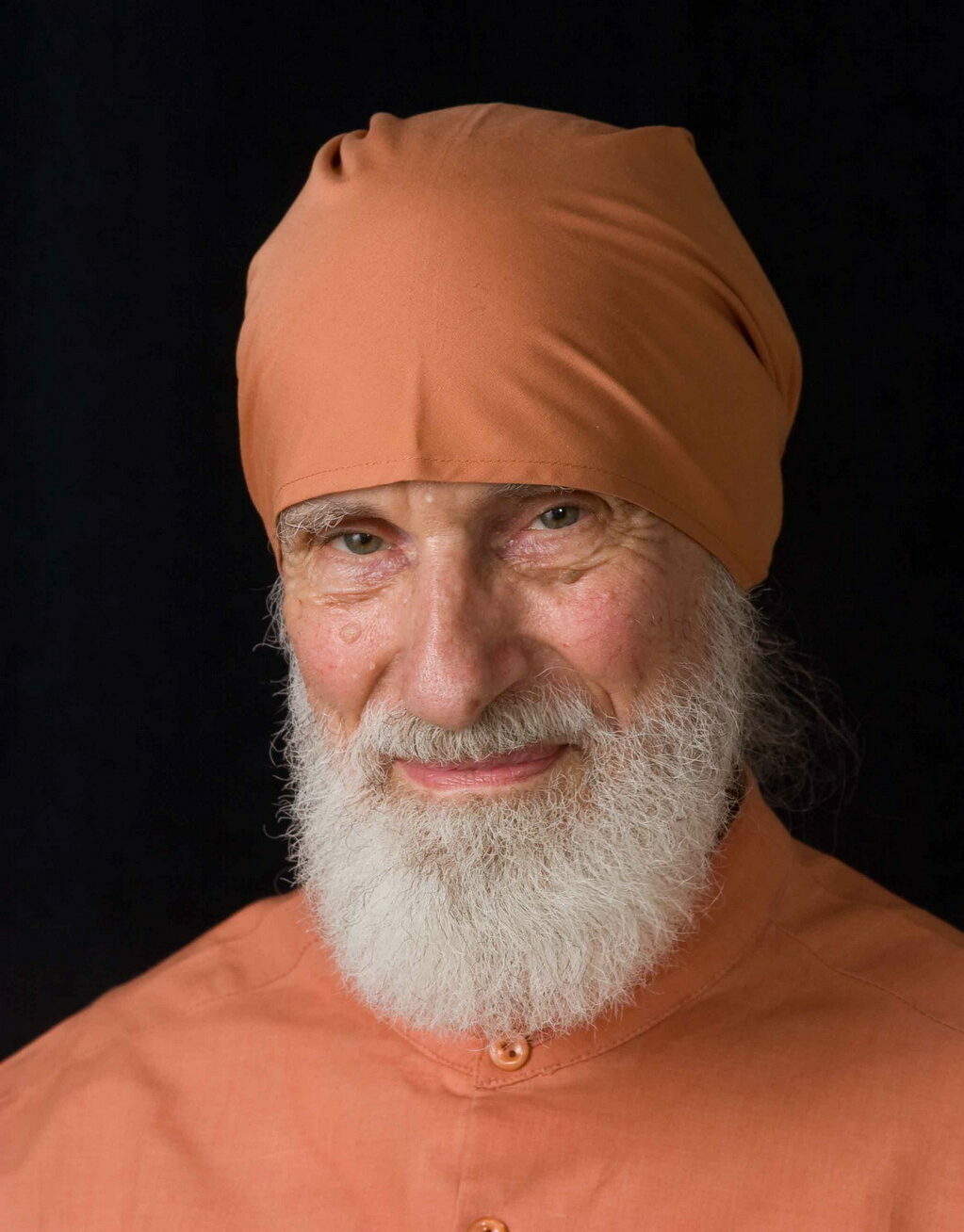 Our revered Swami Shantananda Giri, a monastic disciple of Paramahansa Yogananda for more than 60 years, passed away peacefully at the Self-Realization Fellowship International Headquarters in Los Angeles on Wednesday, January 4, 2023.
Memorial Service

A memorial service for Swami Shantananda took take place in India on Thursday, January 26, to honor this loving disciple who inspired countless members and friends, and gave so unselfishly to our Guru's work. The service, livestreamed worldwide from the Ranchi Ashram of Yogoda Satsanga Society of India, was led by Swami Suddhananda. The service included eulogies from other YSS swamis as well as from Srimati Ratna Chaturvedi and Dr. K. V. Rama Rao, both speaking from offsite locations in India.

"An Epic of Joy"
Following the other eulogies, SRF/YSS President Swami Chidananda shared stirring words about Swami Shantananda. Following are excerpts from his tribute:
"My heart is so full, thinking of the inspiration and divine qualities our dear Swami Shantanandaji who, to so many of us — myself included — was also a very dear friend.
"Thinking over his life, and the many stories and anecdotes and reminiscences that devotees have shared, my mind kept going back to something our divine Gurudeva said when he was reminiscing about the growth and development of his work: 'It has been an epic of joy.' And that is what one can't help feeling when hearing the tributes to the wonderful impact that our dear Swamiji had. That 'epic of joy' did not stop in 1952 when Paramahansaji left his physical form. That epic is still being written; and our dear Swamiji certainly has a very memorable and inspiring chapter in that epic.
"As we think about the inspiration he exemplified — as a disciple, as a Kriyaban, as a yogi, as a lover of God and devotee of Gurudeva — it all comes down to what an amazing and epically beautiful life each devotee can live if there is just that quality which epitomizes our dear Swamiji: self-forgetfulness — putting oneself out of the way so that God and Guru can flow through with Their divine love, wisdom, joy, and inspiration. The divine force that comes through self-forgetfulness isn't something that only swamis or renunciants can experience. It is for each devotee who follows this path. The more we say to God and Guru: 'Not my will, but Thy will be done; use me according to Your will,' the more we will experience that. Swamiji's whole life was a constant affirmation and invocation of the spiritual power of this divine perception."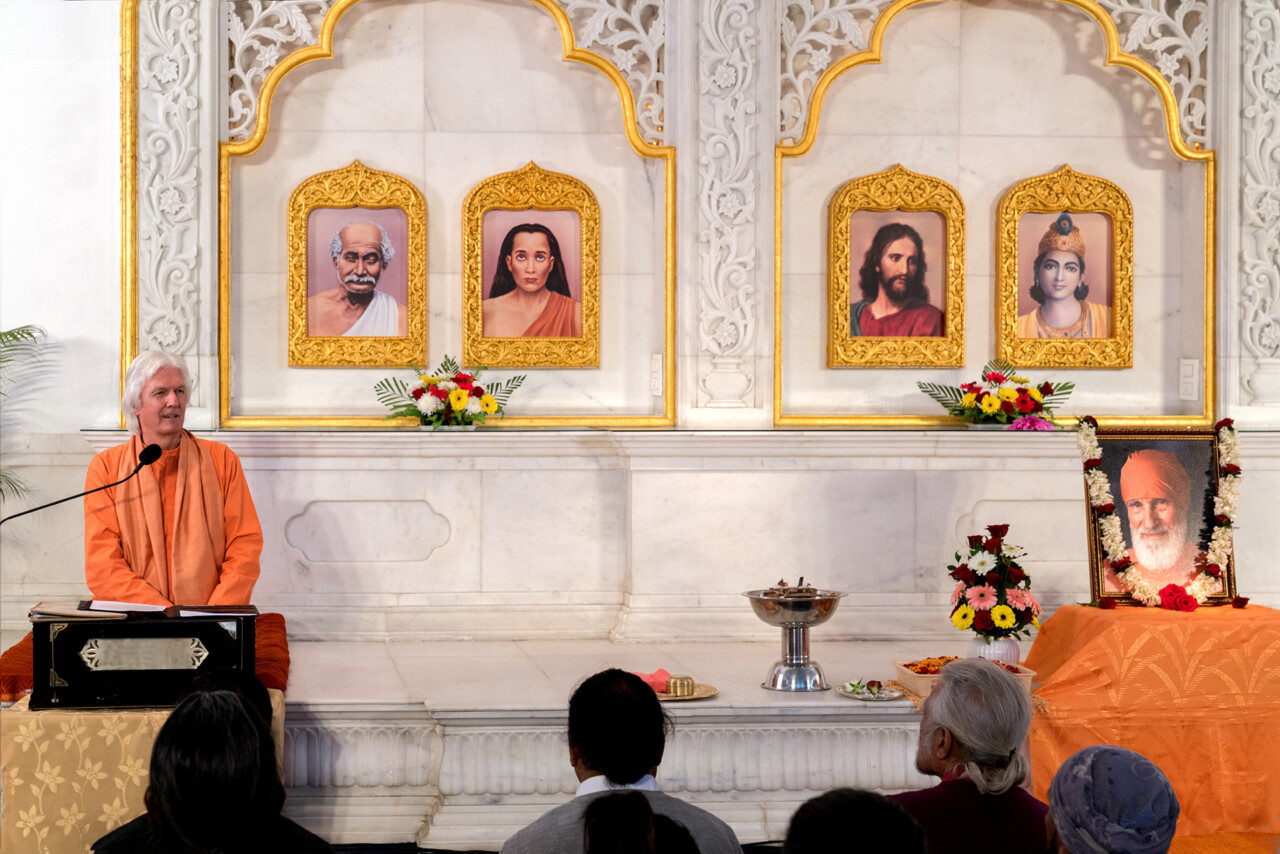 SRF/YSS President Brother Chidananda speaks at the memorial service for Swami Shantananda held at the YSS Ranchi Ashram.
Swami Shantananda was highly revered by and touched the hearts of both YSS/SRF devotees and monastics for his one-pointed devotion to God and for his eloquent and wise presentations of Paramahansa Yogananda's Kriya Yoga teachings.
He will be especially remembered for his unceasing dedication to Paramahansa Yogananda's work in India — Yogoda Satsanga Society of India (YSS) — where he lived and served for nearly five decades, overseeing the administration of YSS and contributing to its Publications, Education, Legal, Center, and Finance departments, among others.
Early Life
Born Paul Steele Fleetwood on July 28, 1932 in Antioch, California, Swami Shantananda had a happy and harmonious childhood, graduating from high school in Concord, California in 1950. He received a Bachelor of Science degree in chemical engineering in 1954 from the University of California, Berkeley, and pursued a Master's degree in physical science from Colorado State College in Greeley, Colorado.
Despite his impressive academic studies, Swami Shantananda's foremost desire was to join an ashram under a God-realized master, which led him in 1960 to enter the SRF monastic community in Los Angeles. On his application to become a renunciant he wrote: "I have to seek God to the best of my poor abilities."
Years in India
After receiving the Brahmacharya vow in 1963 at the SRF Mother Center, Shantananda was sent by Sri Daya Mataji to reside in the YSS Ranchi and Dakshineswar ashrams, where he served tirelessly and joyously (remaining there until 2011, when he returned to the SRF monastic ashram centers in Los Angeles). He took the final vows of Sannyas on July 4, 1971.
During his many years in India, Swami Shantananda continued to receive frequent guidance and direction from Sri Daya Mata. He traveled with her and other assistants during her numerous trips to India, and she relied heavily on his attentive assistance. In addition, he went to Los Angeles approximately every two years to meet with her and to discuss important matters pertaining to the growth of Paramahansaji's work in India. Thus Swami Shantananda played a significant role in the transformation of YSS into the robust spiritual society it is today, including helping to set the now flourishing YSS monastic order on a firm foundation. Under Daya Mata's mentoring, he went on to serve on the YSS Board of Directors starting in 1972, and also as Joint General Secretary and Treasurer until 2011. He served as a member of the YSS Board of Directors until 2020.
Swami Shantananda (far left) is show here in 1972, viewing the Himalayan peaks with (left to right) Swami Sharanananda, Sri Daya Mata, Sri Ananda Mata and Swami Achalananda.
Sri Daya Mata with Swami Shantananda, and Sri Soven C. Roy, General Secretary of YSS, in 1991. These YSS officials resided at the SRF International Headquarters for six weeks, meeting with Sri Daya Mata and other members of the SRF/YSS Board of Directors regarding the spread of Paramahansa Yogananda's teachings in India.
In recalling the growth of Paramahansaji's work in India, Swami Shantananda said, "The principal story of Daya Mataji's five visits was the establishment of YSS on a firm foundation. The success of this noble endeavor, however, was far from assured when Daya Mata first landed in India [in 1959]. Within a few weeks she realized that many administrative problems needed to be solved. The right people had to be found."
Swami Shantananda explained that the "right person" was found in Sri Binay Narayan Dubey, later known as Hansa Swami Shyamananda Giri (1911 – 1971), who revitalized YSS under Daya Mata's constant inspiration and guidance. At the time, Swami Shantananda did not realize the invaluable role that he himself would play in the transformation of YSS after the passing of Swami Shyamananda: "A few of us young ones were assistants to Yogacharyaji [Swami Shyamananda]. We learned a lot from his vision and dedication to the mission. Even after his passing in 1971, we knew that to achieve success for YSS we only had to implement the course so clearly started and set by him."
After Swami Shyamananda's passing, the primary responsibility for the day-to-day operations and administration of YSS was placed on the shoulders of two younger monks, Swami Bhavananda (who passed away in 2010) and Swami Shantananda.
Among his many other responsibilities, as YSS General Secretary, Swami Shantananda served as the YSS representative in countless official interactions with India's government and other organizations.
One such incident was when Mother Teresa of Calcutta publicly appealed for aid for poverty-stricken victims of riots in 1993. Under Swami Shantananda's direction, YSS responded by repairing many houses damaged in the riots. At the inauguration of the YSS relief efforts Mother Teresa requested Swami Shantananda to read the beautiful prayer of St. Francis, "Lord, Make Me an Instrument of Thy Peace" (see photo above).
After YSS had constructed new roofs for nearly one hundred homes Mother Teresa sent the following note of appreciation: "Dear Swami Shantananda Giri, God love you for the love you have shared with our poor in Tangra by repairing their houses. My gratitude is my prayer for you and all who helped you. God bless you. M. Teresa, M. C."
"I did my utmost to give love to all"
On his 50th ashram anniversary in 2010, Sri Daya Mata said: "You have loved and served God and Guruji with unwavering enthusiasm and faithfulness, and I know They bless you unceasingly for living wholeheartedly the life of a sannyasi for these many years."
Brother Vishwananda, SRF Vice President and a member of the SRF/YSS Boards of Directors recalled, "In seeking to identify some of the key reasons YSS had experienced such tremendous growth, I asked several of the senior YSS monastics for their thoughts, including Swami Shantananda. With his vast experience in the administration of virtually every area of the YSS work, I expected that he would give me a long and detailed analysis. Instead, this was his response:
"'As directed by our Gurudeva, I did my utmost to give love to all, to feel the love of God, and to see God's presence in everyone. And it has all worked out beautifully well, owing to Divine Mother and Guruji's active participation throughout all these years.'
"Isn't that beautiful? He took to heart the instruction implicit in Guruji's statement, 'Only love can take my place.'"
Please join us as we send our deepest love and gratitude to our dear Swami Shantananda, who has been reunited with his Guru in God's home of eternal bliss and peace.