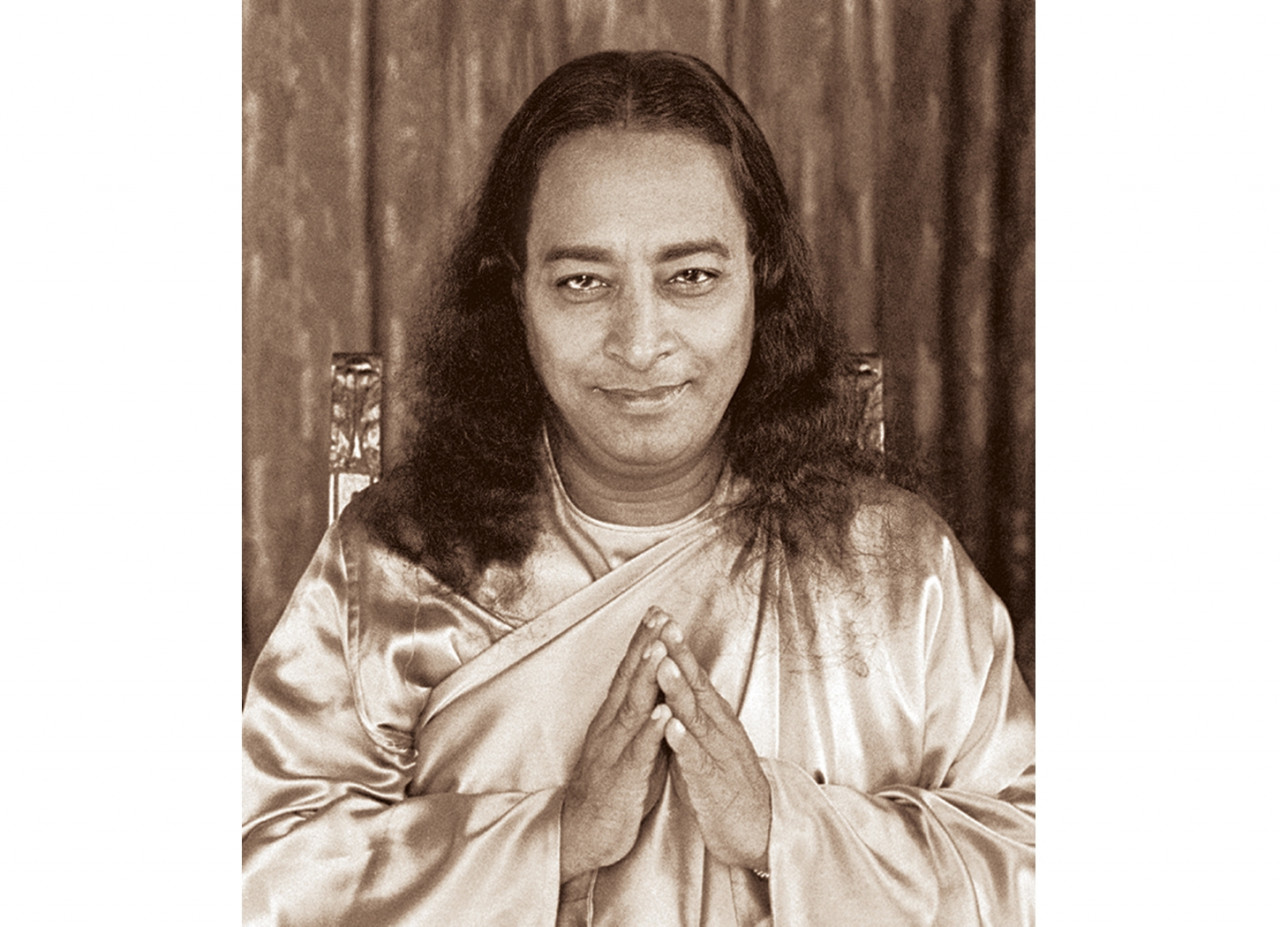 The spiritual relation of souls united in seeking God is stronger and more binding than any other relation.
Paramahansa Yogananda
Dear Friends,
From the Self-Realization Fellowship ashrams of Paramahansa Yogananda, we are reaching out to you today to share the updates promised in the letter from Brother Vishwananda last month. We also want to express our appreciation for your outpouring of love and support, and our gratitude for the many ways that you are contributing to the strength of our Guru's mission and worldwide spiritual family during these challenging times.
Your Courage and Care Deeply Inspire and Move Us
What a journey we all have been on together in these last few months! It has not been easy.
As a spiritual family, we have been challenged to maintain our connectedness to each other while practicing social distancing, to remain evenminded while facing uncertainty, and to stay attuned to the Divine, anchored in Paramahansaji's teachings, amidst the turbulence of rapidly changing circumstances.
Yet we are seeing how beautifully you are rising to the occasion, using the tests you face to apply Paramahansaji's teachings more deeply and to nurture the spiritual fellowship that helps to sustain and uplift us all.
We have been profoundly touched by the unexpected flood of heartfelt emails, phone calls, and gifts that have arrived in response to Brother Vishwananda's letter. Devotees from around the world have sent us many loving messages. We share one of them below:
"The members, staff, Brothers, and Sisters are in my daily prayers. I'm grateful to know that you are doing well. Thank you for all of your hard work and fortitude to keep this much needed organization of Self-Realization Fellowship going.
"I am trying to do my part by most importantly meditating, praying, and trying to exemplify the ideals our Guru put forth, and to donate when I can. Thank you again for all that you do. Take care."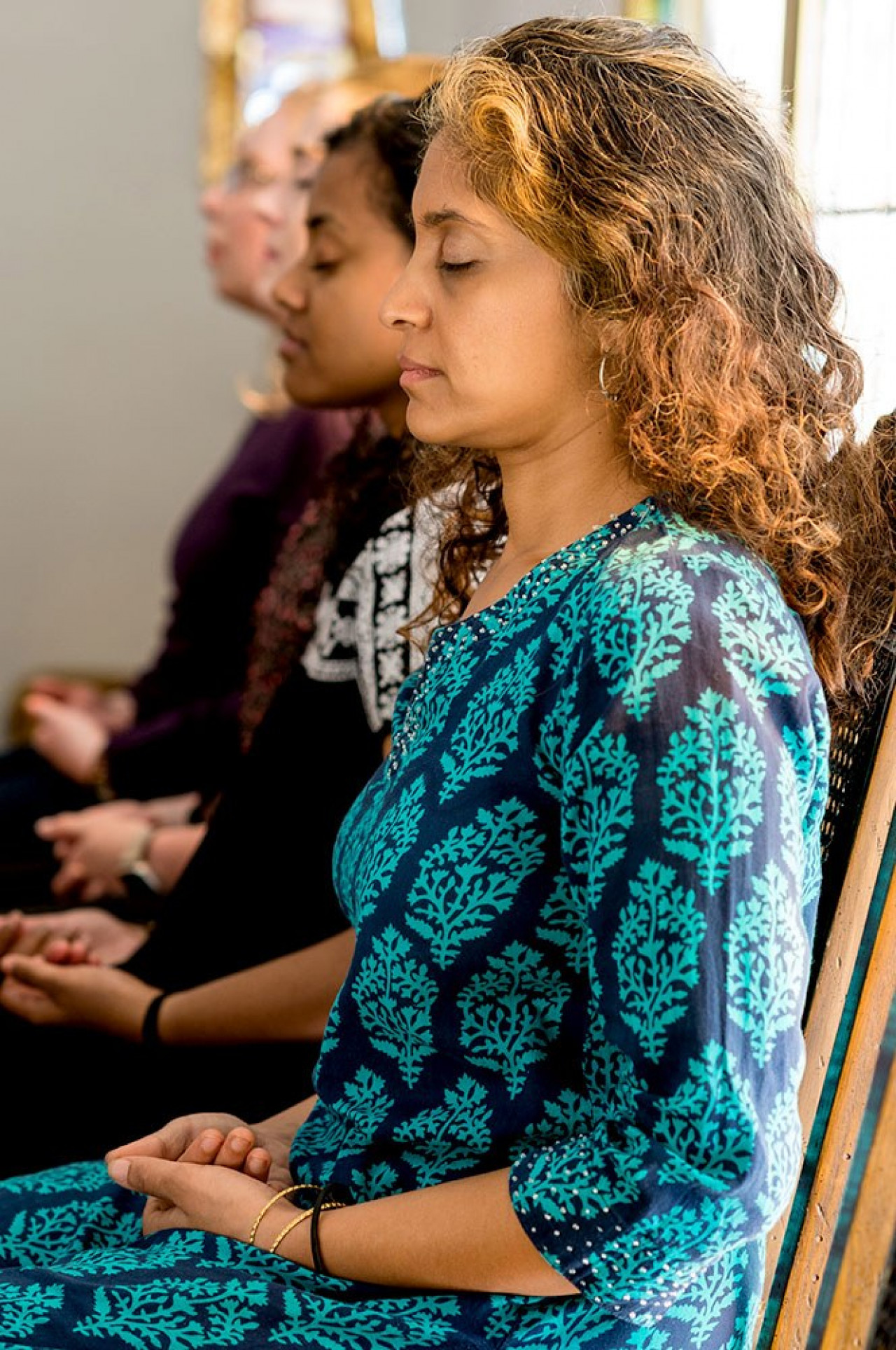 We thank you from the depths of our hearts for the many ways that you are expressing your care and your support of SRF.
Our Goal: To Stay Strong Together
Please know that the monastics, along with the dedicated lay members and employees who serve in the SRF ashrams, are striving to make sure that together, as members of our Guru's worldwide family, we remain connected and spiritually strong. 
For example, monks and nuns are devoting more time to being available to counsel with members by phone. The SRF Online Meditation Center has added more meditation and study sessions, including additional meditations led by monastics in multiple languages and a recent one-day monastic-led retreat.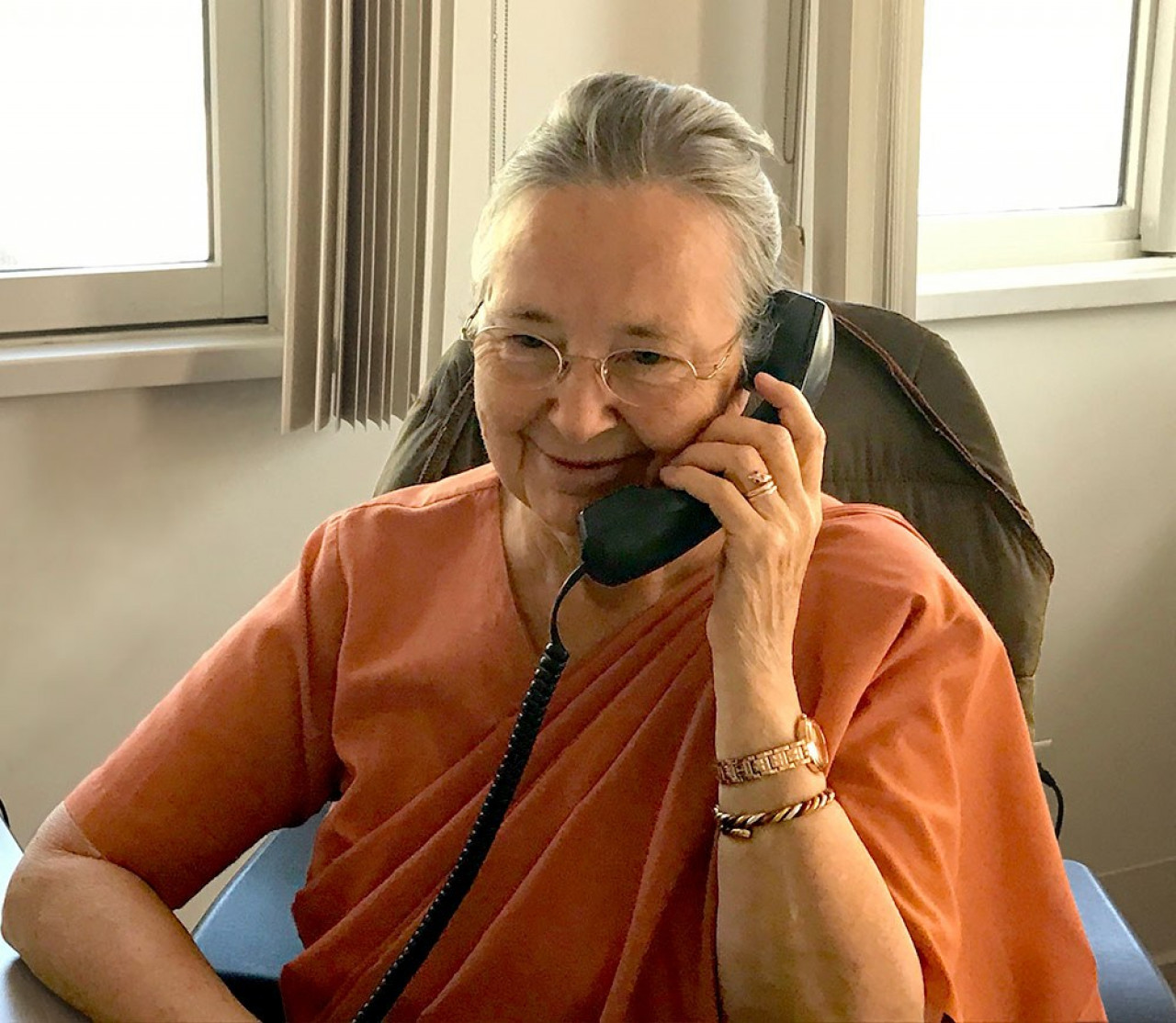 A nun counsels with a member by phone.
A large contingent of monastics—along with several lay members and employees who are working remotely from their homes—have teamed up to bring you weekly online inspirational services, subtitled in several languages.
The chapel at SRF International Headquarters in Los Angeles (the Mother Center) where Paramahansaji led so many meditations and services. Of late it has served as the setting for many of the new weekly online inspirational services. Here monks of SRF's video team record an inspirational talk by an SRF minister for worldwide broadcast.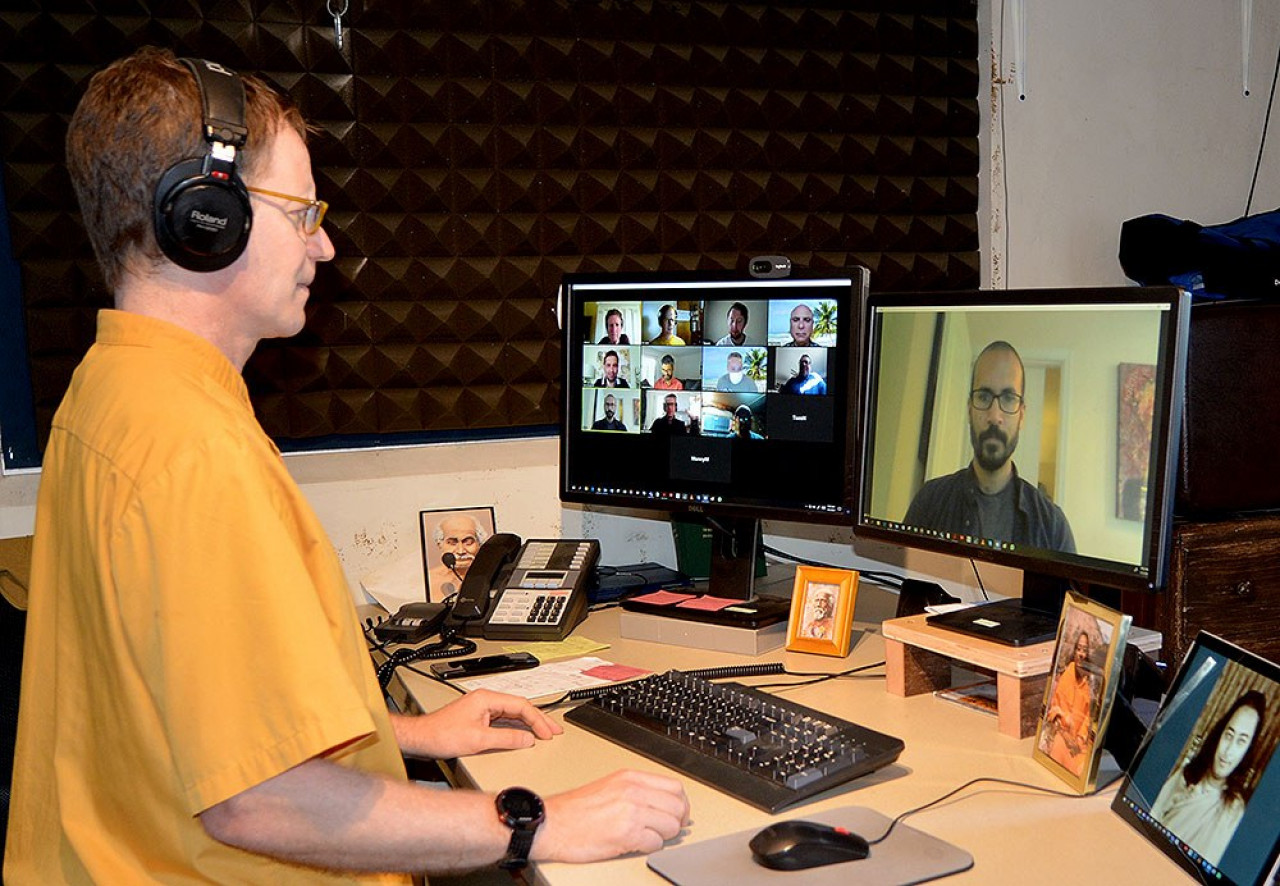 Overcoming social distancing: a monk at SRF's international headquarters connects with employees in the publications design department who are working from home.
We also are busy planning this year's Convocation, which will be a full online event that commemorates SRF's centennial year and features classes on the meditation techniques and how-to-live teachings of Paramahansaji, kirtans (devotional chanting), and group meditations. This year we look forward to having even more of our world family join together during this special week of spiritual recharging and fellowship. (Details about the online 2020 SRF World Convocation will be announced soon.)
Other collaborative efforts to help keep you inspired include the preparation of new ebooks (soon to be released) and other digital resources on our website, social media platforms, and YouTube channel.
Life in the SRF Ashrams
In the ashram communities of SRF, the monastics are still doing well. We were quick to implement the safety protocols mandated by local health authorities and other precautions needed to ensure health and well-being for those living in such close quarters during the Covid-19 pandemic; and we will continue to carefully monitor and adapt to this evolving situation.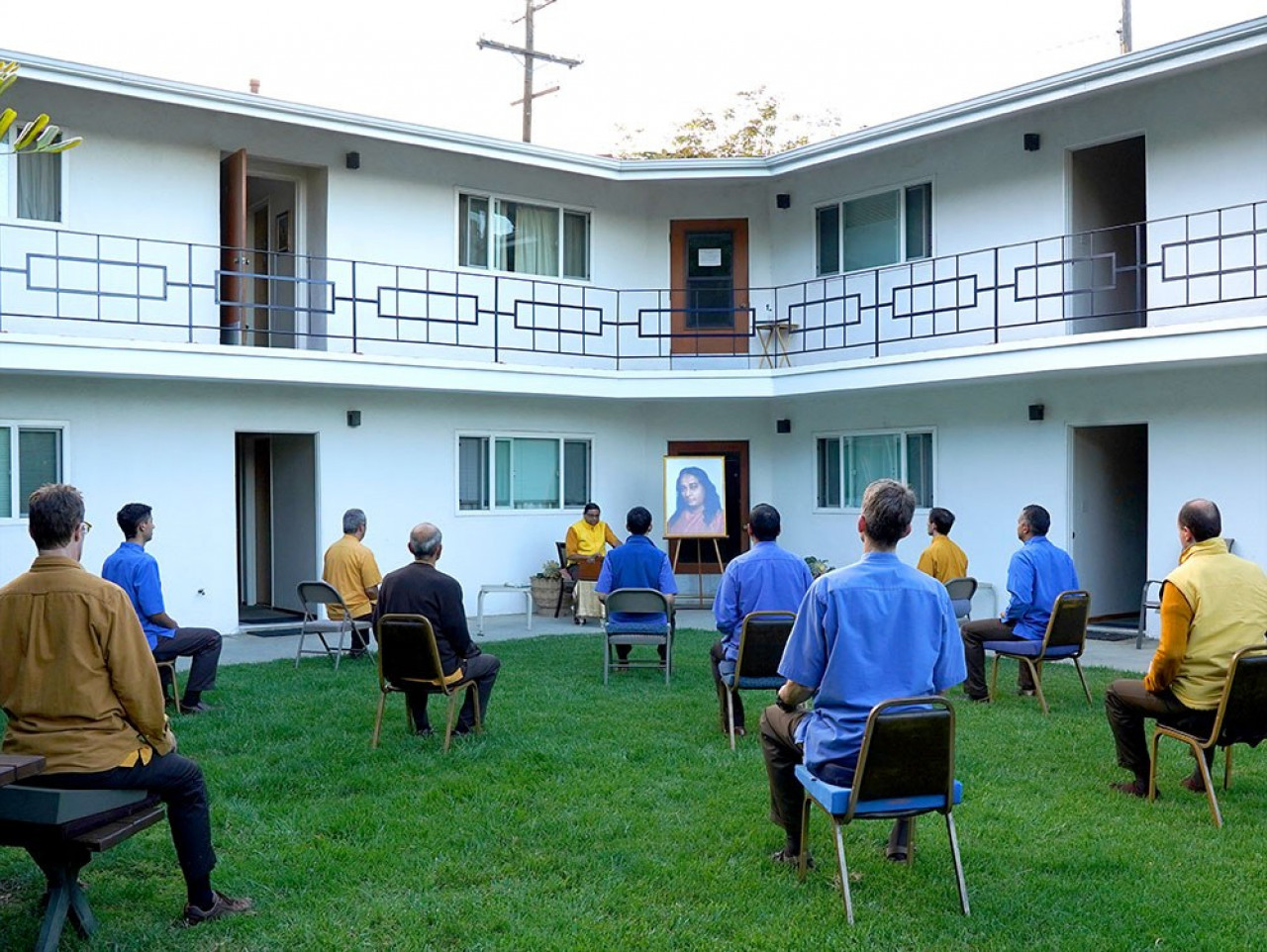 At the Mother Center, the monks have been holding their group meditations outside in order to be able to observe social distancing in group gatherings.
The monks and nuns are still helping to cover responsibilities usually fulfilled by employees who are now sheltering at home in accordance with government regulations. For example, at SRF International Headquarters in Los Angeles (the Mother Center), a team of nuns joyfully took on the large task of cooking meals for the more than 140 ashram residents. Nuns at the Mother Center also are covering telephone operator duties—ensuring that this vital communication link continues without interruption.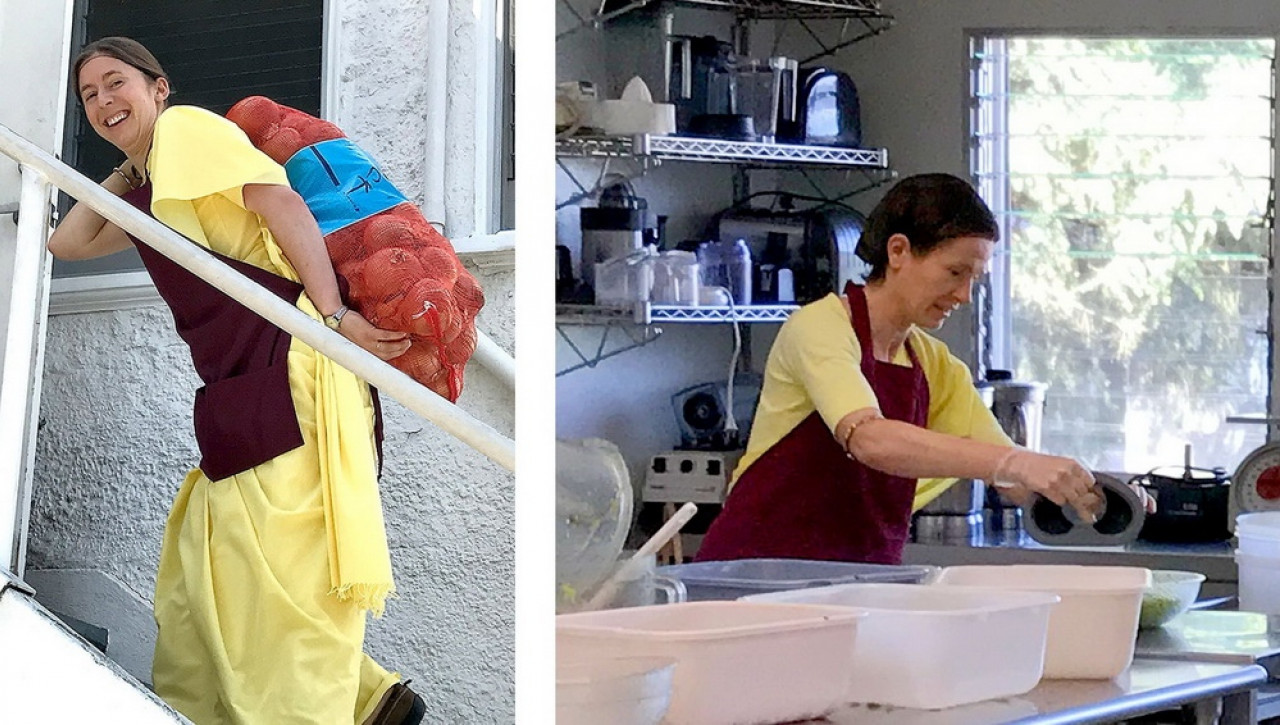 The joy of cooking! At the Mother Center, a team of nuns is helping with the preparation of meals while our kitchen staff are still sheltering at home.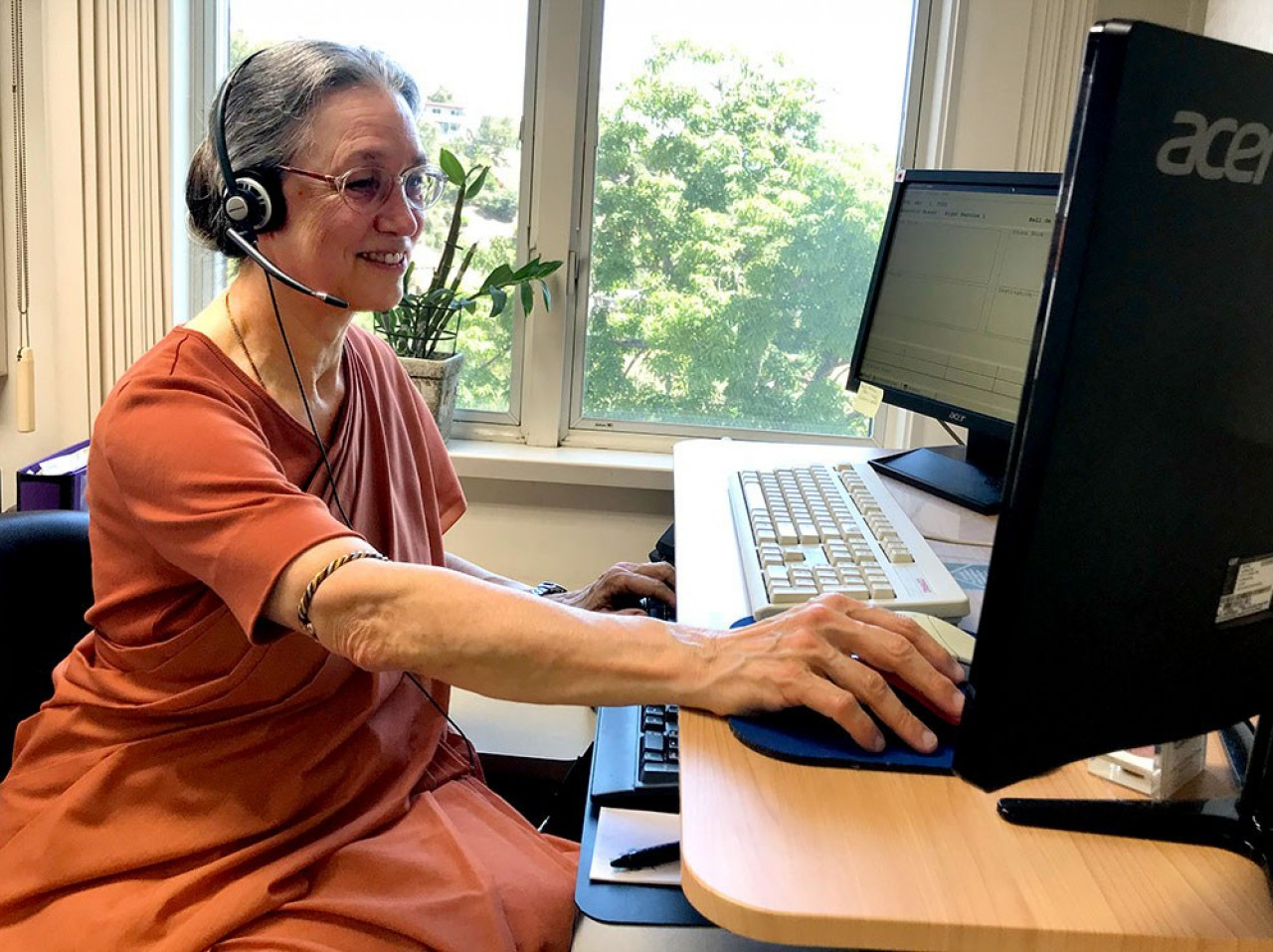 Answering the call of the Guru's worldwide family: A nun takes a turn covering the phones at SRF's international headquarters.
The monks have also joined together to fill in where needed, like cultivation of fruits and vegetables. The value of raising at least some of the ashrams' food supply ourselves — a practice SRF has observed for many decades — has become even more apparent during this crisis.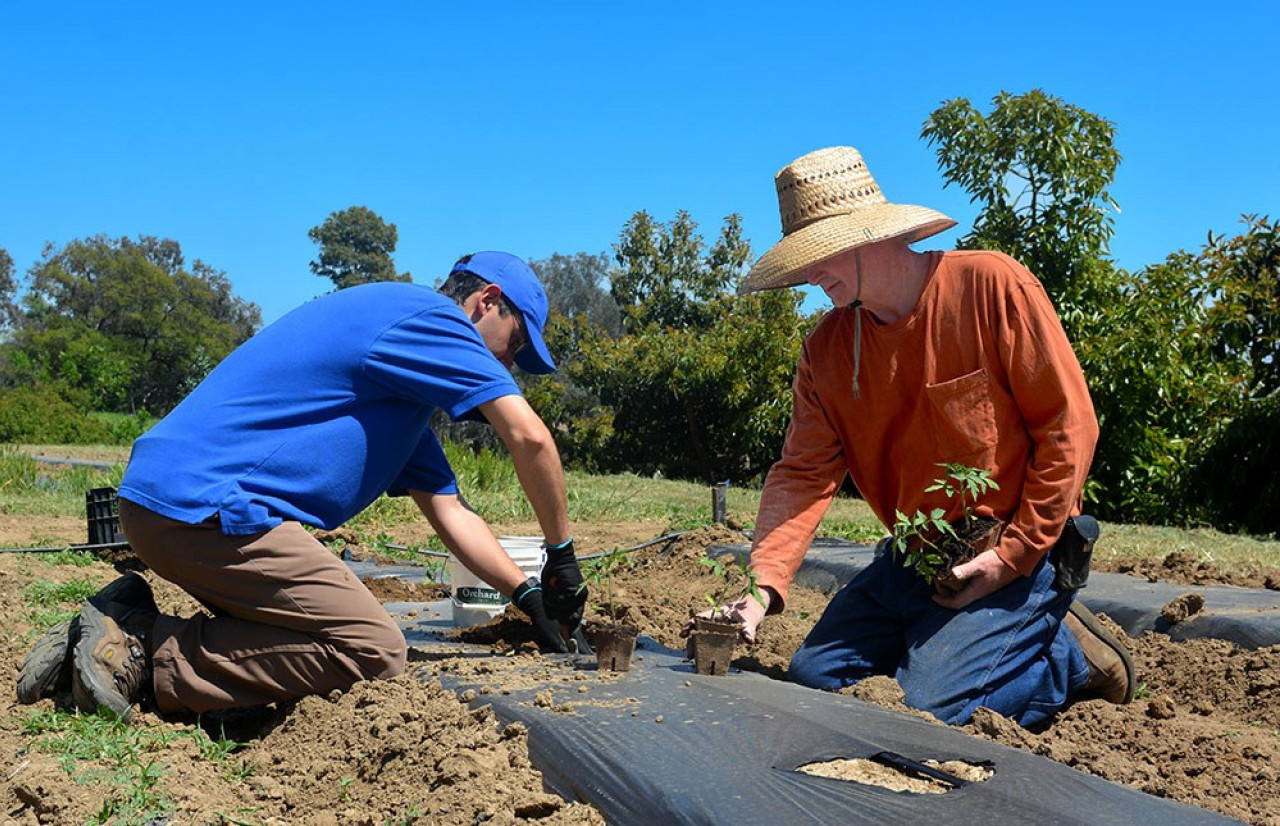 Monks plant tomatoes on a plot located at the Mother Center.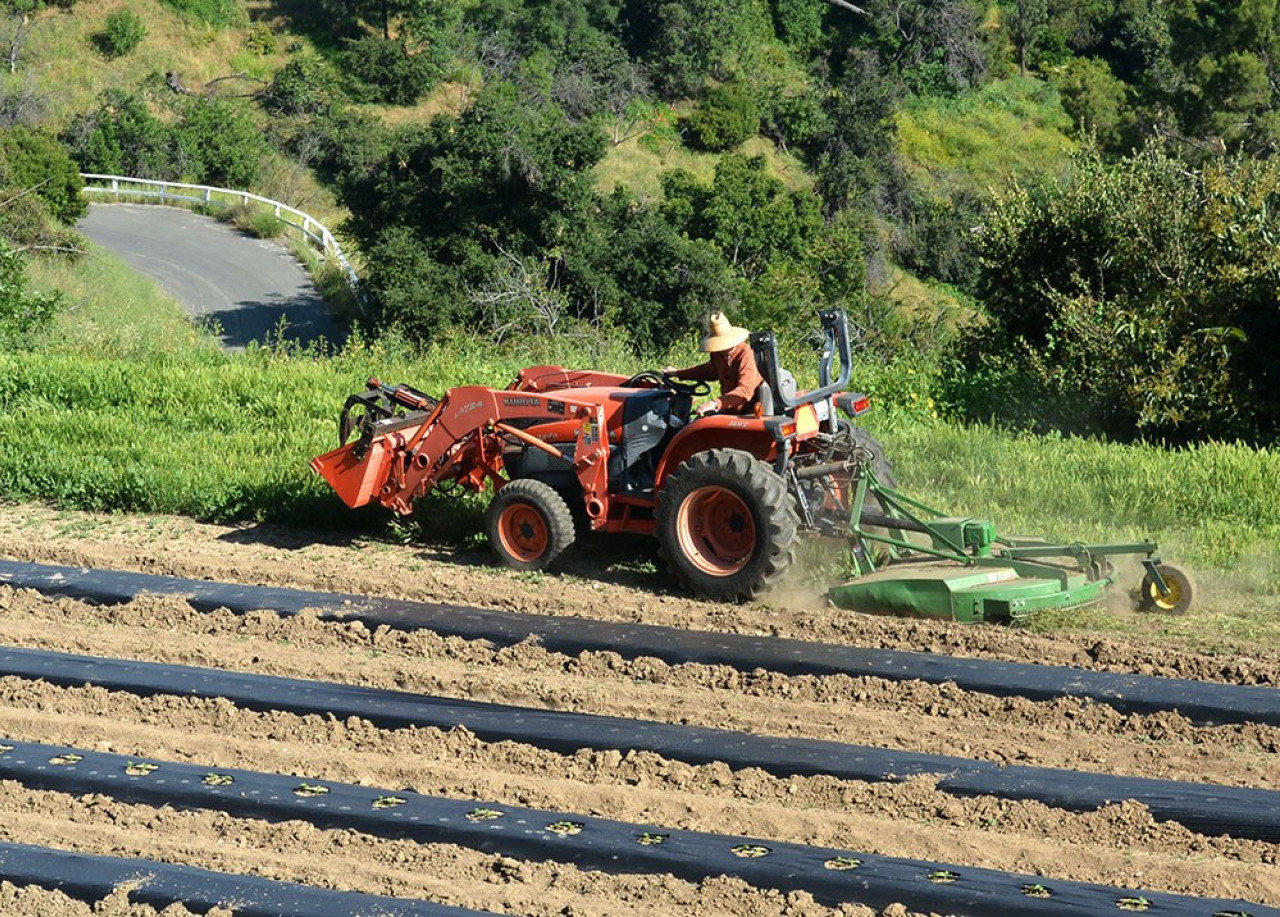 Preparing a field for planting adjacent to the Mother Center.
These are some of the ways that we are adjusting within the ashrams to the current circumstances.
A Financial Update During the Crisis: "God Is Helping God"
Many of you have lovingly inquired about SRF's financial health at this time. We want to provide you with an update.
Like so many of you, SRF has felt the financial impact of this crisis. However, due in large part to your help during this difficult time, we have been able to continue to serve Paramahansaji's worldwide family, meet the living expenses of Self-Realization Fellowship's monastic order, and provide the technology and support required for the large number of employees who are working remotely as a result of the stay-at-home orders. The generosity of our members and friends has also enabled SRF to give assistance to relief organizations and charities that are providing much-needed basic humanitarian aid.
In the weeks and months to come, we will continue to carefully watch our expenses and budget as needed to adjust to changing circumstances. As a strong spiritual family, we have every confidence that together we will weather these uncertain times.
As we gratefully reflect on the many ways that we all are doing our part to support Paramahansa Yogananda's spiritual work and each other, we are reminded of a touching vignette from our Guru's life: He once said to a group of devotees who had rendered him service, "You are all so kind to me with your many attentions." One of the devotees exclaimed, "Oh, no! It is you who are kind to us, Master." Our Guru then responded with a sweet smile: "God is helping God."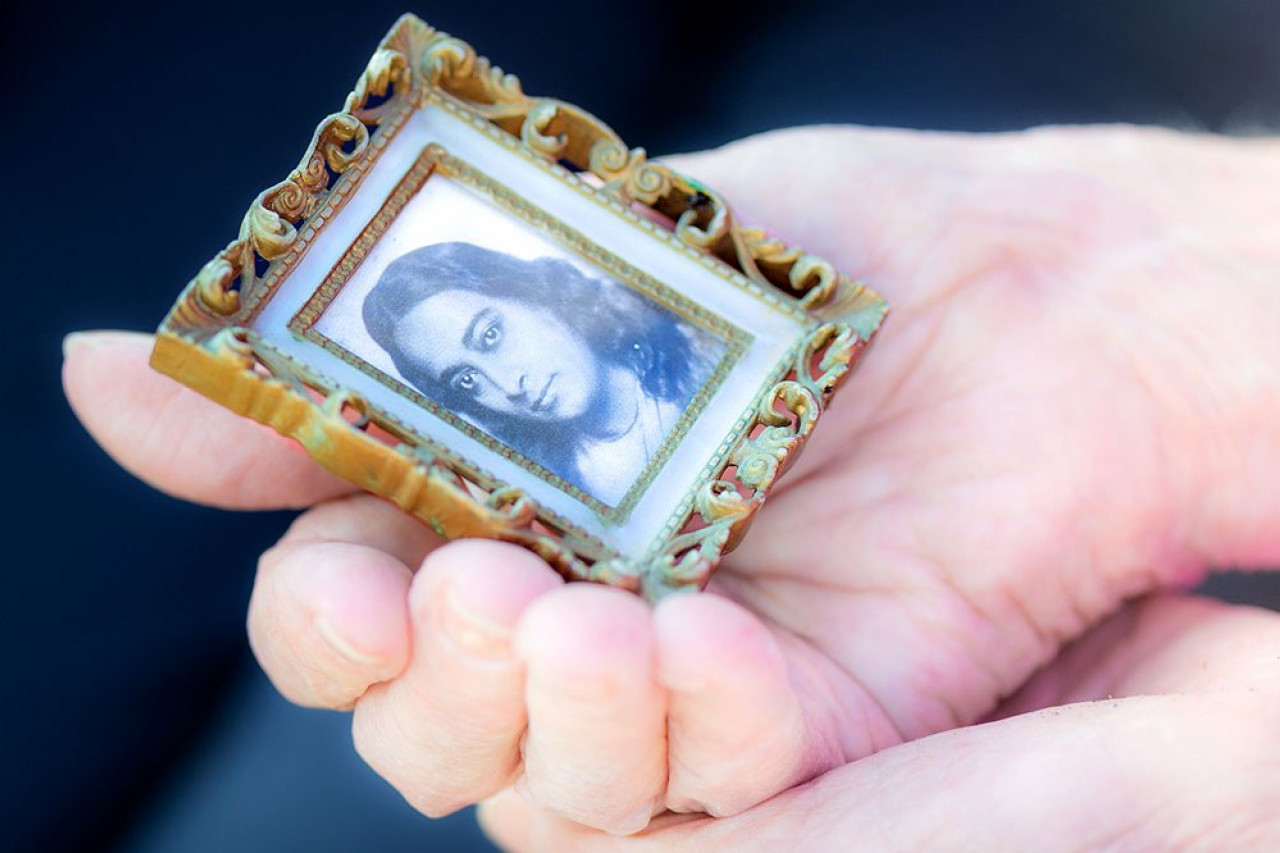 Your Prayers Are Vital
You are a much-cherished member of the SRF spiritual family and your every effort to commune with the Divine and to allow divine love to flow to others through you is contributing to our Guru's cause.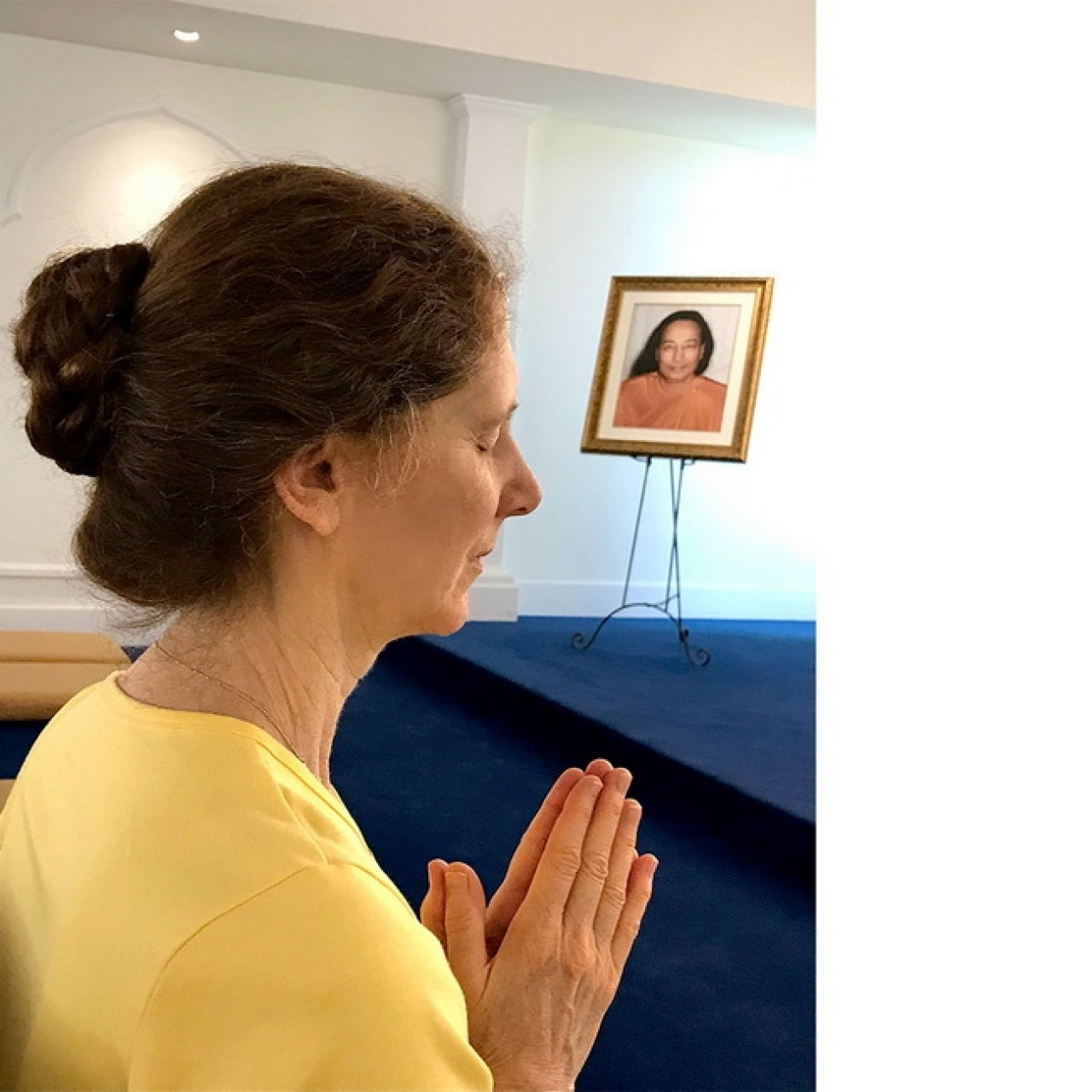 Please continue to pray for Paramahansaji's work and the well-being of our SRF spiritual family and the world at large. We also invite you to join the nuns and monks in praying three times each day for global healing — an initiative that began many weeks ago and will continue until this crisis is over. (See our blog post "Joining Worldwide to Pray Throughout the Day.")
A Message of Hope From Our President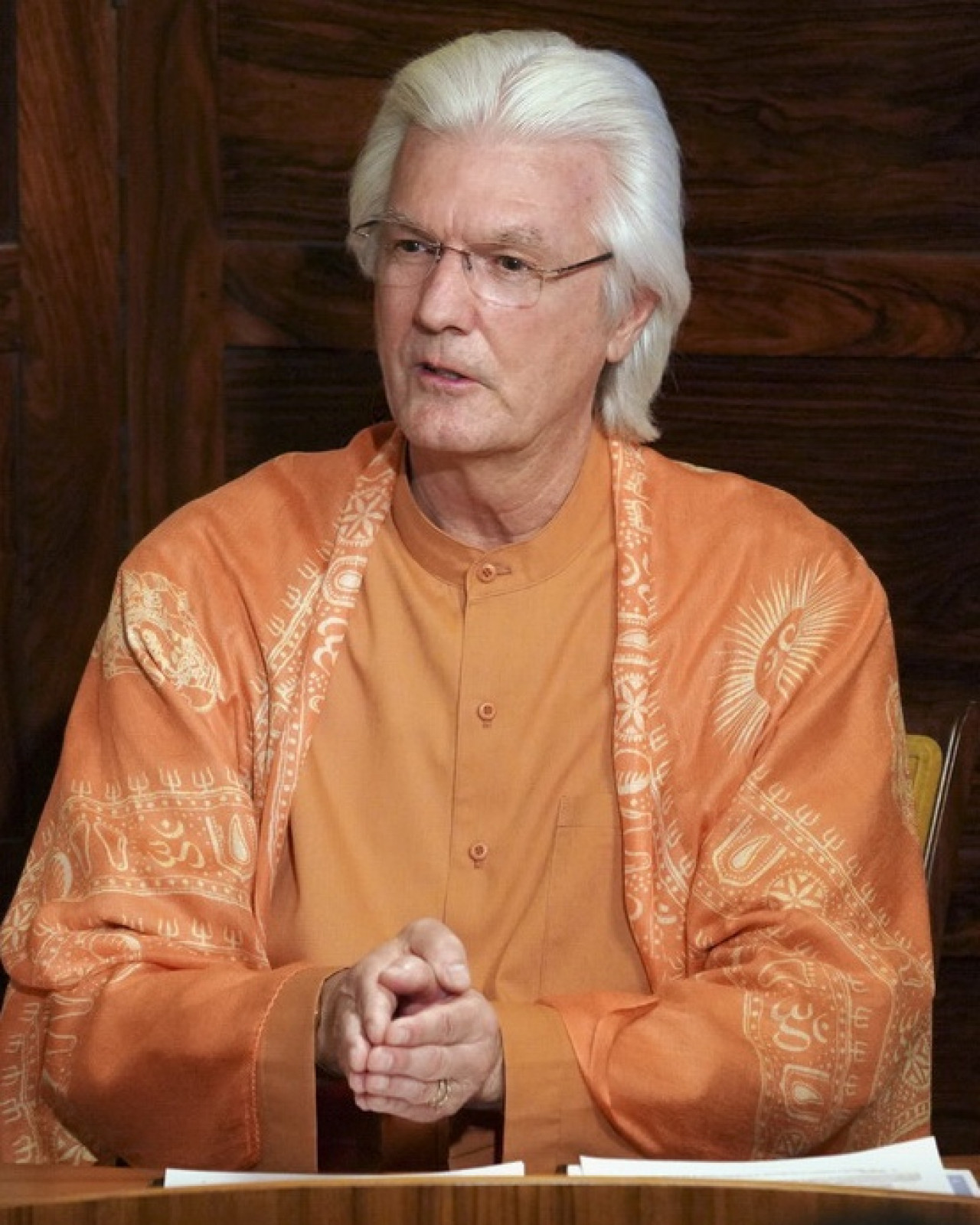 We also want to share some encouraging words of SRF's president, Brother Chidananda, which he said during a recent video conference with SRF's employees:

"We have to remember, we have to take hope, we have to take strength from the fact that—at its core, at its best—humanity is very resilient. It has withstood many, many challenges and disasters in the past and still continues to grow and thrive. And I have no doubt that it will find a way to triumph over this coronavirus pandemic and rebound from the economic setbacks that we're facing today as a global family....
"Looking back over our 100 years of history, SRF has survived the most disastrous world war in the history of humanity, the Great Depression, several economic recessions, a natural disaster or two or three, and many other challenges to our well-being. But our founder, with his great foresight and great well of wisdom and practical vision, set up this organization with a vision to serve humanity for many centuries to come....This mission founded by Paramahansa Yogananda, the service we are providing to our members and to the world at large, is exactly the wisdom, the inner resources, and practical how-to-live methods that will get humanity through this crisis and keep us whole."
Finding Strength in Our Unity
Our Guru once said to one of his monastic disciples: "If you all stand united, this work will grow strong." This is an ideal time for us all to heed his message and to stand united in support of his sacred mission and our global family.
Those of us who live in Paramahansaji's ashrams, and receive your love and support, are profoundly grateful for your assistance and prayers. Please know that we also stand with you and are so deeply inspired by your attunement and strength in facing the challenges of this uncertain time.
Our prayer for all of our spiritual family is that with the help of God and Guru, and each other's support, we will all not only weather these difficult times successfully, but use them as a stepping-stone to advance in our journey of personal spiritual growth and the expansion of our love for the Divine and compassionate service to all. May God bless you with the fulfillment and realization of that divine goal.
In divine friendship,
Self-Realization Fellowship
To support SRF's spiritual and humanitarian work, please click on this link.
Thank you!