Rajarsi Janakananda (James J. Lynn) was a beloved disciple of Paramahansa Yogananda, and first successor to him as president and spiritual head of Self-Realization Fellowship/Yogoda Satsanga Society of India until his passing on February 20, 1955. Mr. Lynn first received Kriya Yoga initiation from Paramahansaji in 1932; his spiritual advancement was so swift that the Guru lovingly referred to him as "Saint Lynn," until bestowing on him the monastic title of Rajarsi Janakananda in 1951.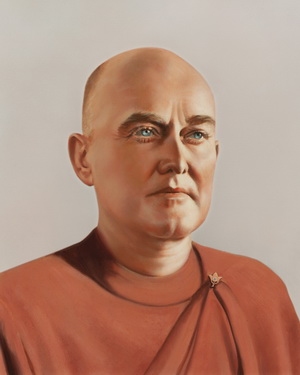 Further Exploration:
The biographical sketch is extracted from the book Rajarsi Janakananda: A Great Western Yogi, published by Self-Realization Fellowship. The book contains a more detailed biography and excerpts from his talks. It also features more than sixty pages of Paramahansaji's personal correspondence with him — words of guidance and love that offer glimpses of the intimate spiritual accord they shared, and powerfully convey the depth of the guru-disciple relationship.
Audio recordings of brief talks by Rajarsi are included on two of the CDs in Self-Realization Fellowship's Collector's Series of rare recorded talks by Paramahansa Yogananda: