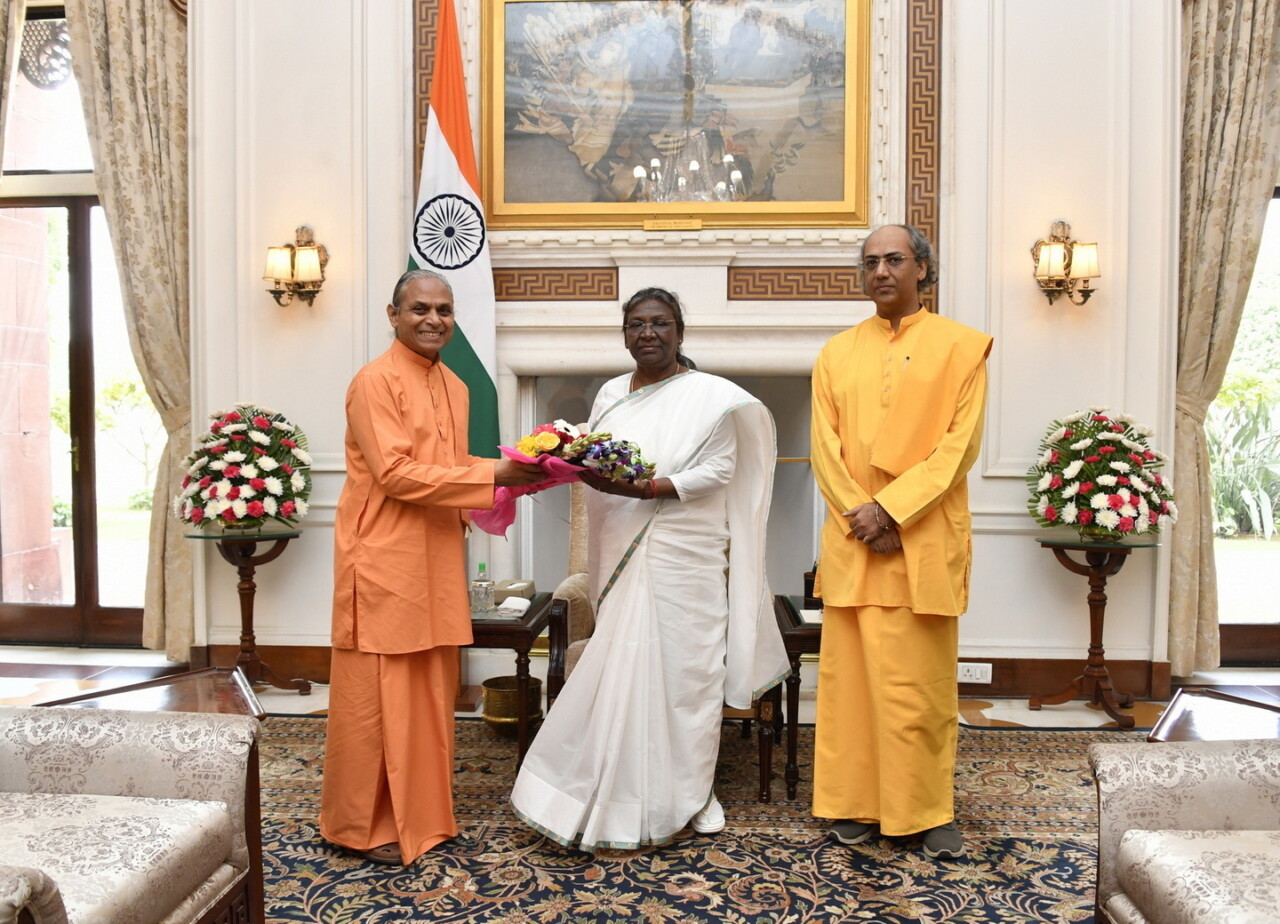 On November 9, 2022, the Honorable President of India, Srimati Droupadi Murmu, met with two senior monks of Yogoda Satsanga Society of India (YSS, the name by which Paramahansa Yogananda's work is known there). Welcoming YSS Vice-President Swami Smaranananda (above left) and Brahmachari Adyananda (above right), President Murmu expressed her appreciation for the spiritual and charitable activities undertaken by YSS. She also expressed great reverence for Paramahansaji, guru-founder of YSS/SRF, saying:
"Paramahansa Yoganandaji gave [to the world] what mankind needed more than just food, clothing, and shelter. A great rishi as he was, like many great ones he left his body at an early age; yet his spiritual bounty is immense."
The YSS sannyasis presented President Murmu with a letter from Brother Chidananda, president and spiritual head of YSS/SRF, congratulating the President on her election. In that message he also recalled their previous meeting:
"I recall, with much pleasure and satisfaction, our meeting on the 15th November 2017, at our Yogoda Satsanga Ashram in Ranchi: As the then Governor of Jharkhand, you had accompanied your worthy predecessor, His Excellency, Ram Nath Kovind. In his august presence, you had released the Hindi version of God Talks With Arjuna, a commentary on the Bhagavad Gita by our beloved Gurudeva. Our brief conversation had convinced me of your simplicity, humility, humanity, and deep spirituality. The inspiring message you gave on that occasion, which is very pertinent to present day society, is still etched in our minds."
While holding the office of the Governor of Jharkhand (the state in which the Ranchi Ashram is located), Srimati Murmu had given her support to a number of YSS initiatives:
In 2016 she was honored as the chief guest at the UN International Day of Yoga function at the YSS Ranchi Ashram. At that time she shared her appreciation for Paramahansa Yogananda, expressing the importance of having a guru's spiritual teachings in one's life. She further stated that, while attaining spiritual wisdom may be difficult, without it material success would be useless.
Also in 2016 she hosted a special screening of Awake: The Life of Yogananda, the award-winning documentary about the life of Paramahansa Yogananda. The Governor herself presided at the event, which was attended by high-ranking state government and military officials.
It was during her second visit to the Ranchi Ashram in November 2017 when she met Brother Chidananda. At that time she released the Hindi translation of God Talks With Arjuna, presenting to then President of India, Sri Ram Nath Kovind, the first copy; and also expressed her deep gratitude to YSS for its role in preserving the ancient spiritual tradition of India and for disseminating Paramahansa Yogananda's practical and soul-liberating teachings.
You can learn more about the historic release of God Talks With Arjuna: The Bhagavad Gita in Hindi at the link below.