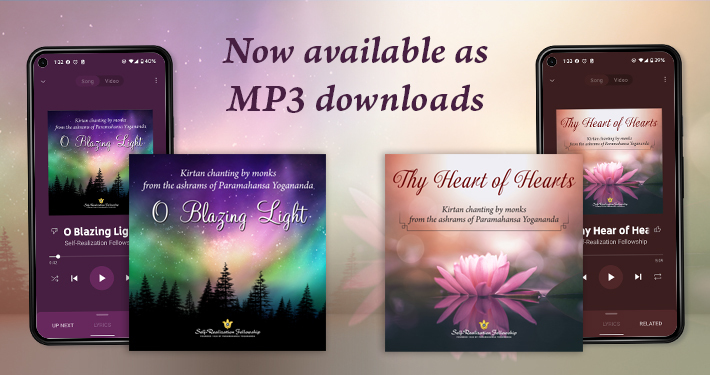 *Update 3/31/23: The availability of SRF music on streaming services is temporarily unavailable due to some technical issues with our service provider. We know that many of you have been enjoying this opportunity to stream SRF recordings and incorporate them into your daily lives. We apologize for this temporary inconvenience, and we will be happy to let you know as soon as streaming of SRF music is resumed.
Two new collections of kirtan devotional chanting are now available for purchase as MP3 downloads from the Self-Realization Fellowship Bookstore: O Blazing Light, devotional chanting led by SRF monks from the 2020 SRF World Convocation; and Thy Heart of Hearts, devotional chanting led also by SRF monks, recorded live at past SRF World Convocations in Los Angeles.

These new recordings can be found along with other SRF music on most popular streaming services. Search "Self-Realization Fellowship" on Spotify, Apple Music, Amazon, YouTube Music, Deezer, Pandora, iHeart radio, and more to find available SRF recordings.