Tens of thousands of yogis and spiritual seekers from around the world will gather from July 30 to August 5 for the annual Self-Realization Fellowship World Convocation, and whether you are joining online or in-person we are looking forward to seeing you there!
This weeklong diving into the "how-to-live" wisdom of Paramahansa Yogananda is being offered for free and will feature inspirational talks on balanced spiritual living, meditations, kirtan (devotional chanting), and sustaining spiritual fellowship, streamed from several SRF temples in Southern California.
Why do so many people around the world joyfully anticipate Convocation each year?
Here is a glimpse of what you can look forward to experiencing:

Gain new insights into Paramahansa Yogananda's "how-to-live" teachings and meditation techniques through inspiring classes and satsangas (questions and answers) from SRF monastics; topics range from unravelling the mystery of life and death to cultivating happiness through service to others.

Feel the power of combined spiritual effort in daily morning and evening group meditations led by SRF monastics, in the online meditation room open between scheduled events, during the 3-hour meditations with kirtan — and a special 3-hour meditation led by SRF/YSS President Brother Chidananda (see more below)

Understand how yoga is a spiritual science that unifies and makes practical in daily life the truths underlying all the world's great religions and spiritual paths.
Join with thousands of others in in uplifting kirtans — to sing chants spiritualized by Paramahansaji, where the radio of the heart can be tuned to the vibrations of divine peace, love, and bliss native to the soul.

Meet other spiritual seekers from around the world and build divine friendships in online fellowship events.

Immerse yourself in virtual pilgrimage tours to SRF ashrams where Paramahansa Yogananda lived and communed with the Divine.

Attend all online events —including fellowship sessions with other participants and monastics — through the Convocation app.
And many are anticipating how this year's Convocation will be expanded even further! SRF monastics will visit several cities in North America, Europe, and South America; and many SRF centers and groups around the world will also host in-person viewing events for local members and friends!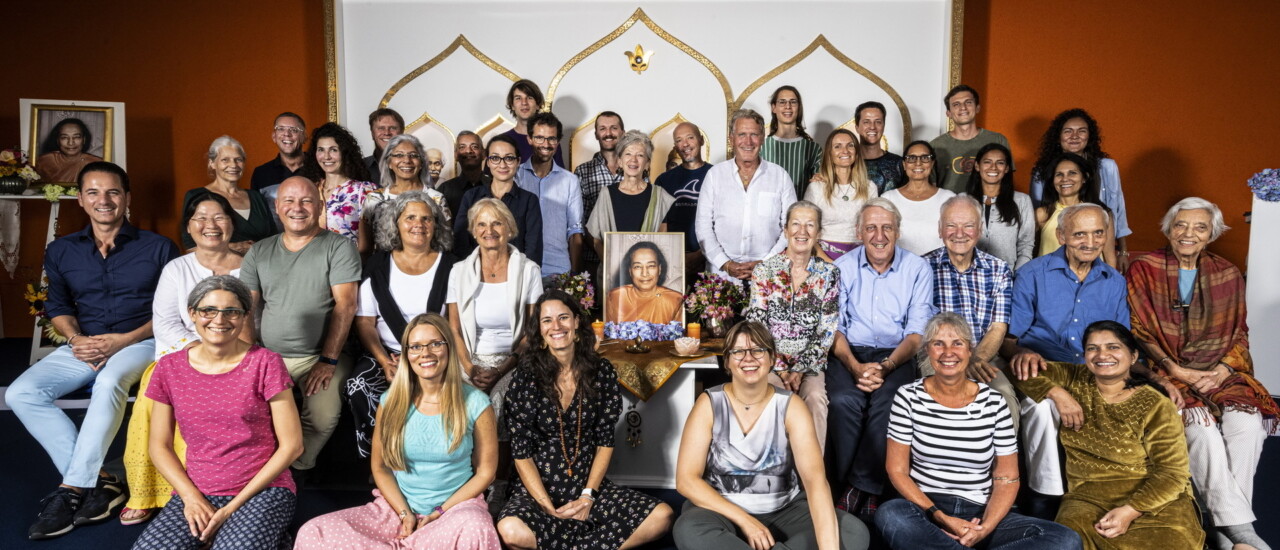 Convocation participants gathered at the SRF Zurich Center during the 2022 program
Convocation has been a newfound joy this year. Specifically I found the meditation room to be such an uplifting and immersive experience. Knowing that others around the world are simultaneously joining me in meditation has made the act of meditation that much more special and meaningful.
C. G., Arizona
I have been so blessed to attend this year's online Convocation. The Convocation app is wonderful! I personally needed every single class. The meditations, classes, videos, pilgrimages, and fellowship sessions have renewed my enthusiasm and strengthened my commitment to work harder to find God and to stop making excuses.
M. V., Canada
Special Meditation and Satsanga With SRF/YSS President
Brother Chidananda, president and spiritual head of SRF/YSS, will conduct a three-hour meditation on Wednesday, August 2; as well as give a closing satsanga on Saturday, August 5.
One past Convocation participant from the United Kingdom said of these special events: "I thank Brother Chidananda in particular for the closing class and for Wednesday's meditation. The many blessings which poured out from [Paramahansa Yogananda] and the Gurus through him to all of us will stay long in the memory, but most of all in our hearts."
"They Shall Come From All Parts of the World"
Paramahansa Yogananda presided over the first SRF Convocation, held on August 13, 1950, at the SRF Mother Center atop Mt. Washington in Los Angeles. On that occasion he said, "They shall come from all parts of the world, thousands and thousands of them, just as you have, for Self-Realization is bringing the original Christianity of Christ and the original Yoga of India's Krishna so that all people of all religions can follow one highway to the Infinite."
And in the years since that first Convocation, "thousands and thousands" around the world have indeed eagerly anticipated and attended this uplifting week of spiritual rejuvenation!

Hear More From Past Participants!
From the very first day we were swept away in a wave of divine love, joy, wisdom and yes, fellowship! We felt connected with devotees from so many different countries and languages that nevertheless had a common soul language: love for God and Guru.
SRF Meditation Group in Santiago, Dominican Republic
Instead of worshipping God in one location, we are spreading His holy vibrations all around the world, which needs it so much at this time.
Anonymous, France
The quality of talks, kirtans, meditations, and satsangas have blown me away. After seven early morning meditations, the immense joy and upliftment I have experienced in this past week has been profound.
M. K., New Zealand
Indeed, I am a changed person by the end of the Convocation – I feel deeply rested, recalibrated, refocused, rejuvenated, more balanced and renewed. The online Convocation made it possible for a person like me (so distant from Mother Center) to participate with ease and in the comfort of my home.
R. S., India
Getting the App

After you have registered for Convocation you will be able to sign in to the app using the same credentials — and experience Convocation no matter where you are.
What are you joyfully anticipating about the 2023 SRF World Convocation? Please let us know in the comments below!