The 2023 SRF World Convocation is truly a global event — a powerful manifestation of Paramahansa Yogananda's ongoing mission "to disseminate among the nations a knowledge of definite scientific techniques for attaining direct personal experience of God," as is stated in the first of the Aims and Ideals he set forth for Self-Realization Fellowship.
This year a wealth of seekers are benefitting from diving deeply into the practice of the yoga techniques and the universal understanding at the heart of Paramahansaji's teachings. (To see a full list of countries of those attending, online and in person, see the final section of this post.)
Special Meditation With Brother Chidananda
Convocation participants from around the world gathered Wednesday morning for a highly anticipated event — a special three-hour livestreamed meditation led by Brother Chidananda, president and spiritual head of SRF/YSS. From the SRF Mother Center atop Mt. Washington in Los Angeles, Brother Chidananda guided thousands of SRF/YSS members and friends worldwide in an experience of the peace and joy of meditation central to Paramahansa Yogananda's teachings.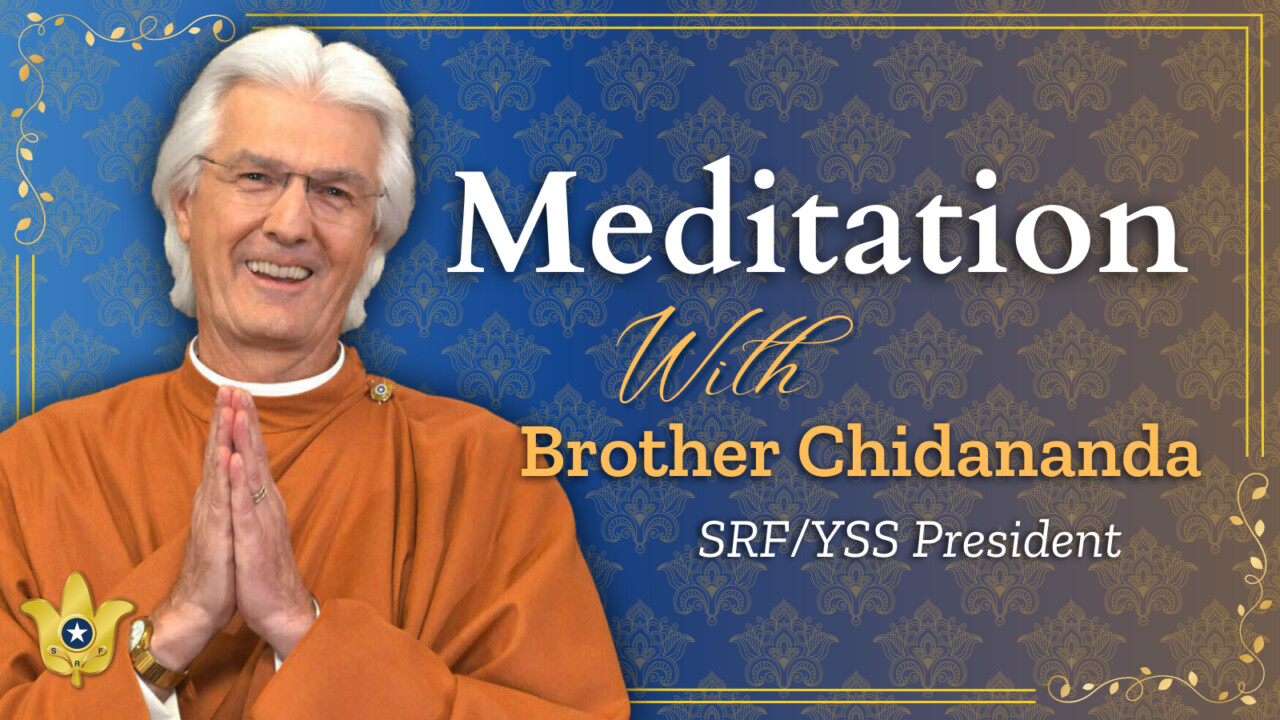 Log in or register today to view the meditation with Brother Chidananda and all the Convocation events.
What did you especially appreciate about the meditation led by Brother Chidananda? Please let us know in the comments below!
Events From the YSS Ranchi Ashram
Reflecting how Paramahansaji's work truly unites East and West, the Convocation has featured events led by monks of Yogoda Satsanga Society of India (YSS), the name by which Paramahansa Yogananda's work is known in India and several nearby countries. The two Convocation events streamed from India took place at the YSS Ranchi Ashram, founded by Paramahansaji in 1917.
YSS monk Swami Ishwarananda gave an inspirational talk on "Unraveling the Mystery of Life and Death" on Tuesday evening from the YSS Dhyana Mandir (meditation temple).
And immediately following the YSS monks' kirtan group led a deeply inspiring session of devotional chanting and meditation, seated on the steps of the Paramahansa Yogananda Smriti Mandir (memorial temple). The mandir stands on the spot where Paramahansa Yogananda, in 1920, had a vision of his future American disciples — a divine call to begin his journey to the West to spread the universal teachings of Kriya Yoga to people of all religions, creeds, and nationalities.
Enjoy "I Am the Bubble," a chant by Paramahansa Yogananda, sung by the YSS monks' kirtan group.
Now, From India to Southern California...
On Wednesday afternoon, the SRF monks' kirtan group also led devotional chanting, from the main hall of the SRF International Headquarters in Los Angeles, offering "the opportunity to express love for God, and to lose ourselves in the presence of God," as Brother Devananda expressed the goal of chanting at the beginning of the their kirtan.
Experience that expansion of consciousness yourself with the chant "O Thou Blue Sky" by Paramahansa Yogananda.

During Convocation, SRF offers special opportunities to take pilgrimage tours to sacred locations in Southern California where Paramahansa Yogananda lived and communed with God. Even when in-person pilgrimages were impossible for a few years, due to local health restrictions beginning in 2020, virtual pilgrimages became available — allowing participation around the globe.
Throughout this week, SRF monastics have been welcoming visitors at the SRF International Headquarters (Mother Center) and SRF Hollywood Temple in Los Angeles, SRF Lake Shrine in Pacific Palisades, and the SRF Encinitas Ashram Center in San Diego County. Local visitors and devotees from around the world are warmly greeted by monastics on these holy grounds and feel the peace and absorb the sacred vibrations left there by Paramahansaji.
And for those not able to be here in person, you can still go on virtual pilgrimage to feel the blessings of these sacred sites from anywhere in the world. Enjoy here the opening welcome from our virtual pilgrimage to the SRF Encinitas Ashram Center.
...And Everywhere In Between
A special addition to this year's Convocation is SRF monastics visiting cities around the world to participate in Convocation events alongside SRF members and friends. From Assisi, Italy, to Bogota, Colombia, SRF monastics are greeting members of our spiritual family and leading in-person activities.
SRF groups and centers in many countries have also been hosting Convocation viewing events. In a spirit of divine fellowship, SRF and YSS devotees and spiritual seekers around the world are joining together to benefit from the power of combined spiritual effort and joyful communion with the Divine.
Below you can enjoy a small sampling of images from such events. In the next installment of our Convocation coverage, we will present more pictures and details from this special week of upliftment enjoyed by so many.
A Prediction for Convocation From Paramahansaji — Fulfilled Again
As we included in our post "Joyfully Anticipating the 2023 Convocation," Paramahansa Yogananda declared, at the first Convocation in 1950, that participants in this special event "shall come from all parts of the world, thousands and thousands of them...."
Certainly that has been the case once again this year. We are happy to share here a list of countries from which seekers have been attending Convocation online: United States, India, Brazil, Canada, Italy, Germany, United Kingdom, Australia, Spain, Mexico, Argentina, Colombia, Japan, France, Switzerland, Netherlands, Chile, Ecuador, New Zealand, Austria, Singapore, Malaysia, Nepal, South Africa, Ireland, Sweden, Portugal, Belgium, Dominican Republic, Puerto Rico, United Arab Emirates, Finland, Norway, Greece, Peru, Venezuela, Costa Rica, Trinidad & Tobago, Romania, Poland, Philippines, Uruguay, Guatemala, Mauritius, Denmark, Thailand, Croatia, South Korea, Bulgaria, Indonesia, Slovenia, Kenya, Taiwan, Czechia, Hong Kong, Bahrain, Turkey, Sri Lanka, Luxembourg, Vietnam, Ghana, Iceland, Bolivia, Morocco, Oman, Israel, Serbia, Nigeria, Qatar, Barbados, Saudi Arabia, Lebanon, Uganda, Malta, Russia, Côte d'Ivoire, Paraguay, Hungary, Jamaica, Jordan, El Salvador, China, Curaçao, Cyprus, Tunisia, Lithuania, Egypt, U.S. Virgin Islands, Georgia, Guernsey, Panama, Angola, Zambia, Bangladesh, Benin, Bermuda, Brunei, Caribbean Netherlands, Bahamas, Belize, Kyrgyzstan, Cambodia, Suriname, Cameroon, Kuwait, Cayman Islands, Kazakhstan, Cape Verde, Tonga, Dominica, Latvia, Ukraine, Algeria, Montenegro, Estonia, Mongolia, Martinique, Uzbekistan, New Caledonia, Nicaragua, Fiji, Papua New Guinea, Honduras, Yemen, Andorra, Iraq, Réunion.
And in addition to those traveling from within the U.S., here are the countries from which SRF members and friends have traveled this year to attend in person: India, Canada, Mexico, Brazil, United Kingdom, Italy, Germany, France, Switzerland, Turkey, Columbia, Ireland, Nepal, Chile, Spain, New Zealand, Finland, Sweden, Indonesia, Bulgaria, Japan, Luxemburg, Kenya, South Korea, South Africa, Australia, Tunisia.

In what ways are you enjoying connecting with the SRF/YSS global family during Convocation? Please let us know in the comments!