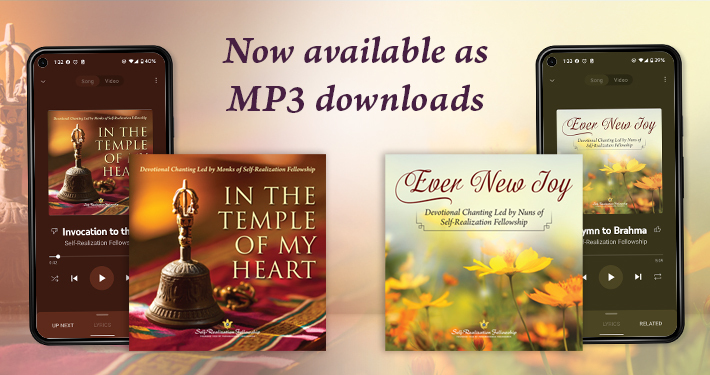 *Update 3/31/23: The availability of SRF music on streaming services is temporarily unavailable due to some technical issues with our service provider. We know that many of you have been enjoying this opportunity to stream SRF recordings and incorporate them into your daily lives. We apologize for this temporary inconvenience, and we will be happy to let you know as soon as streaming of SRF music is resumed.
Two new recordings of kirtan devotional chanting are now available for purchase as MP3 downloads from the Self-Realization Fellowship Bookstore: Ever New Joy, devotional chanting led by the SRF nuns; and In the Temple of My Heart, devotional chanting led by the SRF monks, which includes chants previously unreleased on recordings.
These new recordings can be found along with other SRF music on most popular streaming services. Search "Self-Realization Fellowship" on Spotify, Apple Music, Amazon, YouTube Music, Deezer, Pandora, iHeart radio, and more to find available SRF recordings.
As Paramahansa Yogananda said in the "Prelude" to his book of chants, Cosmic Chants: "Sound or vibration is the most powerful force in the universe. Music is a divine art, to be used not only for pleasure but as a path to God-realization." We are happy to continue to make available new collections of Paramahansaji's chants, including chants previously unreleased on recordings, to help spiritual seekers put this divine art into practice in their lives.
Additional Resource for Devotional Chanting on Our Website
By fully absorbing yourself in one of Paramahansa Yogananda's chants, you can come to experience that which the Guru himself experienced when composing that particular song to the Divine.
On our "The Divine Art of Kirtan" webpage you will find an additional resource where you can watch and listen to devotional chanting led by SRF monks and nuns. You can also read there the full text of Paramahansa Yogananda's "Prelude" to Cosmic Chants, and experience a guided meditation on the chant "In the Temple of Silence," led by SRF/YSS President Brother Chidananda.