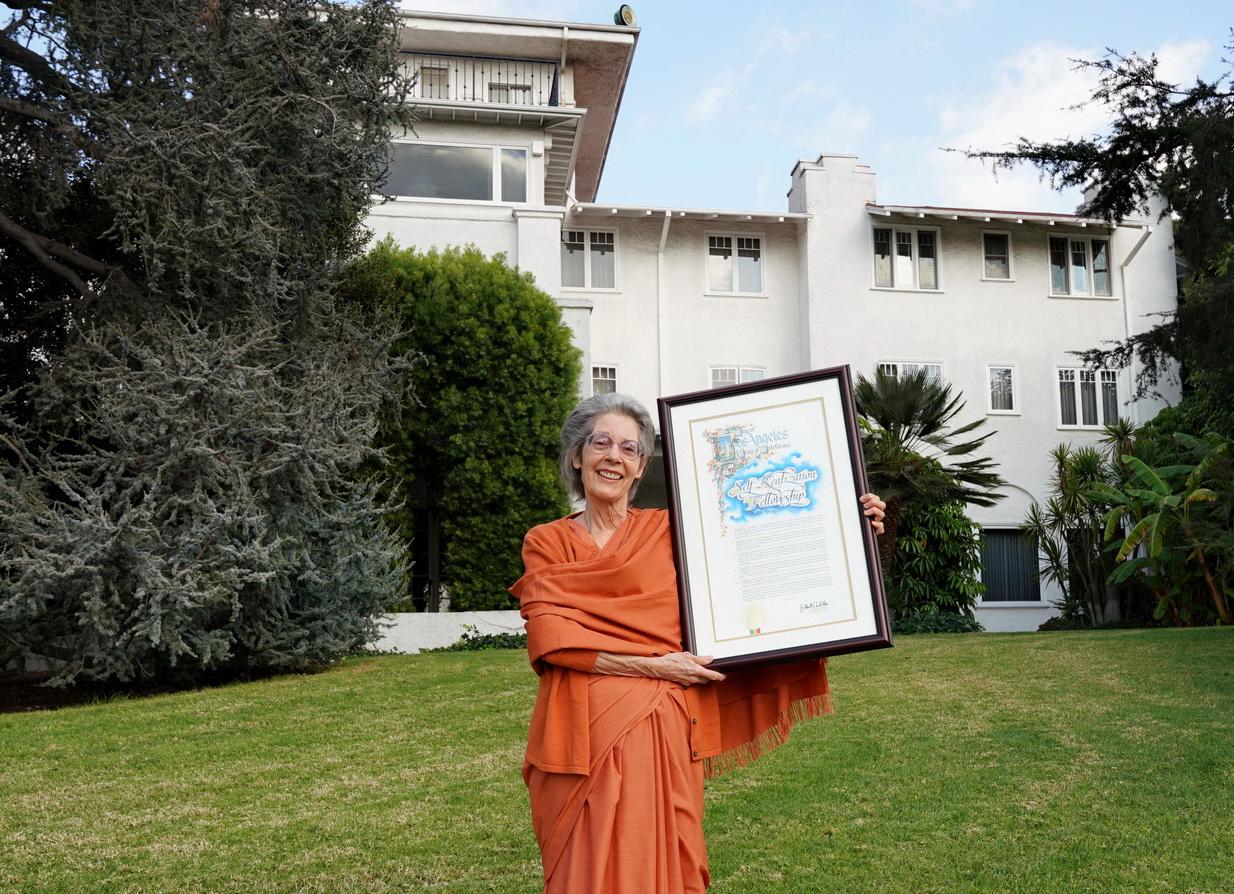 Commemorating the SRF centennial, the City of Los Angeles recently issued a proclamation commending Self-Realization Fellowship for contributing "in far-reaching ways to the welfare and well-being of the people of Los Angeles and of the world."

In a simple ceremony conducted at the SRF International Headquarters on December 17, 2020,  Mr. Bill Cody, senior field deputy to Los Angeles City Council Member Gilbert Cedillo, presented a beautifully framed copy of the proclamation to SRF Board members Sister Shovana (shown above) and Brother Saralananda (shown below). SRF's Director of Public Affairs, Ms. Lauren Landress, also participated.
(The Los Angeles City Council had signed the proclamation on August 4, 2020, just prior to SRF's annual SRF Convocation. However, because of the pandemic, the presentation to SRF was delayed.)
Before the ceremony Mr. Cody observed, "If there was no pandemic this year, we would have celebrated SRF's centennial with a formal function at City Hall. Instead, we are having to put on our masks and conduct this informal event while following safe distancing protocols."

Mr. Cody offered his personal appreciation for SRF's work: "Meditation is the need of the hour. The world is going through turmoil. Everyone I meet in the city is stressed out and facing some sort of medical, social, or economic difficulty. Despite my busy schedule, I have started a meditation practice of my own. SRF is doing a great service by teaching people how to meditate."   

Brother Saralananda expressed SRF's gratitude for the  recognition by the city where in 1925 Paramahansa Yogananda established the international headquarters for his spiritual and humanitarian mission. "Our guru, Paramahansa Yogananda, believed in empowering people to find strength through reliance on soul power, which is awakened by yoga meditation," he said. "In addition to offering meditation as a panacea for life's problems, our organization, in its 100 years of existence, has also tirelessly worked to dissolve the spiritual causes of divisive prejudices and to promote social and interracial harmony by realization of humanity's basic oneness in Spirit. We are grateful to receive this recognition from the City of Los Angeles."

The full text of the proclamation is reproduced below.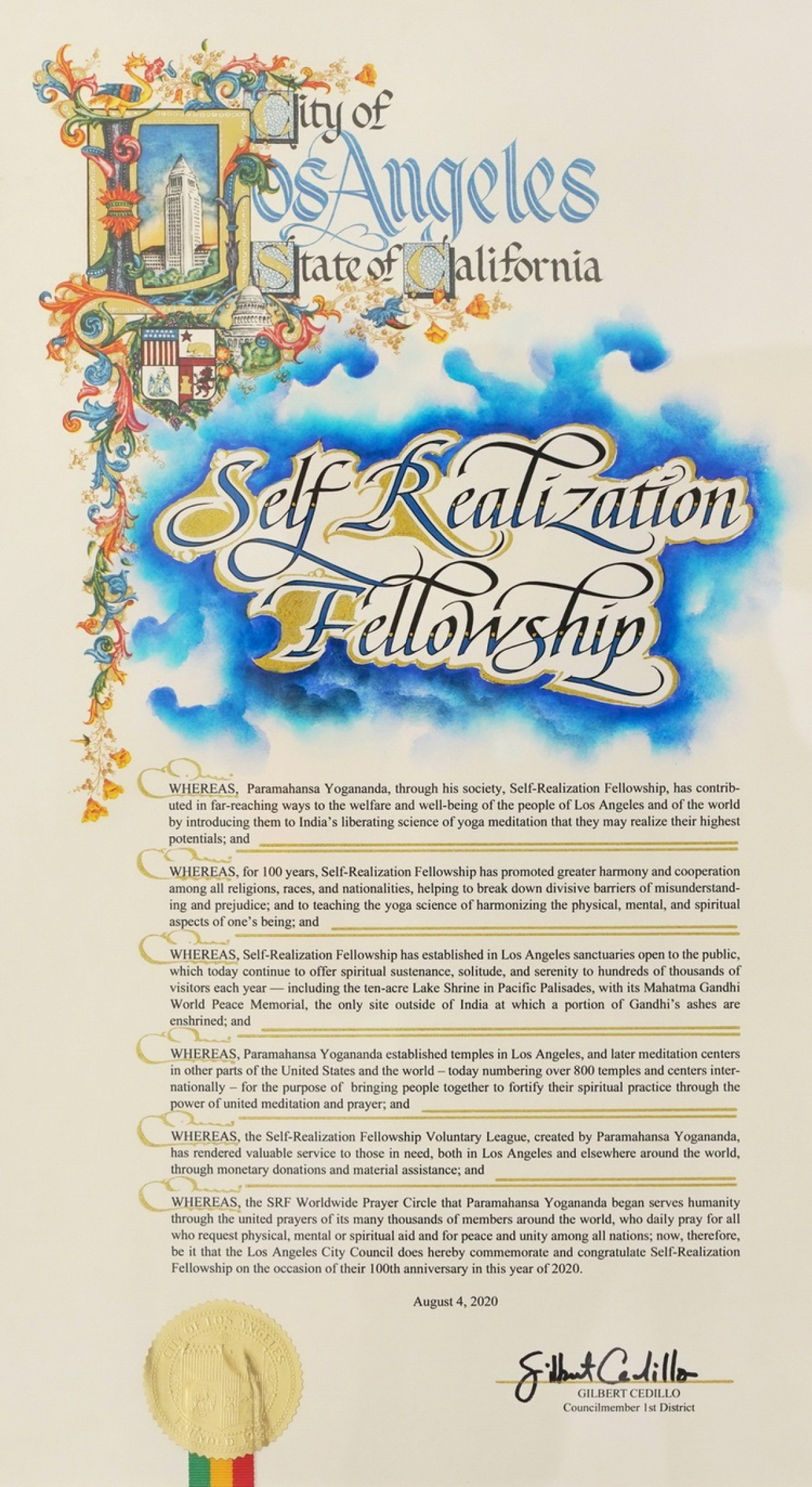 PROCLAMATION
100th Anniversary of Self-Realization Fellowship
WHEREAS, the year 2020 marks the centenary of the arrival of Paramahansa Yogananda to America and the founding of his society, Self-Realization Fellowship,  the international headquarters for which was established five years later, in 1925, in Los Angeles; and

WHEREAS,  Paramahansa Yogananda, through his society, Self-Realization Fellowship, has contributed in far-reaching ways to the welfare and well-being of the people of Los Angeles and of the world by introducing them to India's liberating science of yoga meditation that they may realize their highest potentials; and
WHEREAS, for 100 years, Self-Realization Fellowship has promoted greater harmony and cooperation among all religions, races, and nationalities, helping to break down divisive barriers of misunderstanding and prejudice; and to teaching the yoga science of harmonizing the physical, mental, and spiritual aspects of one's being; and
WHEREAS, Self-Realization Fellowship has established in Los Angeles sanctuaries open to the public, which today continue to offer spiritual sustenance, solitude, and serenity to hundreds of thousands of visitors each year — including the ten-acre Lake Shrine in Pacific Palisades, with its Mahatma Gandhi World Peace Memorial, the only site outside of India at which a portion of Gandhi's ashes are enshrined; and
WHEREAS, Paramahansa Yogananda established temples in Los Angeles, and later meditation centers in other parts of the United States and the world – today numbering over 800 temples and centers internationally – for the purpose of  bringing people together to fortify their spiritual practice through the power of united meditation and prayer; and
WHEREAS, the Self-Realization Fellowship Voluntary League, created by Paramahansa Yogananda, has rendered valuable service to those in need, both in Los Angeles and elsewhere around the world, through monetary donations and material assistance; and
WHEREAS, the SRF Worldwide Prayer Circle that Paramahansa Yogananda began serves humanity through the united prayers of its many thousands of members around the world, who daily pray for all who request physical, mental or spiritual aid and for peace and unity among all nations; now, therefore, be it
RESOLVED BY COUNCILMEMBER GIL CEDILLO, that the adoption of this resolution, the Los Angeles City Council does hereby commemorate and congratulate Self-Realization Fellowship on the occasion of their 100th anniversary in this year of 2020.
                                                                                    August 4, 2020