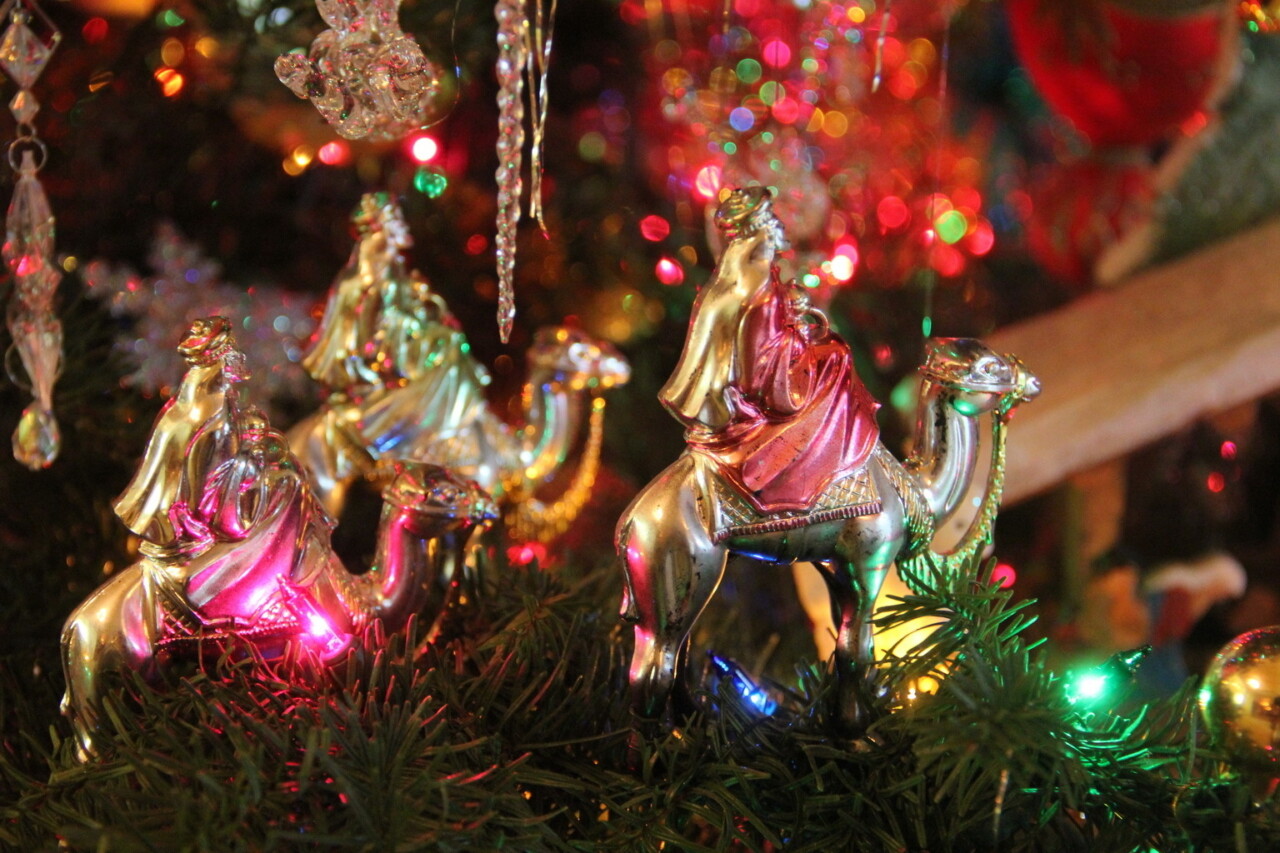 We wish you peace and joy during this holiday season — and invite you to join the many SRF Christmas events happening online and in-person. Paramahansa Yogananda had a tremendous fondness for this time of year, because of the great promise of light, love, and spiritual fellowship in the Divine that this season holds out to each one of us.
We hope that as you participate in the following events you can experience the elevating joy inherent in that promise — which emanates from that same universal consciousness of Spirit which daily knocks at the door of our hearts, and was perfectly manifest in the life of Jesus, Krishna, and other liberated masters throughout the ages.

(All of the online events listed on this page will be streamed from our site.)
December 9 — Virtual Christmas Open House
Receive an inspiring Christmas message from SRF/YSS President Brother Chidananda, and a warm welcome from the monks and nuns of SRF as they take you on a tour of the international headquarters, adorned with many of the Christmas decorations from Paramahansa Yogananda's time. You can listen to Christmas carols, hear stories about Paramahansaji at Christmastime, and participate in this joyful celebration no matter where you are.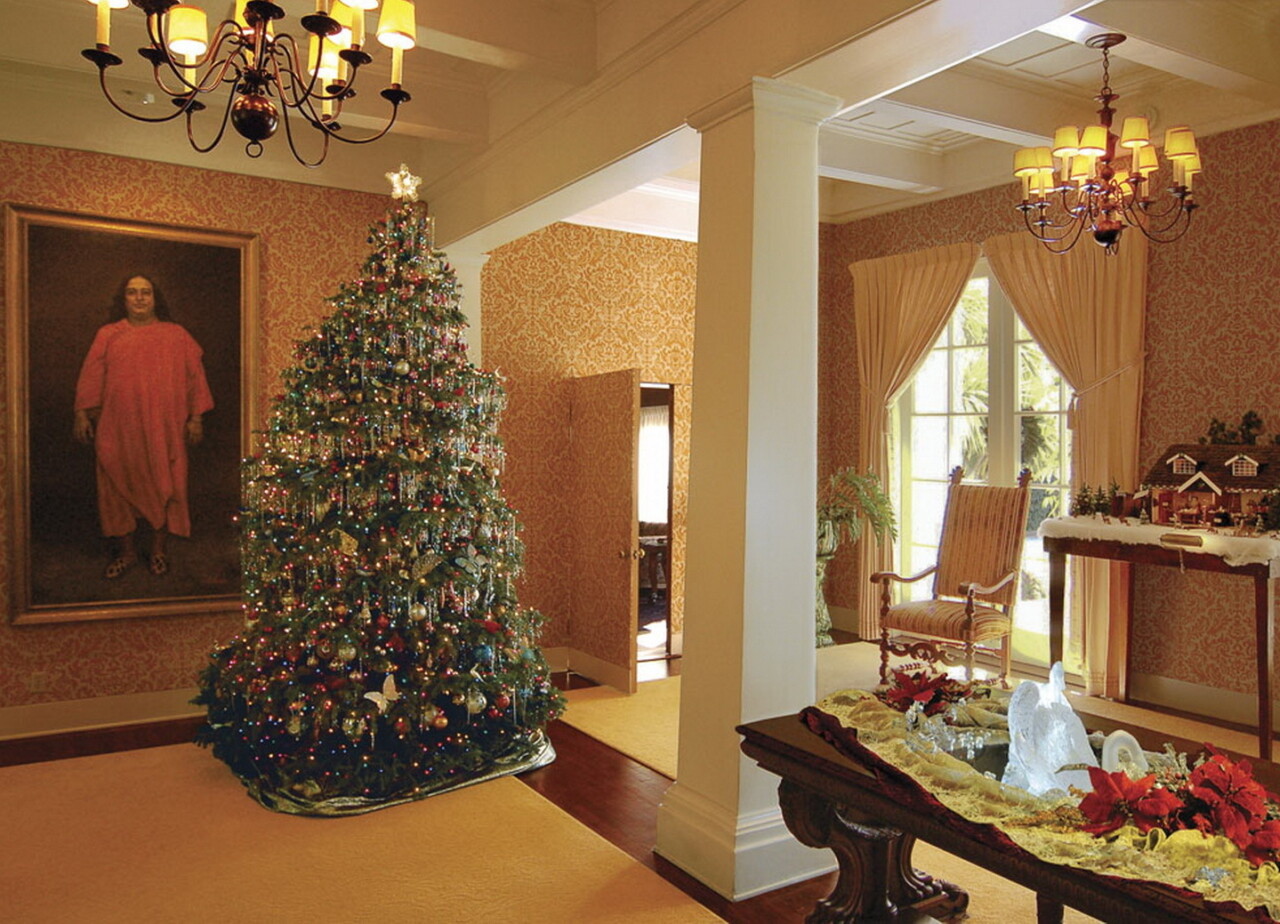 The decorated Christmas tree in the administration building at the SRF International Headquarters stands by an original painting of Paramahansa Yogananda.
December 17 — All-Day Christmas Meditation — Online and In-person
Streamed live from the SRF Hollywood Temple, this year's online All-Day Christmas Meditation will be led by an SRF monastic, and will include periods of kirtan (group devotional chanting).
First introduced by Paramahansa Yogananda in 1931, the All-Day Meditation is a long-standing tradition cherished by SRF members and friends around the world.
"The ideal is to honor Christ in spirit in meditation from morning till evening, absorbed in feeling in one's own consciousness the Infinite Christ that was born in Jesus." — Paramahansa Yogananda
Further inspiration as we approach this special day:
Members of Hollywood Temple will be in attendance for the online meditation. All of the SRF temples and many centers and groups will hold an in-person All-Day Christmas Meditation as well on December 17.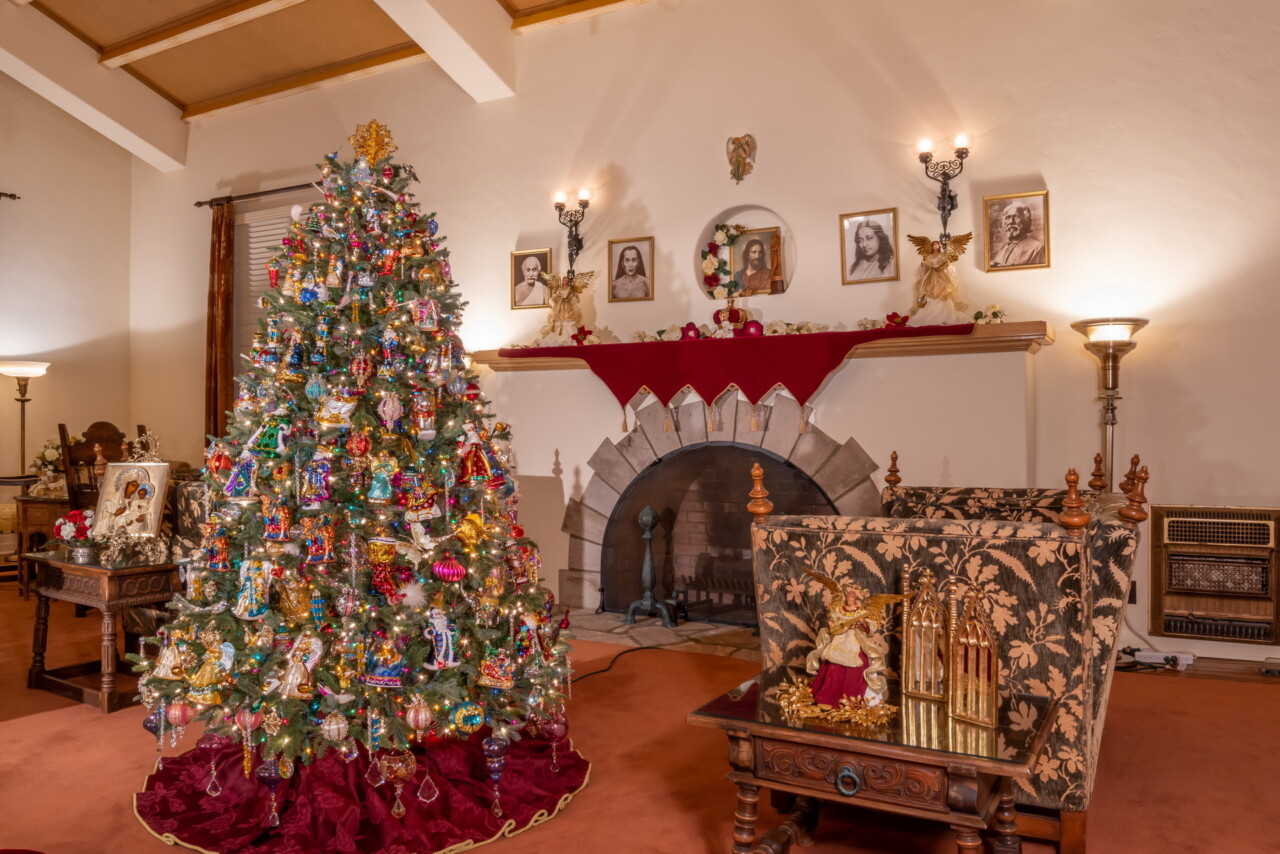 Christmas decorations on display at the SRF Encinitas Hermitage
In-person Christmas Activities at SRF Temples
Please visit Temple websites for details.
Toy Drive to support several orphanages in the Los Angeles area
December 17 — All-Day Christmas Meditation
December 24 — Christmas Eve Devotional Service
December 25 — Christmas Day Service
Holiday Drive — in support of Covenant House, a youth homeless shelter in Hollywood
December 4 — Christmas Festival with meditations, inspirational talk, Sunday school, and caroling with the temple singers
December 17 — All-Day Christmas Meditation (online and in-person)
Holiday Drive — for Community Resource Center in Encinitas
December 2 — Christmas Fellowship at the Encinitas Community Center with prayer, inspirational talks, teen choir, temple singers, and more!
December17 — All-Day Christmas Meditation
Christmas donation to Ascencia, a homeless shelter in Glendale
December 4 — Christmas Potluck + a visit from Santa!
December 17 — All-Day Christmas Meditation
December 24 — Christmas Eve service led by lay members

Food and Toy Drive and gift cards to go to Pathways of Hope
December 17 — All-Day Christmas Meditation
Food Drive in support of the Society of Saint Vincent DePaul
December 4 — Christmas Social
December 17 — All-Day Christmas Meditation
December 17 — All-Day Christmas Meditation
December 18 — Christmas fellowship event
Food drive to benefit a local neighborhood food bank, and toy drive for students at Rodriguez Elementary School
December 4 — Christmas Social with children's Christmas carols, lunch, string music, and visits from Santa and Mrs. Claus!
December 17 — All Day Christmas Meditation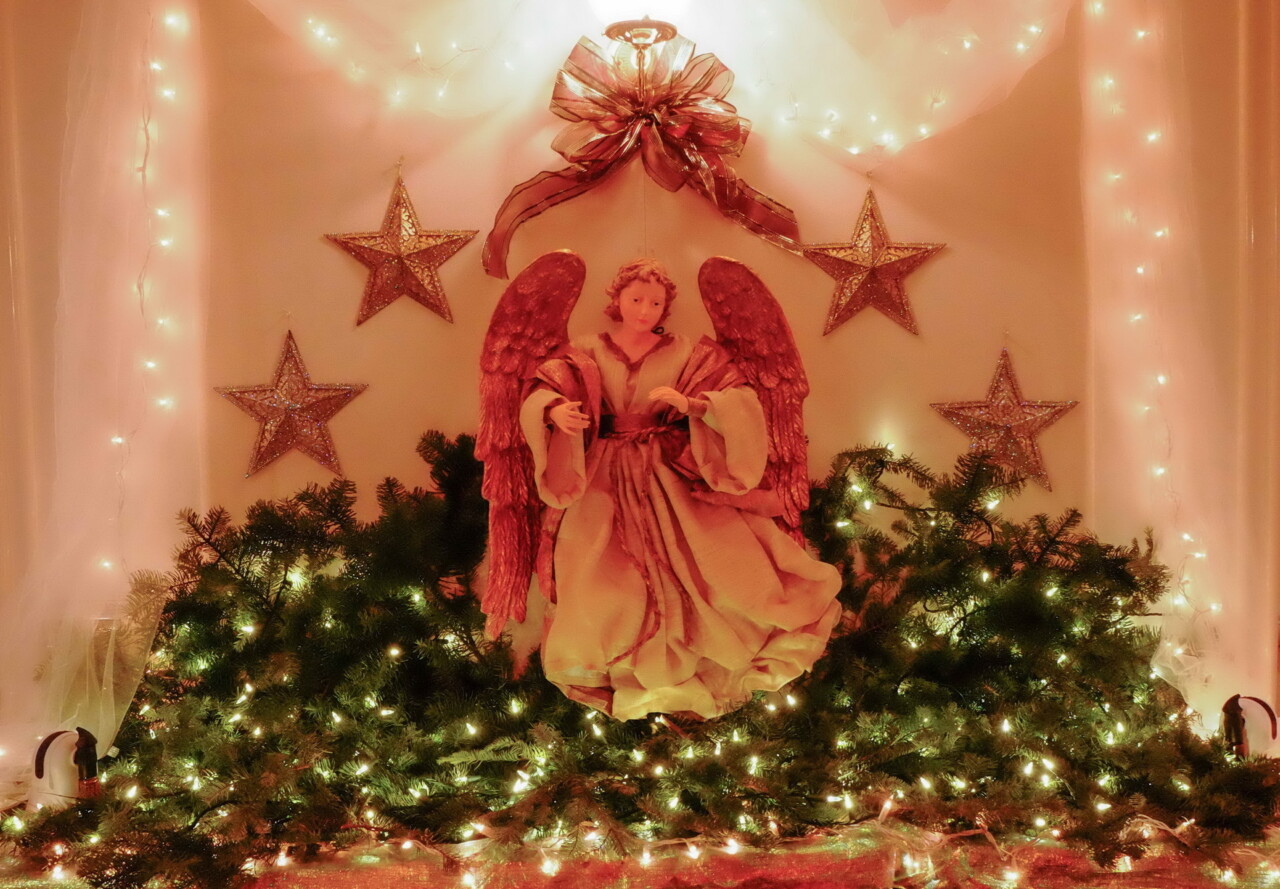 And Looking Into the New Year...
Usher in the New Year with fresh determination, and join us in celebrating and honoring the life of Paramahansa Yogananda — bright opportunities to connect with the Divine in meditation. As with Christmas events, the following meditations will be held online on our Online Special Events & Commemorative Meditations page and at SRF temples, centers, groups, and circles around the world.
December 31 — New Year's Eve Meditation
Would you like to make great strides in the new year? Paramahansa Yogananda instituted the practice in SRF of ushering in the New Year with a special meditation on the night of December 31 from 11:30 p.m. to 12:15 a.m.
As Paramahansaji said: "In this new year, change your consciousness. Cultivate the right conduct and good habits that lead to freedom. When you can say, 'I don't indulge in bad habits because they are against my interest; I choose goodness of my own free will,' that is freedom; and that is what I want for you."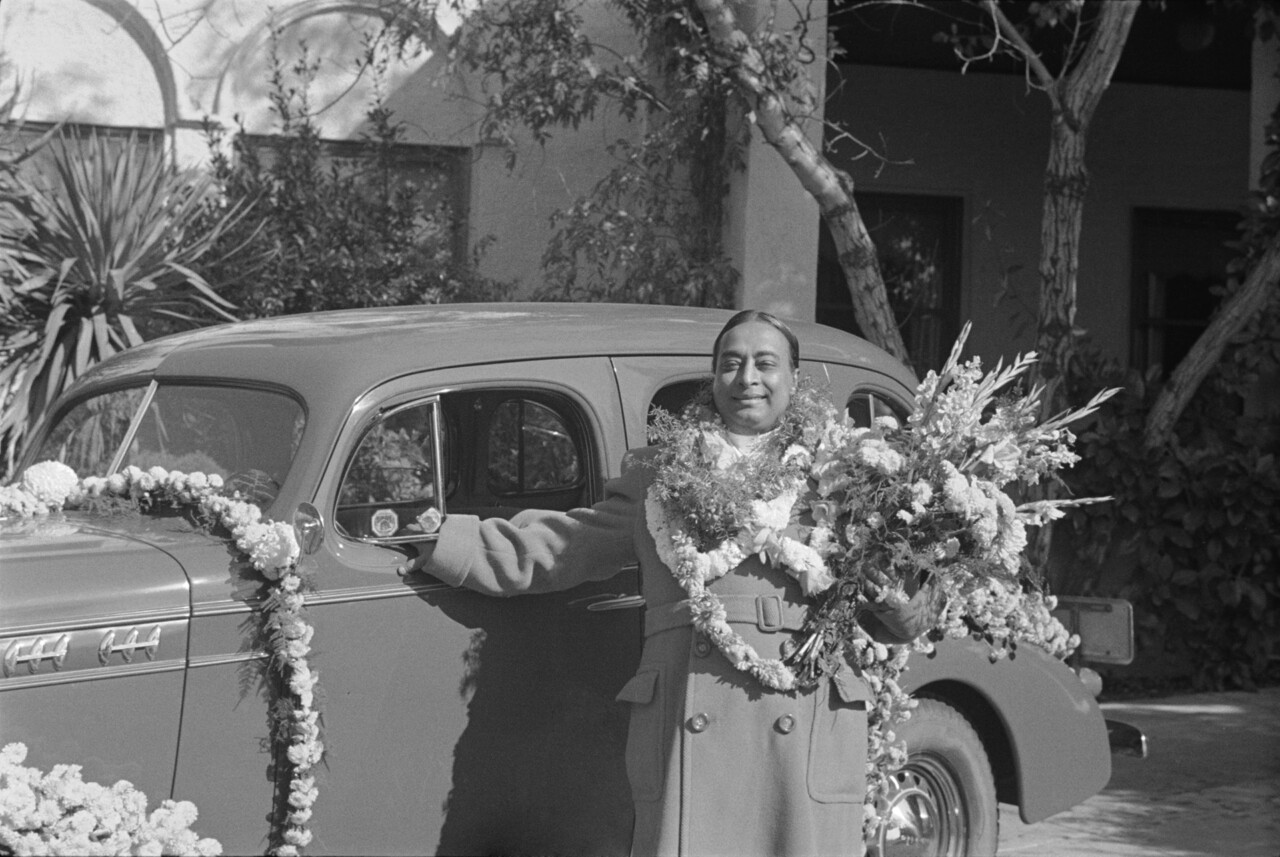 Paramahansa Yogananda, shortly before Christmas in 1936, at the Guru's return to the SRF International Headquarters after his yearlong trip to India
January 5 — Commemorative Meditation for Paramahansa Yogananda's Birth Anniversary
When Yogananda was an infant in his mother's arms, Lahiri Mahasaya blessed him and foretold: "Little mother, thy son will be a yogi. As a spiritual engine, he will carry many souls to God's kingdom." Read more about the life of Yogananda.
January 7 — Six-Hour Meditation in Honor of Paramahansa Yogananda
What better way to honor Paramahansa Yogananda than by meditating, by feeling in the depths of meditation your oneness with an aspect of the Divine closest to your heart, and by bringing the peace and joy of that meditation into your daily life?
At one of the Christmas gatherings at the SRF International Headquarters, Paramahansaji said: "I hope you will all make the supreme effort to meditate. Your search for God cannot wait. Let all else wait, but do not keep God waiting for you."
In that same talk, referring to Jesus and all liberated masters, he added: "When a great teacher comes on earth, his presence bestows power and inspiration, filling his disciples with much joy. But after he leaves, they may feel bereft and lost if they have no motivating spiritual power of their own. This is why meditation and divine attunement are necessary, that seekers may learn how to recharge themselves with inspiration and joy. All the wonders of God will be revealed in the ecstatic communion of deep meditation."
We hope that you can join us, to experience for yourself such wonders to be found in deep meditation, in honor of Paramahansa Yogananda, a truly great master of the liberating science of yoga in this age.