It is hard to believe that our 2023 Self-Realization Fellowship World Convocation has already come to a close. But as SRF/YSS President Brother Chidananda said at the start of his satsanga during the closing program on August 5, we should think of this time instead as a transition into the next phase of our receiving the divine upliftment and rejuvenation Convocation has brought — and can continue to bring — into our hearts and homes.
Satsanga With Brother Chidananda — and the Real "Livestreaming"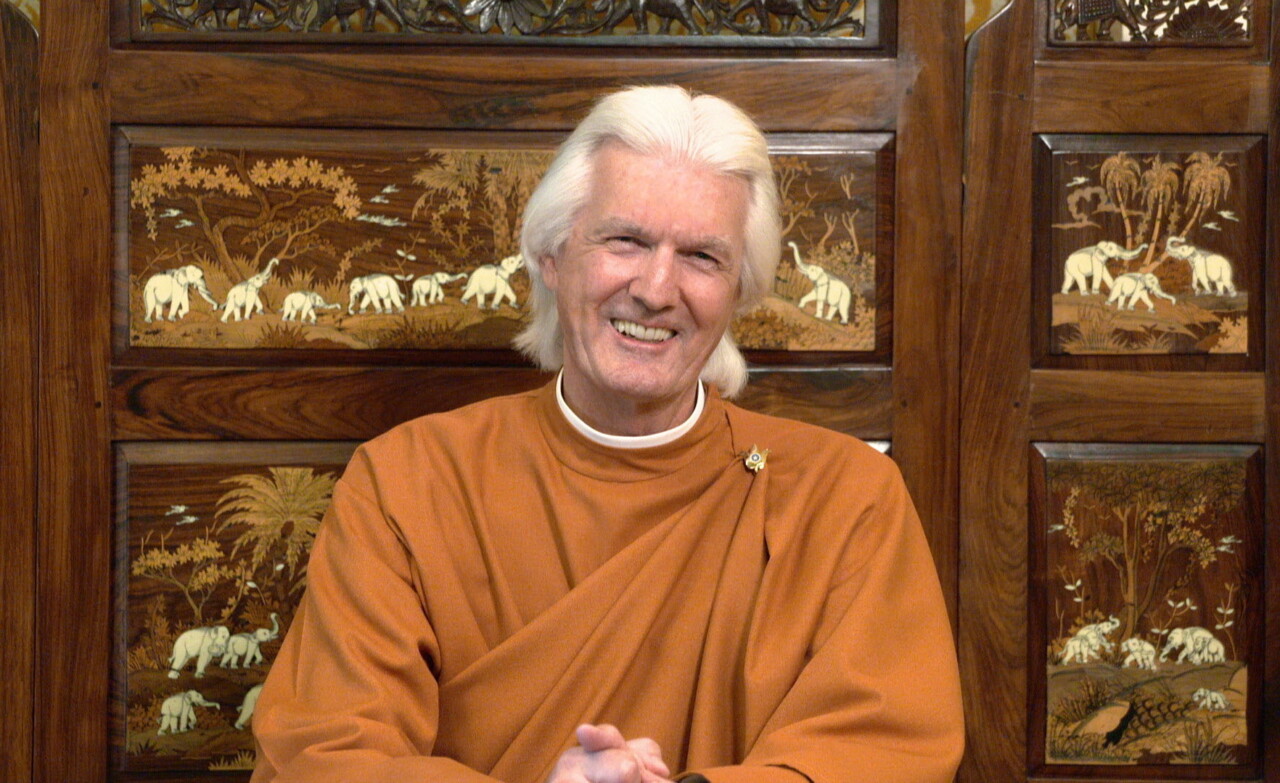 During his satsanga, livestreamed from the main chapel of the SRF International Headquarters in Los Angeles, Brother Chidananda assured those viewing, now and in the future, that they would be able to continue to benefit from Convocation not only because of the welcome fact of online classes, kirtans, and meditations remaining available, but most importantly because of a truth that lies at the heart of Convocation, and the whole of the SRF/YSS work — the ever present and potent blessings of Paramahansa Yogananda.

After relating an account from Sri Daya Mata of how on the last day of Paramahansaji's earthly incarnation, in 1952, those around the great Guru felt as if they were in the presence of God as the Divine Mother, and that She was using Paramahansaji "as a perfect channel to send out waves of love to all creation," Brother Chidananda stated: "That, my brothers and sisters, is the real 'livestreaming' — and we can feel that even today. I know that many of you have felt it. Many of you have been…gathering that in your hearts throughout this week of meditations and classes and inspirations and divine fellowship."
At the end of the satsanga, to emphasize again the ongoing nature of Convocation, Brother Chidananda said the closing prayer should be thought of instead as "a prayer of continuation of Convocation." He then led the same prayer with which he had inaugurated Convocation at the opening program, ending with the heartfelt and powerful invocation: "Beloved God, awaken in each one of us the full consciousness of our Spirit-nature — full of joy, full of wisdom and compassion, strength and courage, indomitable will — and above all, fill us with a supreme desire to know ourselves as Your immortal children of eternal bliss."
Glimpses of Convocation From Around the World
More than 22,000 spiritual seekers from 130 countries registered for the SRF World Convocation this year, to partake in the exploration of their true soul nature. And many more participated by watching online events on YouTube.
This year's Convocation was truly a worldwide program in more ways than ever before, with a full schedule of events streamed online, in-person events at SRF locations in Southern California, many SRF centers and groups around the world hosting in-person viewing events, and, for the first time, Self-Realization Fellowship monastics visited fourteen cities in Europe, North America, and South America during the week of Convocation.
Below is a short video greeting from the groups who hosted monastic visits, which was shared by Brother Chidananda during his satsanga.
And here you can enjoy many images from Convocation gatherings around the globe!
These Convocation talks and meditations have been such a joy and inspiration! It's so wonderful to share the online viewing with other devotees. I feel like our Kansas City Meditation Group is filled more than ever with the love of the Gurus due to all these amazing talks and meditations!!
R. D., Kansas
Having come on the path during the pandemic and attending only online events and meditations, what a blessing it was for me to attend a satsanga and meditation at the Houston Center during the monastic Convocation visit and to meet them in person. The experience was very uplifting and I found it easier to calm my restless mind. Their satsanga answers clarified so many of my doubts and gave me the confidence and assurance to move forward with an important decision in my life. I am so grateful for this opportunity to interact with the monastics.
R. T., Texas
During the 2023 Convocation at the Self-Realization Fellowship New York City Center, my experience with Sister Ranjana and Brahmacharini Laura was profoundly meaningful. Interacting with the monastics allowed me to witness a higher level of spiritual dedication and discipline, inspiring me to deepen my own practice. Their presence exuded a sense of peace and inner contentment, which was infectious and uplifting.
M. E., New York City
Thank You for Your Expressions of Appreciation and Support
Many of you have reached out to express your heartfelt appreciation for the divine inspiration and practical insights you received from the Convocation classes and other events.

We share your deep gratitude for all the blessings of this week of spiritual renewal and fellowship — and are so happy that so many have been able to participate in person or online, to draw from the measureless depths of Paramahansaji's wisdom and care for those seeking and striving to know the Divine within themselves.
What will you hold on to?
Reflecting on what key takeaways you want to focus on from Convocation is a very influential tool for your spiritual development and to continue the sense of well-being experienced during the program.
After all, if we can put into practice even a portion of what we have learned during the week, then Convocation has the power to truly transform our lives.
We hope your Convocation experience continues to inspire you in ways that bring you lasting peace, harmony, and deeper realization of your oneness with the Divine.
What are your main takeaways from Convocation? Please let us know in the comments!