Dear Friend,
Loving greetings to you from the ashrams of Paramahansa Yogananda. As we look forward to the coming new year, our hearts are full of gratitude for the generous outpouring of support that we received over this past year from members and friends like you.
Your generosity has helped us expand many of our initiatives to provide greater access to those looking to put our Guru's wisdom and guidance into practice.
Paramahansaji long ago foresaw the numerous changes the world would need to go through to become more harmonious for all of humanity. Such positive transformations, he said, could only be based on a foundation of practical spirituality, such as the universal Self-Realization Fellowship teachings he brought to the West at the behest of his line of gurus.
Practice these teachings, and you also shall see how beautiful life becomes.
Paramahansa Yogananda
Please read on to discover how you can help Self-Realization Fellowship (SRF) to further spread these soul-liberating teachings to a world greatly in need.
We hope you are enjoying the recently upgraded and redesigned SRF/YSS app, where anyone can now receive daily inspiration from Paramahansaji's teachings, draw from a bounty of guided and live group meditations, read and share SRF news and blog posts, and participate in the weekly online inspirational services.
If you are an SRF Lessons student, you can also take advantage of many new features designed to enhance your spiritual study, including a "text-to-speech" function which allows your Lessons to be read to you.

Watch this helpful introductory video to the SRF/YSS app.
We are happy to report that we are receiving enthusiastic reviews from many users of the app who are finding that it is helping their spiritual practices in new ways.
One member recently shared:
Because of this new app, I now feel that God is much, much more present in my everyday life.
You may have also noticed that we introduced a new mobile and desktop app specifically for the 2022 SRF World Convocation that allowed many thousands of seekers, participating from more than 135 countries, to join together for this immersive week in one dedicated digital space. Among other things, this special app brought together monastics and attendees in online fellowship events to share the joy of Convocation in each other's divine company.
There are other ways we are working to increase access to seekers worldwide:
Providing subtitles in multiple languages for our weekly online inspirational services. This series of talks by SRF monastics is proving to be popular with both members and those just discovering the spiritual path.
Releasing Paramahansaji's inspired talks and writings as ebooks in several languages.
Publishing more audiobooks of the Guru's works ― and launching a podcast which will make more of our inspirational content accessible in audio-only format, something many have requested.
It is because of your ongoing generosity that we are able to cover the significant expenses associated with building, hosting, maintaining, and developing these resources. In the coming year ― with your continued support ― we look forward to making greater strides with all our digital offerings to serve our spiritually awakening world.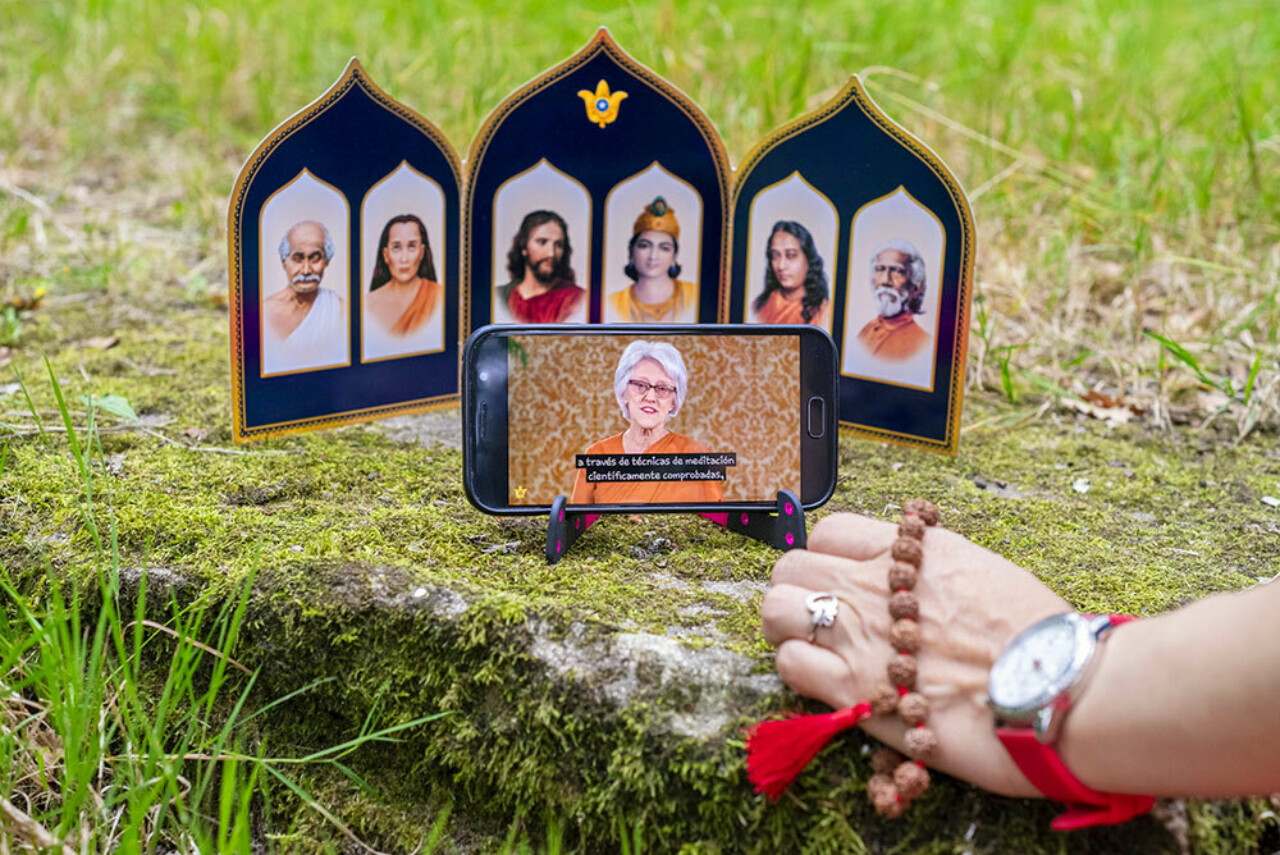 Thanks to a growing array of digital opportunities, it's now easier than ever for truth seekers around the world to access Paramahansaji's teachings.
Thousands of SRF members and friends have signed up to serve Paramahansa Yogananda's work on the SRF/YSS Volunteer Portal since its launch in 2020. Many now serve in key areas — providing assistance through the International Help Desk, ushering and leading group meditations at the SRF Online Meditation Center, working on translations for different media, and much more.
We recently received this touching note from an SRF member who is volunteering from Calgary, Canada:
I had no idea what my sadhana was missing, until I personally experienced the power of spiritual company. Regularly meeting and serving with other devotees who share in the same love for our Guru has changed my life and has helped me become a better devotee.
Your contribution will help us expand the staff and resources needed to identify and train volunteers for vital roles across the organization and to benefit from their unique professional expertise no matter where they live in the world.
You can also help us build a more dynamic volunteer portal that allows those who want to volunteer — whether long-time members or those who are new to our Guru's teachings — to more easily find opportunities that are well suited to their talents and interests.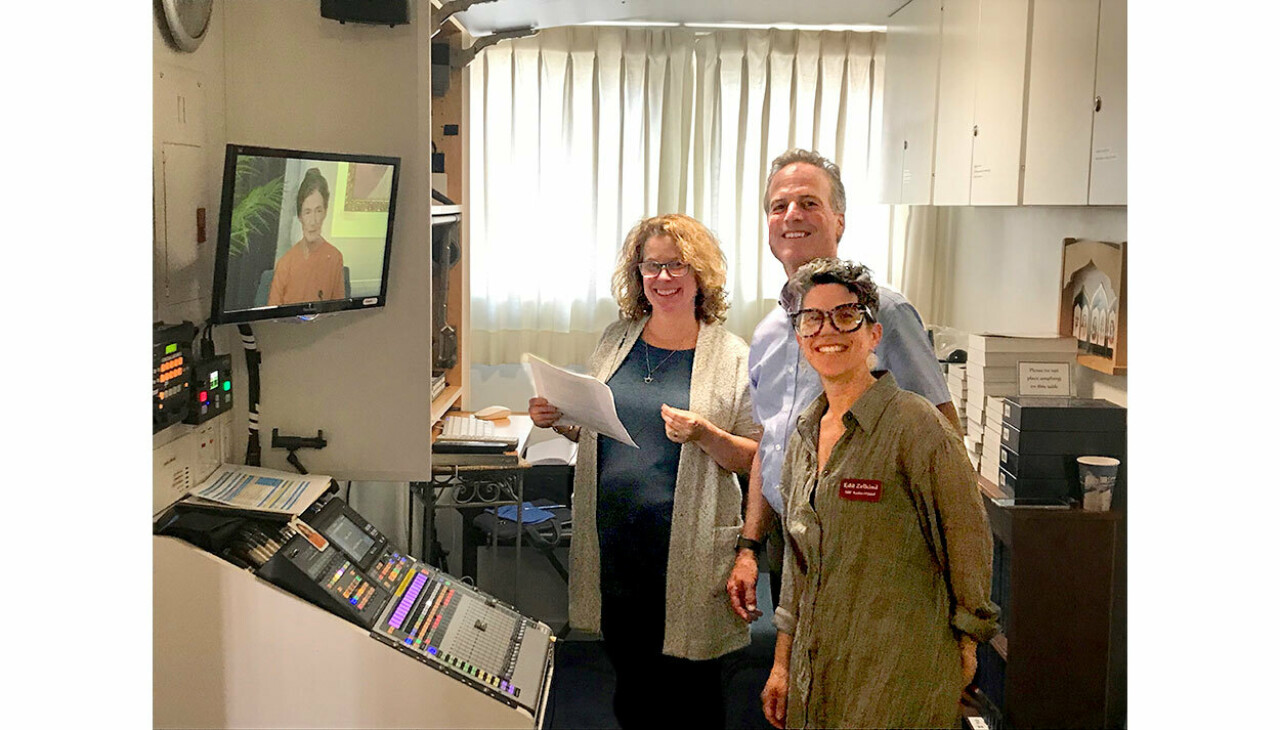 Service with a smile! SRF volunteers in Encinitas, California, assist with the livestreaming from the SRF Encinitas Temple of a one-day retreat led by an SRF monastic.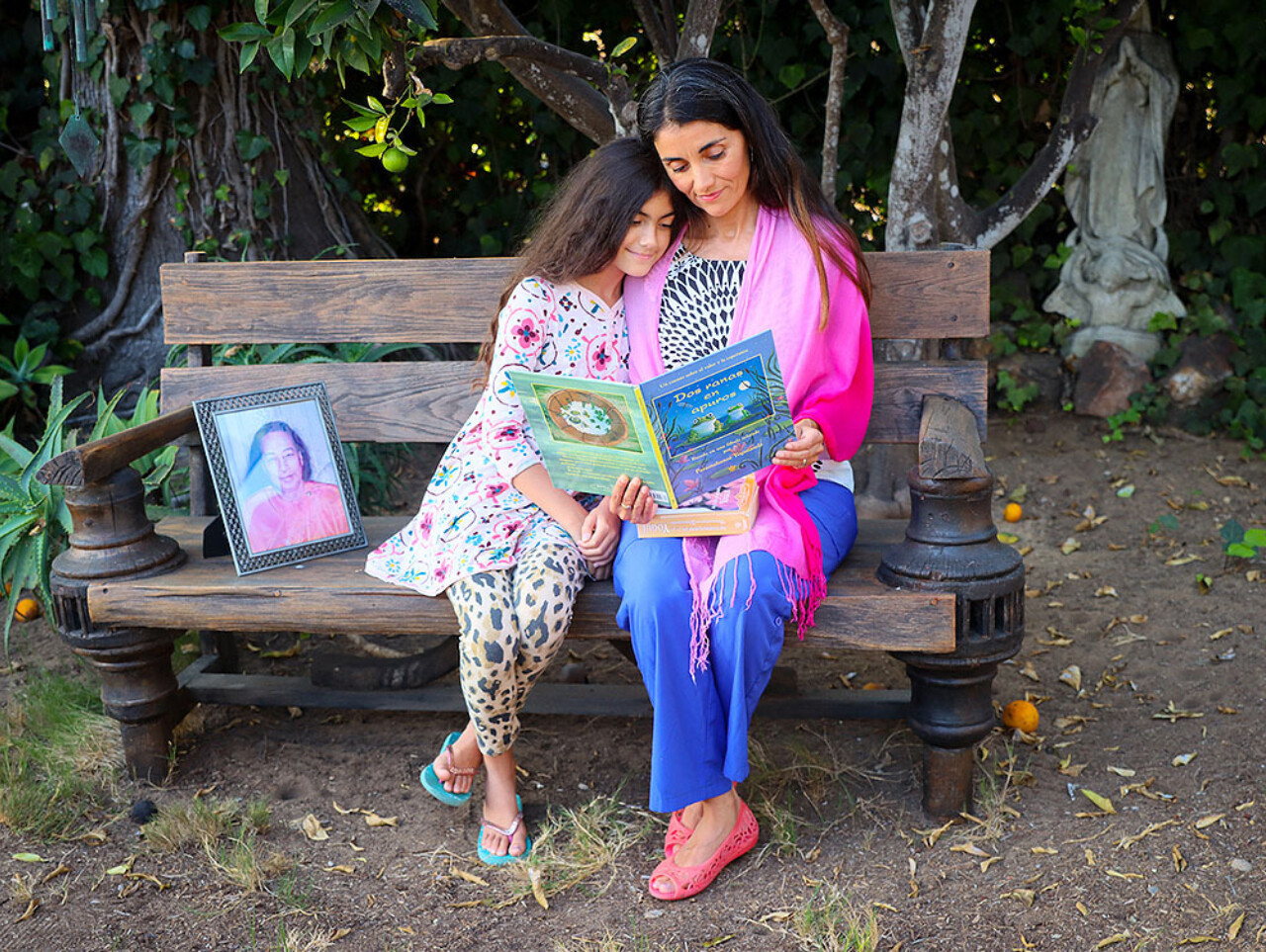 A mother and daughter enjoying the Spanish-language edition of Two Frogs in Trouble by Paramahansa Yogananda. We recently released the ebook version in five languages.
Programs for educating youth in the highest spiritual ideals, with the aim of helping them live truly happy, healthy, and productive lives, have been a part of our Guru's mission since the founding of his first school in Dihika, India, more than a hundred years ago. When he came to the West to bring the Kriya Yoga science to all, he was also aware of the great need for his practical "how-to-live" education for youth to be shared as widely as possible — and we are very happy to continue working toward that cherished goal with you.
Building on the rich, in-person offerings developed for SRF Youth Programs over many decades, during the past 18 months, our Youth Services department has laid a strong foundation on which to build a wide array of online resources for SRF youth to gain a practical understanding of balanced spiritual living. We completed two pilot programs for online "how-to-live" classes for children and teens, consisting of almost 200 sessions. Additionally, in July we conducted a 6-day, online, "How-to-Live" Summer Program, which totaled 60 classes and served 200 youths ranging in age from 7 through 17.
This was all made possible by your continued generosity, which allowed us to program a smooth registration process with user-friendly digital spaces to house the teaching content and train teachers to conduct classes in an online environment. More than 150 teachers and 50 support staff members were involved in these recent programs. And we're just getting started.
In 2023, we plan on expanding the "how-to-live" youth classes to be held weekly throughout the year, eventually serving children and teens in many different countries. Our plan includes enhanced teacher training programs and the development of a more robust set of materials for parents, teens, and children.
One child who attended an online "how-to-live" class shared:
I had a lot of fun during the youth program. I learned about being fearless and different affirmations about fearlessness. I use the fearlessness affirmations that I learned whenever I am scared or nervous and it always makes me feel better.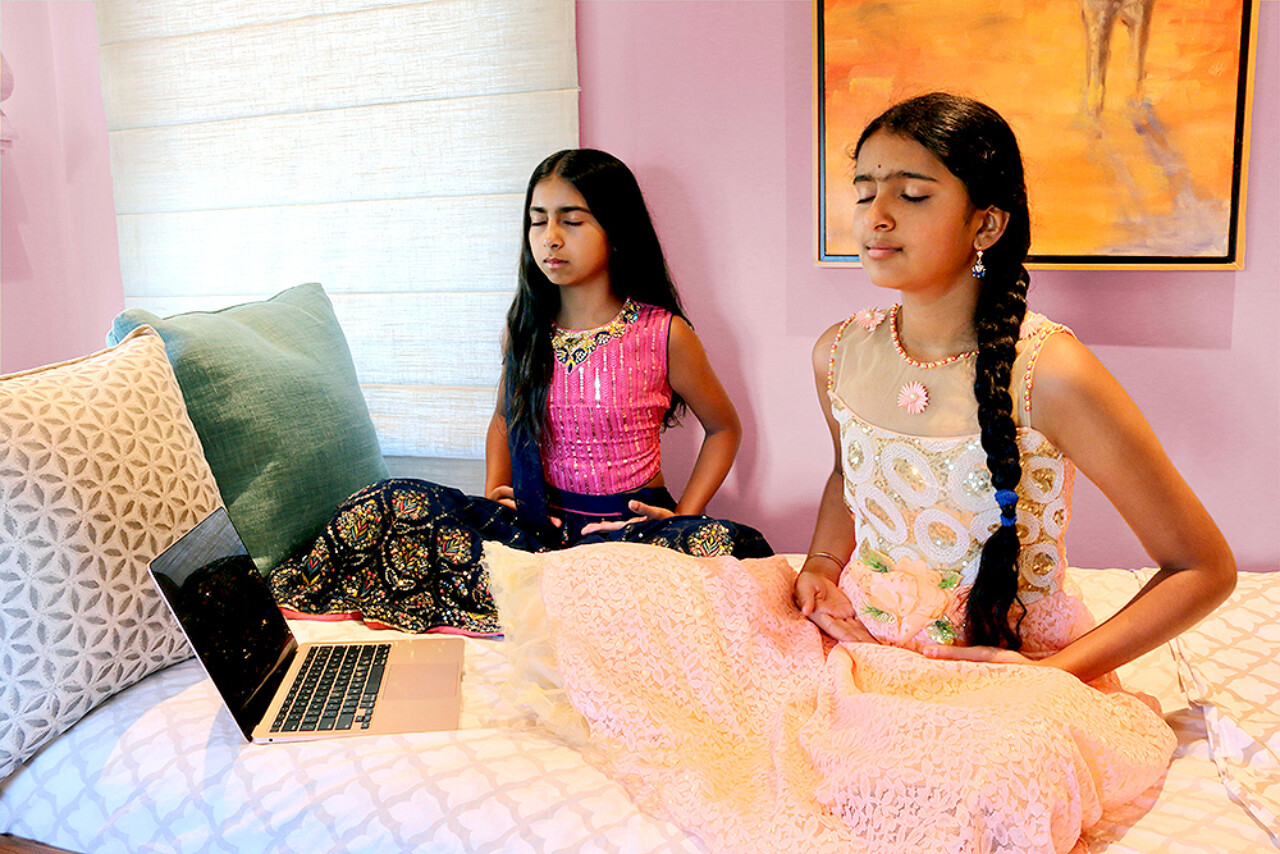 Students in the online "how-to-live" programs learned about important soul qualities such as compassion and moral strength, and they also had the opportunity to experience the Energization Exercises, meditation, and prayer.
If you feel inspired to help share Paramahansaji's teachings with more truth seekers — of all ages! — we invite you to make a gift now. Your gift will also assist SRF to meet the many other significant expenses associated with carrying on Paramahansaji's spiritual legacy and humanitarian work.
To all of you who support this work with your love, prayers, and continuing material assistance, we send our deepest thanks, and hope you feel a deep joy in helping to bring Paramahansa Yogananda's teachings of universal spirituality to the world.

In divine friendship,

SELF-REALIZATION FELLOWSHIP
Mother Center

P.S. We deeply appreciate your recurring and one-time donations. To make a gift now, please use the link below. Thank you!

Note: Contributions in response to Self-Realization Fellowship's Winter 2022 Appeal are for the general support of SRF, which includes the purposes stated in this letter. As such, gifts shall be designated as, and remain, unrestricted and can be utilized for purposes SRF determines. Donations received later than approximately twelve months after the mailing date will be credited to SRF's most recent general appeal. 

Self-Realization Fellowship is recognized by the Internal Revenue Service as a tax-exempt organization. Accordingly, donations are tax-deductible as permitted by law.