Central to religious traditions around the world is the act of reaching out in a spirit of love and friendship to those in need—expanding oneself by loving all people and serving God in them. Paramahansa Yogananda wrote: "Was not Lord Jesus a great friend to all, and Lord Buddha and Lord Krishna? To be like them you must perfect your love for others."

In this spirit of expanding our sympathies through service, SRF temples and groups around the world participate in annual drives and charitable projects during the holiday season. Here's a sampling of the activities that SRF temples and groups in the U.S. have taken part in this year, seeking to bring joy to others by putting the principle of "love thy neighbor" into action.
Young adult "Santa's Helpers" at the Hollywood Temple helped to package toys for children ages 3–12 as part of the temple's contribution to the LAPD BLEND Northeast Toy Drive.
Hollywood Temple
In 2018, the Hollywood Temple organized several charitable projects: a food drive for Hope Again, an organization which serves homeless families and individuals in the San Fernando Valley; a care-package project for their longtime community partner Covenant House in which they assembled over 100 care packages for homeless youth; a financial donation to Covenant House to assist in their efforts to help homeless young adults learn job skills and find employment; and a holiday toy drive for underprivileged children ages 3–12 to support the LAPD BLEND Northeast Toy Drive, a nonprofit that supports the LAPD's mission in one of its most diverse communities.
Lake Shrine Temple
As a part of its 21st annual "Holiday Gifts for Foster Children" program, the Lake Shrine Temple in Pacific Palisades collected over 600 gifts requested by children in the Los Angeles foster care system. One social worker told Brother Satyananda (minister-in-charge at the Temple): "I can attest to the sincere joy the children expressed when receiving your gifts. Many of these children do not have anyone in regular contact with them....Words cannot express how much your program has reinstated hope and that someone does care."
Encinitas Temple
The Encinitas Temple's annual toy drive resulted in donations of 500 toys (including more than 70 bicycles). These were given, along with a donation of cash and gift cards, to the Community Resource Center. Established in 1979, the CRC provides services ranging from basic needs for families in crisis to extensive programs that facilitate the safety, stability, and self-sufficiency of low-income and episodically homeless households.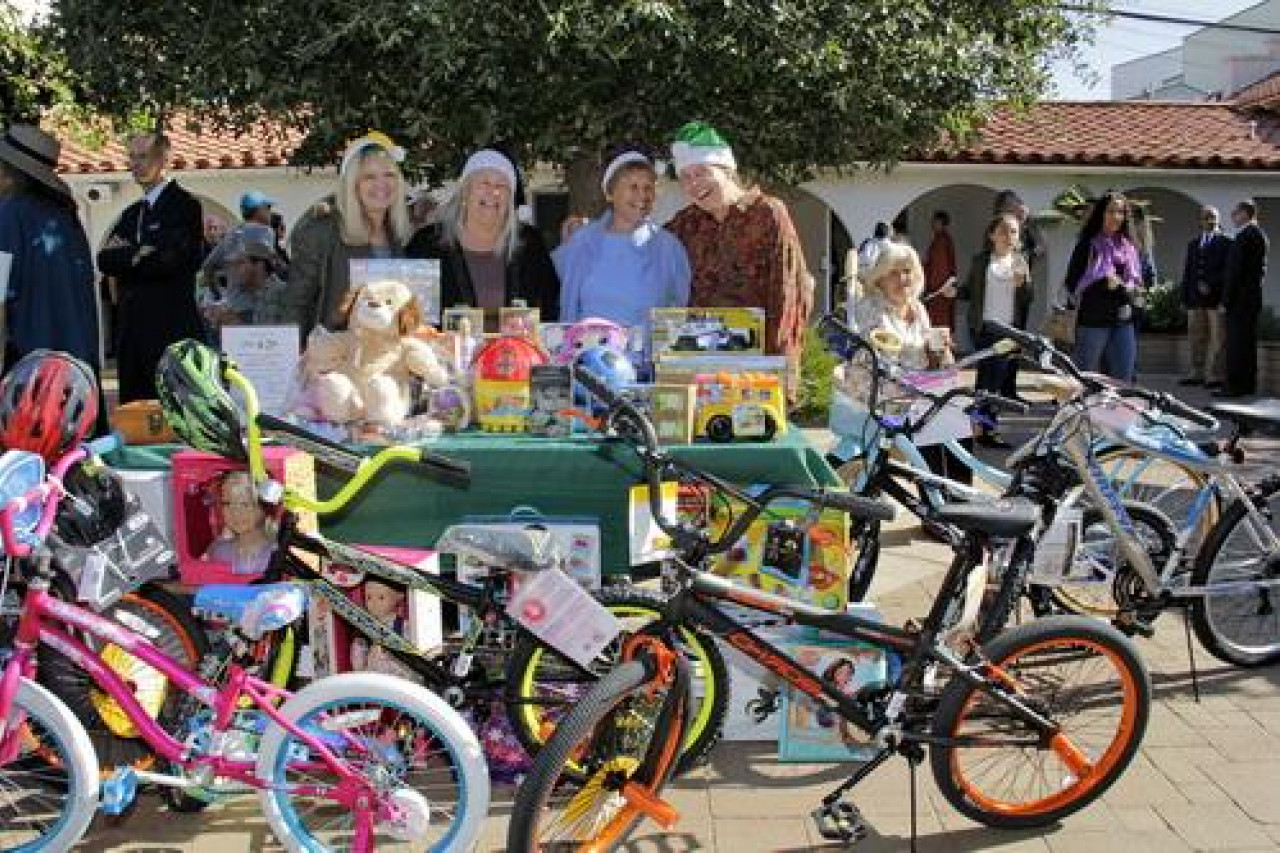 Encinitas Temple volunteers with a number of bikes and toys headed to the Community Resource Center for distribution to local families in need. 2018 was a record-breaking year for donations received!
San Diego Temple
The San Diego Temple hosted a Thanksgiving food drive to support Special Delivery, a local organization that provides meals to medically homebound people living with AIDS, cancer, and other critical illnesses; and a toy drive for children housed at the Polinsky Children's Center, which provides 24-hour service for temporary emergency shelter for children. Several days before Christmas, members of the temple also performed Christmas carols for residents at St. Paul's Villa, which provides comprehensive assisted living and memory care to seniors in the San Diego area.
Fullerton Temple
The Fullerton Temple hosted a Thanksgiving food drive with contributions given to the Pathways of Hope Distribution Center in Fullerton. Temple members also collected unwrapped new toys and donated them to the Spark of Love Toy Drive, in which local firefighters distributed the toys to disadvantaged children at a holiday party.

Brother Tyagananda and Brahmachari Pierre share the joyful spirit of giving with members of the Fullerton Temple, whose collections were donated to Pathways of Hope.
Glendale and Phoenix Temples
The Glendale Temple coordinated a food drive as part of their annual tradition of donating to Northeast Mental Health Center in Los Angeles. They collected 30 grocery bags full of canned goods, beans, cereals, and other dry good products.
During 2018 the Phoenix Temple hosted a food drive to benefit The Society of St. Vincent de Paul. This non-profit organization focuses on providing individualized care, nourishment, and resources to those most in need in the Phoenix area.
SRF Meditation Groups
For the fifth year in a row, the Dallas/Fort Worth Meditation Group partnered with the Good Samaritans of Garland, a nonprofit organization dedicated to providing assistance to hungry and food-insecure community members of Garland, Rowlett, and Sachse, Texas. A total of 428 pounds of dried food goods and 47 pounds of toiletries were collected and packaged into care bags for homeless individuals.
Members of the Seattle Center spent several Sundays assembling and wrapping "shoeboxes of joy" filled with toiletries, small gifts and other useful items for the elderly in the area who do not have family or friends nearby.
The Boston Center raised money to purchase gift certificates for the Somerville Coalition for the Homeless, which provides services, support, resources, and housing to over 600 men, women and children in the local area.
In the spirit of Thanksgiving, the Chicago Center hosted a Healthy Food and Fund Drive and donated all collections to the Oak Park River Forest Food Pantry, a nonprofit that provides direct hunger relief for community members in need.
The Portland Center led two successful drives—a food drive through the month of November and an unwrapped toy drive through December—to provide material and spiritual support to those in need in the local community.
More from the SRF blog