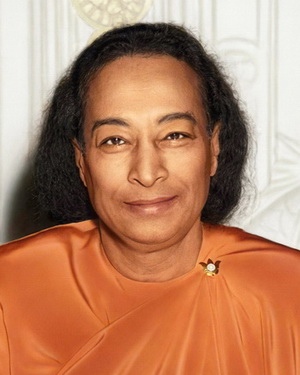 Dear Friend,

Loving pranams from the monastics and lay members who serve in the Self-Realization Fellowship ashrams of Paramahansa Yogananda. We hope that this letter finds you well and strong — physically, mentally, and spiritually.

The past year has been especially challenging, and many among our worldwide spiritual family have been affected by the current confluence of unsettling events. Such times remind us of the incalculable blessings of being on this path — of knowing we have the soul resources to respond with resilience, wisdom, and undaunted reliance on the ever-present protection of God and Guru. As you bravely face these uncertain days, please know that our thoughts and prayers are with you.

We want to thank you for your loyal support during this past year. Because of you, Paramahansa Yogananda's life-changing teachings have reached and deeply inspired many souls in need.

Whether you made a donation, participated in online meditations or events, prayed for our world and the SRF work founded by Paramahansaji, or persevered as best you could to follow his teachings and way of life — your contributions are deeply appreciated.

The SRF Teachings — The Need of the Hour
It's inspiring to reflect on how far SRF has come in the 100 years since our founder first set foot in the United States on September 19, 1920. He arrived alone with a God-ordained mission to spread the ancient science of Kriya Yoga to the world. Today, there is a vast global community of SRF members and friends like you who are faithfully following his teachings and helping to promote his ideals of love for God and all humanity.
As SRF enters its second century, the need for Paramahansaji's teachings is more urgent than ever. The COVID-19 pandemic, social unrest, and political divisiveness of 2020 have shown the desperate need for brotherhood among all people.

Speaking in April about the pandemic, Brother Chidananda said:

"The service we are providing to our members and the world at large is exactly the wisdom, inner resources, and practical 'how-to-live' methods that will get humanity through this crisis and keep us whole. Our service is a 'how-to-live' teaching: how to calm our anxious minds; how to triumph over adversity; how to pursue happiness in all conditions; how to draw upon our inner strength and the most profound resources of our souls; how to work harmoniously with others; how to cultivate courage and resilience; and underlying it all — how to cultivate a dynamic connection with the Divine, with the Source and Power behind all that exists....This way of living, this way of approaching adversity: this is the need of the hour."

The support of our worldwide spiritual family this year enabled the SRF teachings to uplift thousands of spiritual seekers around the world. The livestreamed satsangas by Brother Chidananda, the new program of weekly online services and meditations led by monastics, the immensely successful online 2020 SRF World Convocation, and the historic centennial celebration of Paramahansaji's arrival in America — these are some of the offerings made possible through the help of friends like you.

Looking Forward — How You Can Help
In light of the uncertain economic times we are in, SRF is exercising care and fiscal prudence to use our supporters' gifts wisely. With your assistance we will continue to provide Paramahansaji's growing worldwide family with an abundance of spiritual inspiration, timely guidance, and uplifting services. Your financial support at this time, as we plan our offerings for the coming year, would be particularly helpful and is very much appreciated.
If you are able, please consider making a year-end gift in support of SRF's general fund. This will help us meet ongoing and pressing expenses for the next few months. If you can afford to do so, please consider making a recurring monthly donation.

To make a one-time or monthly gift, please use the "Donate" link at the bottom of this letter.

If you are unable to make a financial contribution at this time, we certainly understand. In truth, all your noble offerings of heart and soul —your prayers, your acts of service, and your commitment to the way of life that Paramahansaji teaches—are sacred gifts received and blessed by God and Guru.

Keeping Faith in God and Our Own Divine Power
Paramahansaji once said: "Remember that as a child of God you are endowed with greater strength than you will ever need to overcome all the trials that God may send you."

As we meet the challenges of the day, let us continue to inspire each other with this attitude of faith — faith in ourselves, faith in what we can accomplish together, and faith that God and the great Gurus of Self-Realization Fellowship are with us and helping us to be spiritually victorious in every circumstance of life.

From all who serve devotedly in Paramahansaji's ashrams, please know that we daily pray for your well-being and are ever ready to serve you. May you feel the blessings of God and Guru ever more tangibly in your life.

In divine friendship,

Self-Realization Fellowship
P.S. for United States residents: please note that the CARES Act provides for special federal tax benefits for charitable giving in 2020. You may be eligible to deduct gifts up to 100% of your adjusted gross income (if you itemize) and up to $300 if you do not itemize. Please consult your tax advisor or the IRS for more information. Thank you!