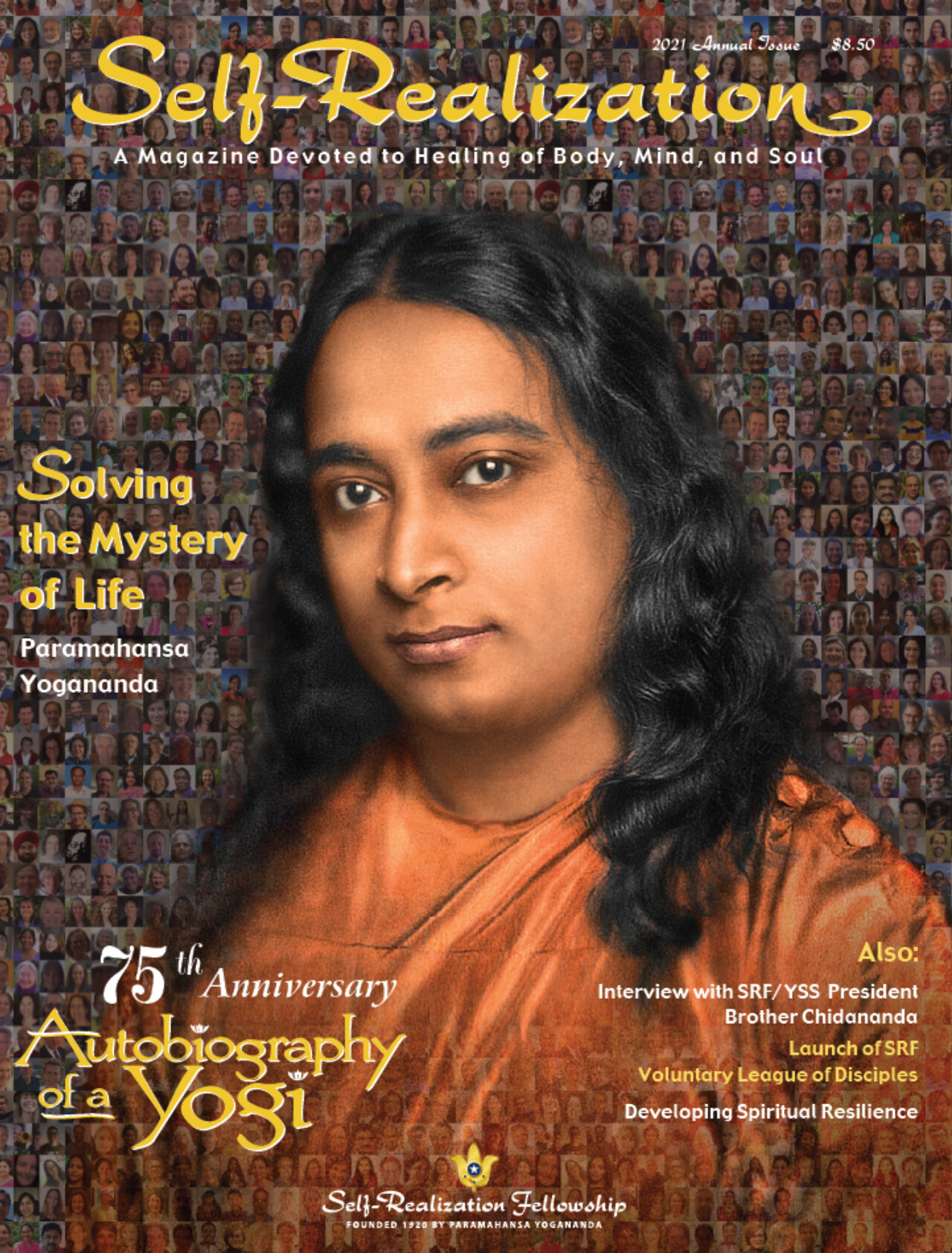 Now in a Large Format
The first annual issue of Self-Realization magazine is now available, featuring a wealth of inspiration from Paramahansa Yogananda, current and past SRF/YSS presidents as well as senior monastics, and other notable authors. This 72-page large-format special issue includes many photographs incorporated into a stunning new design.
Longtime readers as well as those who are brand new will enjoy this unique presentation of ancient wisdom that speaks to the needs of our modern times.
Additional Online Library of Encouragement and Guidance
Subscribers to the magazine will be able to access a treasure trove of inspiration through the Self-Realization online library. Subscribers can now read the current issue in digital format and have unlimited access to audio streams of CDs released with the magazine over the years.
And in the coming months, a special collection of many years of selected inspirational content from past issues of the magazine will also be available in the online library. This exceptional wisdom-resource will include hundreds of pages of material from Paramahansa Yogananda, Sri Daya Mata, and other favorite authors whose words were eagerly absorbed by past Self-Realization readers.
What you will find in the 2021 issue:
"Solving the Mystery of Life" — A previously unpublished article by Paramahansa Yogananda
"Expressing the Soul for True Success" — An interview with Brother Chidananda
Celebrating 75 Years of Autobiography of a Yogi
"Dip Me in Thine Infinite Depths" — A meditation by Paramahansa Yogananda
"Meditation: An Ancient Panacea for Our Modern-Day Challenges" — An interview with Brother Achalananda
"Yoga: The Scientific Way, the Way of the Heart" — Brother Vishwananda
"Developing Spiritual Resilience" — Brother Jayananda
Coverage of the 2021 SRF World Convocation
Inauguration of the Voluntary League of Disciples
A Letter of Sympathy From Paramahansa Yogananda
"Relying on Intuition in Difficult Times" — Hitendra Wadhwa, Ph.D.
"Krishna and the Mountain of Protection" — A story by Gurucharan
"As Old As I" — A poem by Paramahansa Yogananda
…And much more!
An Unbroken Tradition of Sharing Paramahansaji's Wisdom
Almost one hundred years ago, Paramahansa Yogananda inaugurated Self-Realization magazine, one of the first periodicals with widespread circulation in the West to present the profound philosophy and teachings of Yoga, India's ancient science of uniting the soul with Spirit.
When Paramahansaji first introduced the magazine in 1925, as a means of providing regular contact with the thousands of students from his classes across America, he stated, "I will talk to you all through the columns of this magazine."
For close to a century this periodical of spiritual living has served to introduce readers to the timeless universal truths he was ordained by his gurus to spread worldwide — helping many thousands to understand that they could put into practice the time-tested principles and techniques of Yoga to transform their lives and attain direct personal experience of the Divine.