The Government of India has officially honored the 125th birth anniversary of Paramahansa Yogananda (born in 1893) by issuing a large grant to Yogoda Satsanga Society of India, the organization he founded in 1917. The prestigious grant reflects the growing appreciation of Paramahansa Yogananda as one of India's great spiritual figures who made a lasting contribution both to India and the world.
The grant funds a wide diversity of projects for furthering the beneficial influence of Paramahansaji's message and teachings in India, including:
Free distribution of Autobiography of a Yogi and other books by Paramahansaji in English as well as in several major Indian languages throughout the country, including to hundreds of libraries and universities;
Public lectures given by YSS monks throughout the country, including conducted meditation sessions for students and teachers in university settings as well as for professionals and business executives in the public and private sectors;
Production of an audiobook version of Autobiography of a Yogi in major Indian languages;
Publication of a pictorial history book depicting the life and mission of Paramahansa Yogananda;
Publication of various other new YSS books and ebooks to highlight the timeliness of India's ancient spiritual heritage;
Construction of major new buildings on the campus of the educational institutions that YSS operates in the city of Ranchi.
To oversee the planning and execution of the various activities (see photos below), the Government of India constituted a National Implementation Committee under the chairmanship of Minister of Home Affairs Sri Rajnath Singh, one of the highest officials in the Indian government. The committee also includes the Minister of Finance, Sri Arun Jaitley; the Minister of Culture, Dr. Mahesh Sharma; and other prominent government officials, along with representation from YSS and SRF.
We look forward to sharing more about these and other projects as they continue to develop in the months ahead.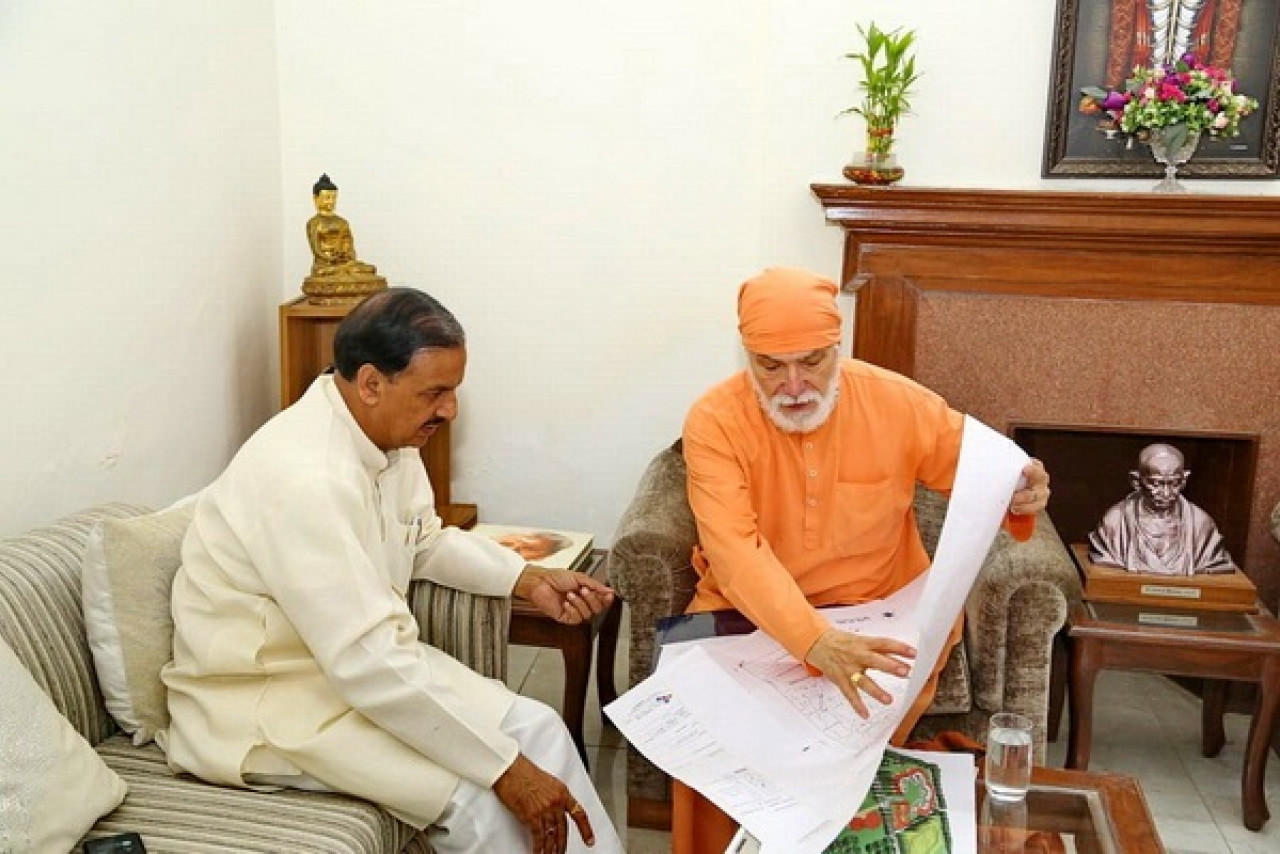 Swami Vishwananda (right), a member of the SRF/YSS Board of Directors, traveled from the SRF Mother Center in Los Angeles to participate in meetings with Government of India officials. Here he confers with Minister of Culture Dr. Mahesh Sharma.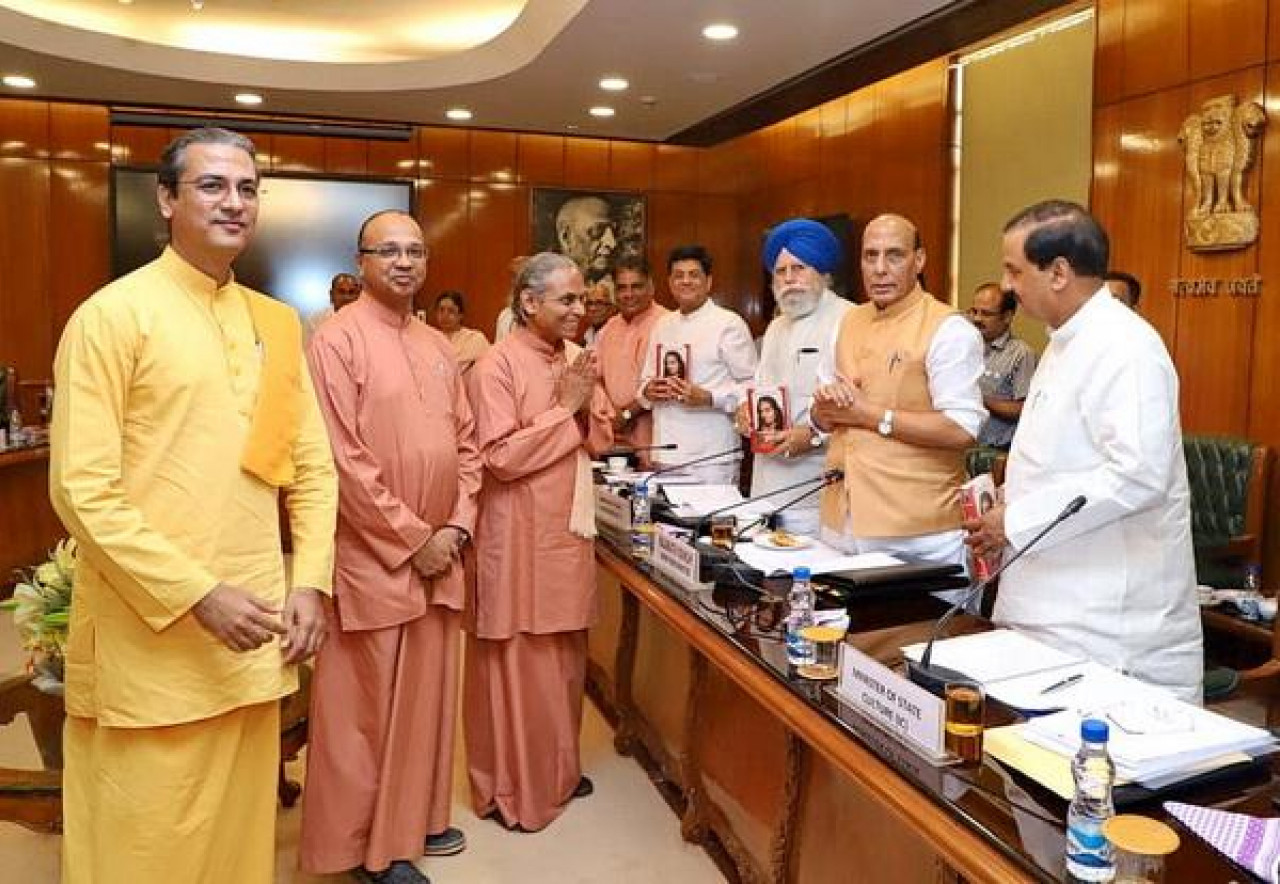 YSS General Secretary Swami Smaranananda (third from left) with Swami Ishwarananda and Brahmachari Nishthananda at a meeting in New Delhi with senior Government of India officials: (right to left) Dr. Mahesh Sharma, Minister of Culture; Sri Rajnath Singh, Minister of Home Affairs; Sri S.S. Ahluwalia, Minister of Electronics & IT; Sri Piyush Goyal, Minister of Railways; and Sri Bhupender Yadav, Member of Rajya Sabha (Parliament).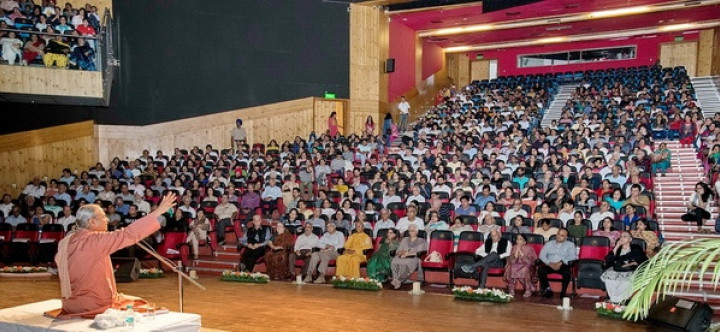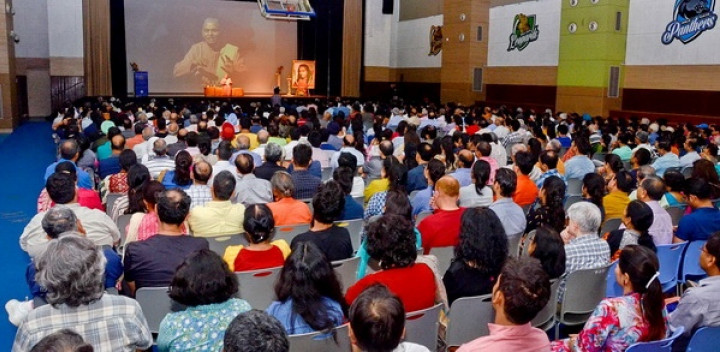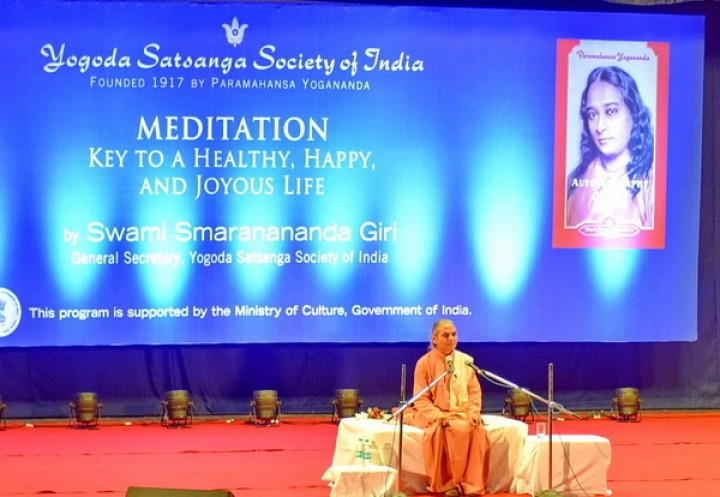 Many thousands have already attended the lectures and meditations, with over a thousand enrolling for YSS/SRF Lessons over a period of a few weeks. Shown here are some of the first lectures given by YSS monastics (clockwise from top left) in Chandigarh, Chennai, Gurugram, and Pune.